eClinicalWorks Blog Details
CityMD: Transforming walk-in and urgent care
eClinicalWorks
The 'New York Minute' Difference
Does a minute make any difference in your life? How about two minutes? Or three?
At CityMD, every minute counts.
Perhaps that's because the network of walk-in medical clinics covers much of metropolitan New York City and northern New Jersey, where life is so fast-paced that Americans everywhere are familiar with the expression a "New York minute."
Perhaps it's because, in a typical year, CityMD offices will see more than 1 million patients, not one of whom will have made an appointment.
But this much is certain: When your mission is to deliver lots of high-quality medical care with a special ingredient — kindness — having even a few minutes to make sure you're meeting the standards you have set for yourself can transform a patient's experience from ordinary to extraordinary, setting them on a path to hope and healing.

A no-nonsense approach to care
In 2010, Dr. Richard Park, believing that there had to be a better way to deliver healthcare, joined with three other doctors to start CityMD, a network of walk-in, urgent care clinics that aim to provide "…quality medical care through convenient access and an exceptional experience."
Ramu Kannan, CityMD's chief information officer, summed up the complexities of delivering care in a major urban center with two simple words: Serving kindness.
"In everything we do, we look at whether we are serving kindness to our patients," Kannan said. "What does that mean? It means are we providing the right quality of care? Are we making sure that the patient is central to all the decisions we make?"
If patient volume is any indication, the answer is a "yes" loud enough to be heard above the din of New York City traffic. More than 1.1 million patients visited a CityMD clinic in 2015. In just seven years since its founding, CityMD has grown to 68 clinics, including three in the Seattle, Washington metropolitan area.
Meeting challenges of rapid growth
To meet the challenges of such rapid growth, and to ensure that they could maintain quality as patient volumes grew, CityMD needed a strong healthcare IT partner. eClinicalWorks has met their needs.
As so many other outpatient clinics do, CityMD relies upon the eClinicalWorks ambulatory EHR for comprehensive, accurate documentation of each case. Having a powerful, cloud-based system with state-of-the-art interoperability means that providers have instant access to the most complete medical records available for each patient.
But CityMD went a lot further than basic documentation.
Last year, the practice piloted Kiosk for patient check-in at its Murray Hill clinic in midtown Manhattan. Kiosk helped streamline the check-in process and was so popular with staff that by Thanksgiving 2016, Kiosk had been implemented in every one of CityMD's locations.
"We really liked the Kiosk concept, but it was very primary care-centric," Kannan said. "So we worked closely with eClinicalWorks and customized the Kiosk experience for an urgent care patient."
Within months of implementing Kiosk, Kannan said, about 55 percent of the practice's patients were regularly using it.
"eClinicalWorks made the jobs of our front desk, our PCRs, our scribes, and our physicians and all our back office much easier and a lot more productive," Kannan said, "so that they can focus on what they do best, which is taking care of patients, rather than staring at a computer screen and figuring out what to do next."
Excellence through care coordination
But CityMD didn't stop with basic documentation and Kiosk. Because the difference they are seeking to make in medicine cannot be achieved only by emphasizing kindness — which is, after all, a difficult concept to quantify and will always be somewhat subjective. There has to be a way to put philosophy into practice.
At CityMD, that means the creation of a network of care coordination teams.
"CityMD has a different model as compared to a lot of other urgent care organizations in the sense that we have a fairly large care coordination team," Kannan said. "That's sort of the safety net for us," Kannan said, noting that the care coordinators are responsible for looking at all patient records, following up on labs and x-rays, and getting in touch with patients after they have left a clinic.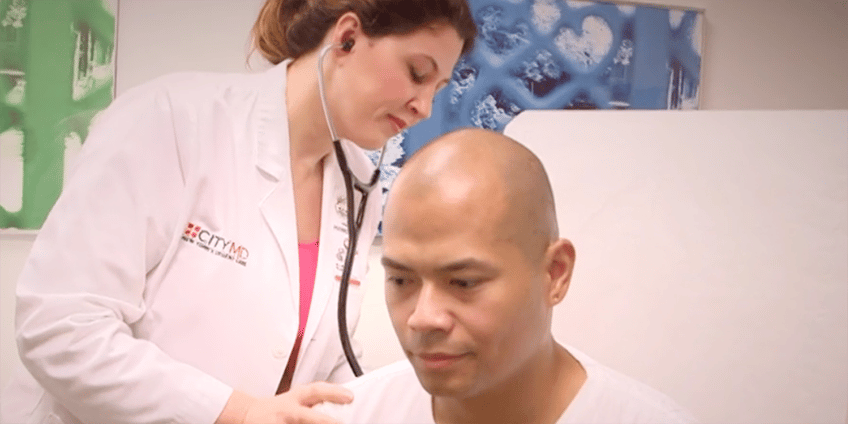 That approach derives from CityMD's overall philosophy of caring and kindness. It's one thing to provide care during an initial encounter, but the physician's job is not complete until and unless someone follows up with that patient to ensure that they are following the doctor's orders.
That could mean filling a prescription, taking medication regularly, seeking additional services, or taking steps to control chronic conditions. All the things that patients are supposed to do, but which they sometimes only do if someone checks on them.
Finding the time
As any medical provider can tell you, however, every task in a busy medical practice takes time.
For CityMD, the problem became how to provide care to the patients in the office at any given moment while also tending to the follow-up care necessary to ensure that they have properly cared from all those patients who recently left the office.
That's where our New York Minute — or minutes, really — come into play once more.
Tatiana Ardila, site manager at the Murray Hill clinic, said that wait times have dropped an average of three to four minutes since the implementation of Kiosk and other tools from practice management from eClinicalWorks.
Can those few minutes make a real difference? When you multiply them by the 100 or so patients coming through the doors of a typical CityMD clinic on an average day, you soon realize that the time savings over the course of a year is measured not in minutes, but in hours and days — all time that staff can use to provide more thorough, higher-quality care to every single patient.
"We have time to greet our patients, to make them feel welcomed, have those conversations, and schedule their appointments," Ardila said.
It's hard to quantify those kinds of interactions, but it sounds to us like a description of quality healthcare in today's ever busier world.
{{cta('eb532938-49db-49f4-a724-ef95a2bd1caa','justifycenter')}}