Industry-Leading Solutions for Every Practice
Population Health solutions from eClinicalWorks help medical practices of every kind deliver care more effectively and efficiently. We have the solutions, experience, and insight to help your practice meet emerging challenges in 21st-century healthcare.
HEDIS
Measures for Effective Care Delivery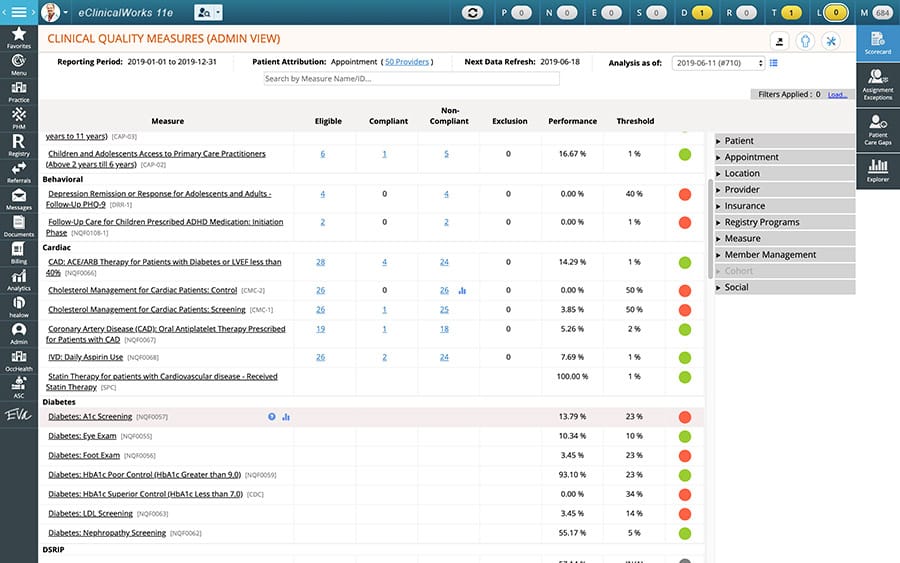 Measuring the effectiveness of care delivery is essential to ensuring your practice is taking the right approach to patients' needs. The Healthcare Effectiveness Data and Information Set (HEDIS®) is an essential tool for Population Health planning.
HEDIS Analytics from eClinicalWorks offers a set of industry-standard performance measures to evaluate care access and delivery, measure compliance, and evaluate provider performance.
HEDIS® is a registered trademark of the National Committee for Quality Assurance.
Hierarchical Condition Category
Bring Transparency to Risk Adjustment
Our Hierarchical Condition Category (HCC) module uses demographic data and diagnoses to calculate Risk Adjustment Factor (RAF) scores used by Medicare and other programs.
Identify coding gaps based on historical coding data
Calculate real-time, patient-level RAF scores
Risk stratify patients and filter by RAF, provider, or insurance
Use an HCC dashboard to analyze trends and compare RAF scores
Transition Care Management
Protect Patients at Their Most Vulnerable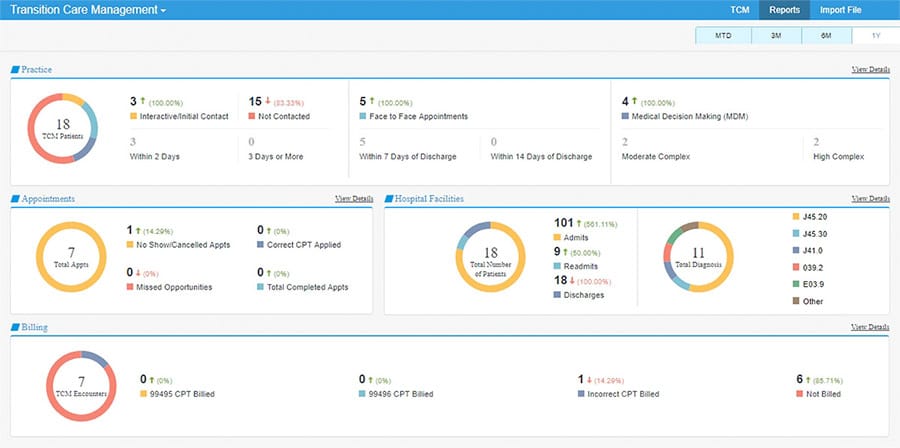 Our Transition Care Management (TCM) module helps providers maintain the continuity and quality of care during the critical times when patients are moving among care settings.
Manage patients as they move among care setting
Track appointments to ensure timely follow-up care after hospitalizations
Reconcile medications to help ensure patient safety
Better understand which patients are being hospitalized and why
Chronic Care Management
Easing the Burdens of Chronic Illness
Our Chronic Care Management (CCM) module helps practices with Medicare's CCM program, which offers reimbursement for non-face-to-face care provided to patients with multiple chronic conditions.
Manage patient enrollment and program activities
Pre-built templates for 27 chronic conditions
Track time spent on non-face-to-face care with a built-in time tracker
Simplify claim submission with automated batch billing
Patient-Centered Medical Home
Put Your Primary Focus on the Patient
Patient-Centered Medical Home (PCMH) is an operational excellence program that recognizes providers who deliver advanced primary care and prepares practices for success through ongoing self-improvement.
Experienced consultants help transform your practice for value-based care
Develop a team-based approach for holistic patient care
Use 35 standard reports to reduce time spent gathering and arranging data
Pre-validated for up to 19 NCQA® auto-credits
Accountable Care Organizations
Turn Big Data Into Meaningful Data
eClinicalWorks can help Accountable Care Organizations manage chronic health conditions, improve risk management, and improve their estimates for cost and utilization of healthcare resources.
Use payer data to gain insight into costs, KPIs, readmissions, and avoidable ER visits
Estimate patients' future costs and overall risk for hospitalization
Improve accurate of risk assessment with the John Hopkins (ACG®) model
Use an analytics platform to consume claims data from payers