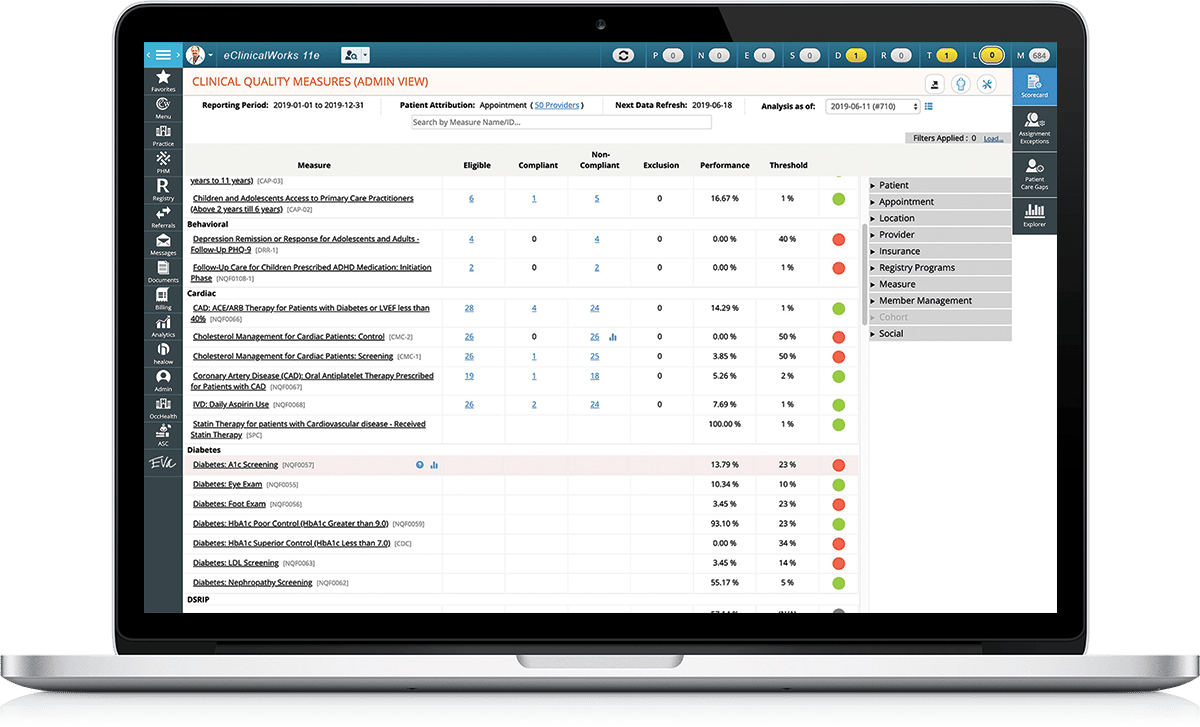 HEDIS: Measures for Effective Care Delivery
Better Population Health With HEDIS
Measuring the effectiveness of care delivery is essential to ensuring your practice is taking the right approach to patients' needs. The Healthcare Effectiveness Data and Information Set (HEDIS®) is an essential tool for Population Health planning.
Standard HEDIS Quality Measures are available through the Clinical Quality Measure Dashboard in eClinicalWorks® and help track compliance across your patient population with integrated point-of-care alerts and patient reminders.
Making Strides in Population Health With HEDIS Analytics
With HEDIS Analytics from eClinicalWorks, providers can evaluate gaps in care, more effectively engage patients, and better measure compliance with treatments. Interact with your data at the practice, provider, and patient levels with intuitive filters and controls.
Key Features of HEDIS Analytics
Track patient compliance at the point of care
Access patient records from the dashboard
View, query, and measure HEDIS data using customizable filters
Integration with eClinicalMessenger®
Set thresholds to measure group performance
Engage non-compliant patients
View care opportunities
Enroll patients in registry groups
Customer Success With HEDIS Tools
HealthTexas Medical Group
Find out how the eClinicalWorks HEDIS Analytics tool has helped providers meet quality measures.
MMR Healthcare
Learn how MMR Healthcare used the HEDIS module and dashboard from eClinicalWorks to create templates that work with real-time data to close gaps in care.
Learn More >
HEDIS® is a registered trademark of the National Committee for Quality Assurance (NCQA).