EHR Only
$449/mo
per provider
NO START-UP COSTS
Software Products
Electronic Medical Record (EMR)
Practice Management (PM)
eClinicalMobile ®

eClinicalWorks P2P ™
Patient Portal
eClinicalMessenger ®
Document Management
Referral Management
Meaningful use Dashboards
eBO View (reporting)
Registry Reporting
ePrescribing and Formulary Checking
24x7 Support
Maintenance
Private Cloud (Hosting)
Disaster Recovery
Billing Implementation Services
Unlimited Free Webinars/Videos
EHR with
Practice Management
$599/mo
per provider
NO START-UP COSTS
Software Products
Electronic Medical Record (EMR)
Practice Management (PM)
eClinicalMobile ®

eClinicalWorks P2P ™
Patient Portal
eClinicalMessenger ®
Document Management
Referral Management
Meaningful use Dashboards
eBO View (reporting)
Registry Reporting
ePrescribing and Formulary Checking
24x7 Support
Maintenance
Private Cloud (Hosting)
Disaster Recovery
Billing Implementation Services
Unlimited Free Webinars/Videos
RCM as a Service
2.9%
of practice collections
NO START-UP COSTS
Services and Products
Claim creation and processing
Denial and rejection management
Appeals at all levels
Preventative claim edits
Clear visibility into your A/R
Billing rules
eClinicalMessenger ®
Document Management
Referral Management
eBO View (reporting)
Registry Reporting
24x7 Support
Maintenance
Private Cloud (Hosting)
Disaster Recovery
Billing Implementation Services
Unlimited Free Webinars/Videos
Initial on-site training included for practices with 1-9 providers. Additional implementation fees will apply for practices with more than nine providers. Airfare is not included and will be billed separately. Fees will be applicable per Patient Statement and per eClinicalMessenger transaction.

Free data conversion from your current EHR and Practice Management system!
eClinicalWorks will convert your data from your legacy EHR to eClinicalWorks for free to ensure a seamless transition.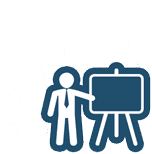 Implementation and on-site training included!
While other vendors offer online training, eCW understands the importance of learning in your own office environment. eClinicalWorks provides initial implementation services and on-site training at no extra cost!*
In addition to the features listed above, eCW also offers the following at no extra cost:
Scanning software
Faxing software
ICD-10
Current Procedural Terminology (CPT)* Codes
E&M coder
Role-based securities
Clinical Decision Support System
Clinical templates
*CPT only © 2010 American Medical Association. All rights reserved.