eClinicalWorks Blog Details
Catching Up to Technology with healow Aware
eClinicalWorks

Amid the advances, a timeless truth
Just how good is healthcare technology today? The answer may surprise you.
To be sure, the advances in computing power and speed are undeniable. Today's Electronic Health Records are lightyears ahead of their ancestors. Data analytics go deeper. Dashboards are more attractive and informative. Interoperability connects providers to troves of patient data more quickly than ever before.
Yet the answer to our opening question remains the same as it has always been: Technology is only as good as the user's knowledge.
How healow Aware can close the gaps
We developed healow Aware™ to help close the gap between what healthcare IT can do and what most offices are doing with it. To be sure, medical providers are generally very good at the basics of booking patients, documenting care, and billing for visits. Many have the confidence and willingness to do more with the EHR, but might be unsure about exactly how to proceed.
The purpose of healow Aware is to help your practice take that next step, educating your providers and your patients about the many products and services eClinicalWorks and healow have to offer.
Building awareness of those options is the necessary first step toward closing the gap between what your technology can do and how you use it each day. And that, in turn, can help your practice identify and close gaps in care.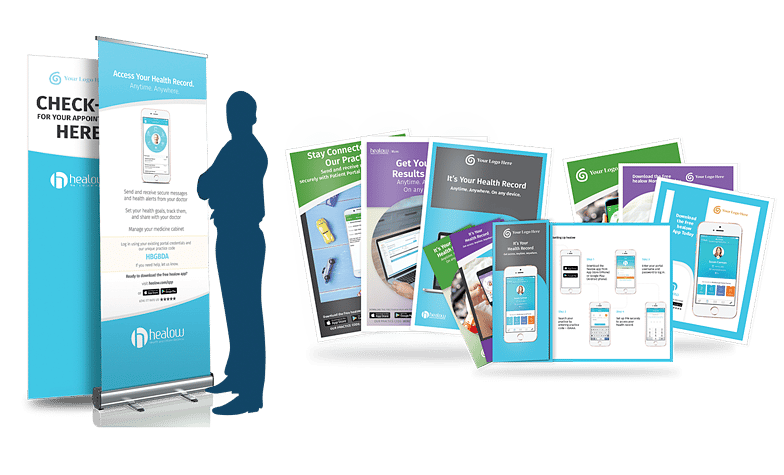 A three-part approach
There are three areas of focus with healow Aware:
Start with printed marketing materials for use in your office, including banners, posters, trifolds, and promotional materials that you can give to patients. Those visible and tangible reminders help empower them.
Continue by building a multimedia digital profile for your practice, including a webpage, Google My Business listing, and presence on social media sites such as Facebook. You can even use your on-hold message as an opportunity to increase your patients' awareness of what you offer.
Help your staff and patients promote and market your practice. Make sure your front-office staff and providers have the healow app on their phones, are familiar with how it works, and can show patients.

Taking that first step with healow Aware
Getting started with healow Aware is simple, and our consultants are experts in patient relationship management. We'll make sure your system is set up the right way, and that your staff both understand the tools available to them and how to convey essential knowledge to your patients, simply and easily.
The training we offer is currently being done remotely rather than on-site, but providers are embracing that option because it offers greater flexibility. Rather than having consultants on-site for two or three days and having to work through lunch breaks and stay late, providers and staff can spread out their training, and even record sessions for later review or to help train new hires.
Is your practice ready to build new awareness of what healthcare IT can do? Call 1-844-4-healow (1-844-443-2569) or email sales@healow.com.