eClinicalWorks Blog Details
eClinicalWorks Day Is Back — and Coming to Your Area
eClinicalWorks

Live, free, and full of knowledge your practice can use
Do you remember the excitement you felt as a child when you knew your birthday was getting close? Or that blockbuster movie was finally released? Or how about when you were a teenager and learned that your favorite band was coming to a city near you — and you finally had enough money to buy a ticket?
Well, it's time to recapture those feelings of anticipation and excitement. You're an adult now and hold a key role at a healthcare practice, but you're still allowed to look forward to things, including the return of our eClinicalWorks Day series to a city near you.
After two years of virtual meetings and online interactions forced by the COVID-19 pandemic, eClinicalWorks Day is back with live, in-person events. As for tickets, no worries — these events are completely free.
What exactly is an eClinicalWorks Day?
Each Wednesday throughout the year, our teams of software and implementation experts visit two different cities around the nation, bringing the latest news about eClinicalWorks and healow products to practices such as yours who rely upon our solutions every day.
Registration for each event begins at 9 AM local time and the program runs from 10 AM until 2:30 PM. See the complete schedule here.

Officially, eClinicalWorks Day allows our customers to:
See the latest enhancements to our industry-leading Network EHR, including PRISMA, the health information search engine that lets providers access searchable, timeline views of each patient's health history at the point of care.
Get insight into the latest updates and innovations at eClinicalWorks, helping you understand how a true healthcare IT partner is constantly seeking ways to help healthcare practices apply software solutions to emerging challenges.
Learn how to use eClinicalWorks technology to reinvent the front office with tools like patient self-scheduling and eClinicalWorks Messenger campaigns, revolutionize billing processes, and deepen understanding of Population Health.
Look forward to a few surprises, too!
Just as birthdays, movies, and concerts often contain a few surprises, you should also expect the unexpected at an eClinicalWorks Day event.
While we can't give out presents, we can and do leave plenty of time for attendees to ask questions, mix with one another, and meet with our software experts.
You might meet another practice in your area that has solved a software or workflow problem you've faced.
You can ask our experts about that usability shortcut that no one in your office can quite remember.
You might come away with the inspiration and determination you need to take a fresh approach to one or more aspects of your practice.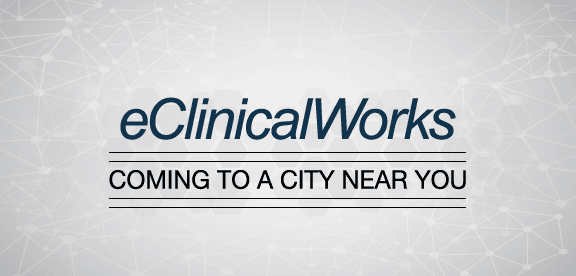 Is there any catch at all?
In order to create a safe environment for all attendees, exhibitors, and eClinicalWorks employees at each event, everyone in attendance must be fully vaccinated against COVID-19 at least two weeks prior to attending.
And by letting us know in advance that you'll be attending, we can better plan our events and ensure your eClinicalWorks Day is the best it can be.
In June alone we'll be in Raleigh, New York City, Las Vegas, Chicago, Columbus, Phoenix, and Nashville. So, check that schedule once more and sign up today!