eClinicalWorks Blog Details
Going Big for Their Go-Live
eClinicalWorks

600 providers, 190 locations, one day
One of the most difficult technology decisions any organization has to make has little to do with hardware, software, or upgrades. Once all such decisions have been made, the last remaining obstacle is often a very practical one: Do we do this a bit at a time, or all at once?
For Advocare, LLC, a large physician-owned multi-specialty medical group in the Philadelphia and Southern New Jersey area, that decision was made a bit easier by their size. With more than 600 physicians and nearly 200 locations, implementing eClinicalWorks a little bit at a time might have led to confusion.
Having decided upon a so-called "Big Bang" implementation, the practice decided it was best to convert every location and every provider to the new EHR on the same day. That meant two years of preparation involving training, IT, interfaces, communication, and contracting. eClinicalWorks experts were assigned to every one of Advocare's locations in preparation for Go-Love on June 24, 2019.
In search of 'comprehensive support'
"This is the biggest transformation we've gone through since our inception 21 years ago," said Dr. Howard N. Orel, CEO and President.
Dr. Orel noted that the practice's former healthcare IT vendor had not been providing the "comprehensive, wrap-around support" they needed. They chose eClinicalWorks after a thorough search process that involved the review of thousands of pages of documentation, as well as personal interaction with eClinicalWorks CEO Girish Navani.
"As we marched toward our Big Bang, every week we would talk through all the different issues," said Chuck McQueary, Advocare's Executive VP and Chief Operating Officer. "We developed a partnership with eClinicalWorks, not just a vendor relationship."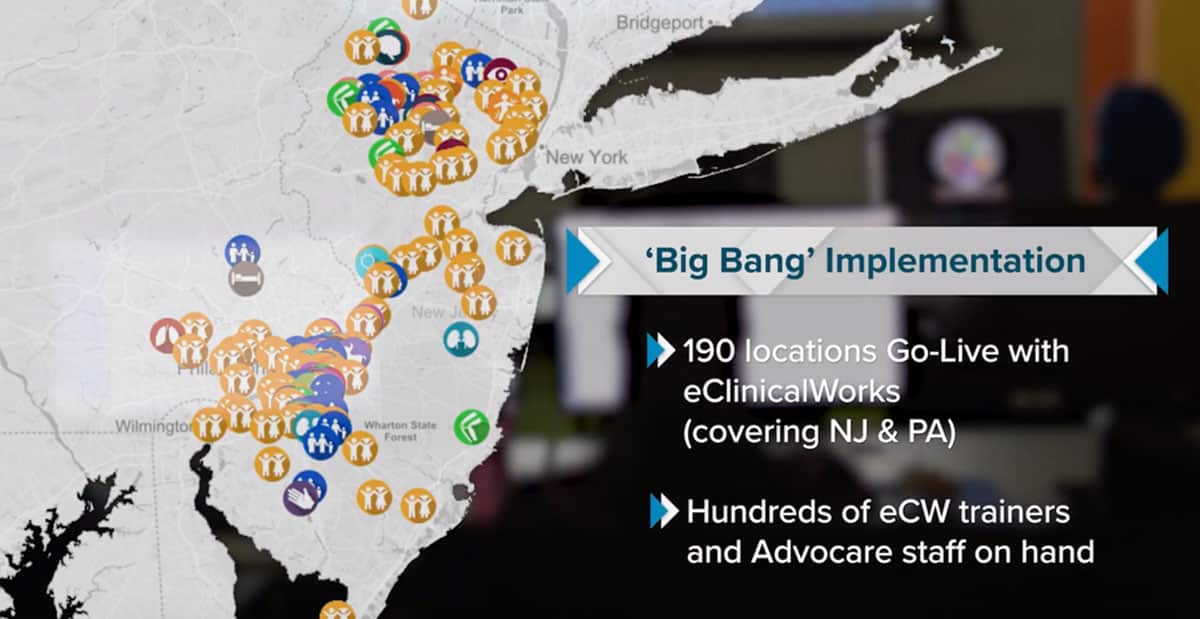 Why planning is so important
While emphasizing the need for planning may sound obvious, a September 2019 study in the journal Cureus makes clear how the complexity of that planning process can overwhelm many practices.
"The strategy to roll out an electronic health record will be that of planning each step of the execution of the project until go-live and after by monitoring and controlling the effectiveness of the system," the authors note. "It is important to consider each step of the execution to ensure a smooth transition of the system and increase staff satisfaction with the use of the system for usability purposes."
While that sounds simple, putting it into practice is essential.
Key points: Stakeholders and time to plan
"We have many doctors of multiple specialties," said Dr. Scott Schaffer, an ENT doctor with Advocare. "They wanted input from as many different parts of the organization as they could get."
That level of collaboration paid off as Advocare neared its Go-Live date. But a project of such scale and complexity can really never have too much preparation.
"Give yourself as much time as possible," McQueary said. "Don't think that 'Oh, well, that's really two years away, or three years away.' It's not too early to start planning."
Want to learn more about Advocare's implementation?
{{cta('44c8c0e8-24e0-4c9e-896e-45d343b98df0′)}}