eClinicalWorks Blog Details
Say "Thanks, doc" to a Doctor on National Doctors' Day
eClinicalWorks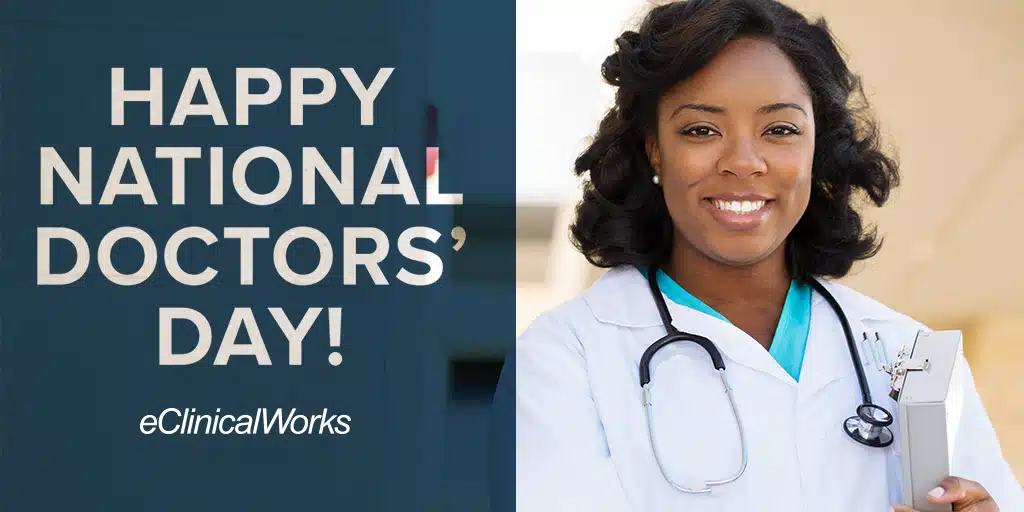 Take time to say thanks on National Doctors' Day
So, so many of us have reason upon reason to show appreciation for doctors and what they do for us. Few professionals have a more profound impact on our lives than physicians. Their tireless devotion to the arts of healing is a building block of civilization. You're probably giving thanks every time you check out. We also have a day on the calendar that's reserved just for them. We call it "National Doctor's Day."
It started way, way back in 1933. Eudora Almond, the wife of Dr. Charles B. Almond, decided that the nation needed to set aside a day to show love and respect for physicians due to their service and dedication.
The day she chose is March 30. The reason why is that on March 30, 1842, a physician by the name of Dr. Crawford Long became the first MD to use anesthesia during surgery when he successfully – and painlessly – removed a cyst from a patient's neck.
In 1958, The U.S. House passed a resolution recognizing the day. In 1990, President George H.W. Bush signed a measure that formally created National Doctor's Day.
On this day, we at eClinicalWorks say "Thanks, doc," to every doctor across the country and encourage you to take a moment to appreciate your doctor. Whether you drop them a note, send a red carnation, or shout them out on your socials, please take a moment to remember your caregiver on National Doctors' Day on March 30.