eClinicalWorks has Pioneered a Cost-effective Approach to Streamlining Practices' Billing Capabilities
Westborough, Mass.—July 19, 2017—eClinicalWorks®, a leader in ambulatory healthcare IT solutions, announces today that it has earned Frost & Sullivan's 2017 North American Customer Value Leadership Award in revenue cycle management for physician practices.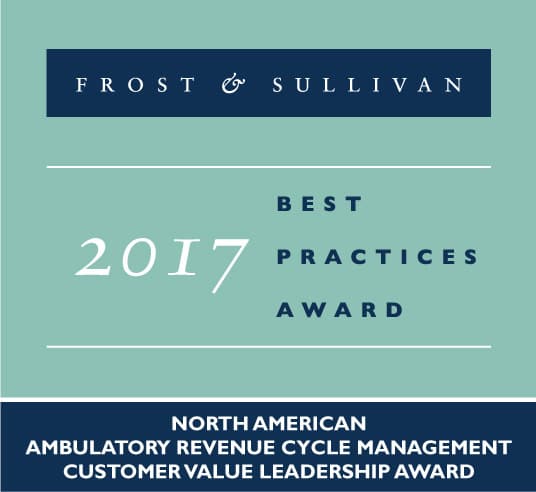 eClinicalWorks Revenue Cycle Management (RCM) provides robust and effective medical billing and practice management services and solutions to medical practices across the nation at the generally available cost of 2.9% of monthly collected revenue. The integrated, cloud-based solution has achieved more than 99% first-pass acceptance for practice claims facilitated by real-time claim adjudication, built-in claim automation, and six levels of clearinghouse integration. RCM also includes access to eClinicalWorks Billing Experts, who look for payer and state guidelines, conduct predictive financial analytics, and evaluate reimbursements. Key provider executives measure and monitor billing performance through integrated dashboard reporting that is powered by predictive financial analytics.
"eClinicalWorks has assembled progressive technology modules that digitize the entire billing ecosystem end-to-end," said Koustav Chatterjee, Frost & Sullivan Digital Health Industry Analyst. "eClinicalWorks customers achieve substantial results that are financially measurable, leading them to remain loyal to eClinicalWorks' billing services for multiple years."
For this award, Frost & Sullivan independently evaluated two key factors—customer impact and business impact. To support the evaluation, it employs a customized Decision Support Scorecard to objectively analyze performance and to assign ratings. Once evaluation has been completed, candidates are positioned on a matrix to so they can be visually analyzed. eClinicalWorks received the highest rating of all candidates.
"Being honored by Frost & Sullivan for providing high standards for product and service quality and innovation is truly an honor," said Girish Navani, CEO and co-founder of eClinicalWorks. "With RCM, a complete end-to-end solution, providers can submit claims correctly the first time and realize revenues faster. This recognition by Frost & Sullivan further exemplifies eClinicalWorks' dedication to aiding medical practices in optimizing billing."
Click here to download a copy of the report.
About eClinicalWorks
eClinicalWorks® is a privately held leader in healthcare IT solutions. With more than 125,000 physicians and nurse practitioners using its solutions, customers include ACOs, physician practices, hospitals, community health centers, departments of health, and convenient care clinics. During the past eight years, 16 eClinicalWorks customers have received the prestigious HIMSS Davies Award, honoring excellence in Electronic Health Record implementation. The company is second largest in the country for e-prescribing. Based in Westborough, Mass., eClinicalWorks has additional offices in Austin, New York City, Chicago, California, Georgia, London, India, and Dubai. For more information, please visit www.eclinicalworks.com, Facebook, Twitter or call 866-888-6929.