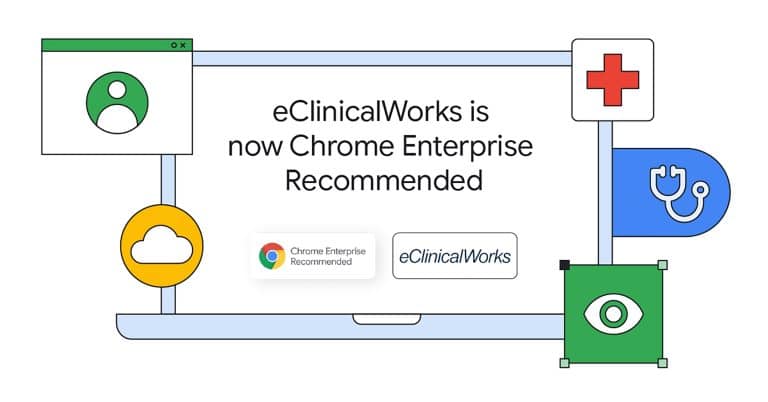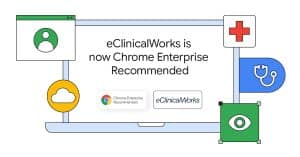 Google chooses eClinicalWorks as a partner for their Chrome Enterprise Recommended Program
WESTBOROUGH, MA.—February 28, 2023— eClinicalWorks®, the largest ambulatory cloud EHR with more than 150,000 physicians and nearly 1 million medical professional users, today announced that Google has selected eClinicalWorks for the Chrome Enterprise Recommended Program.

As part of the program, the Chrome Enterprise Recommended team worked closely with eClinicalWorks to validate that eClinicalWorks fulfilled the functionality, end-user experience, and security requirements to achieve this important designation. From product validation, to support and quality commitments, eClinicalWorks software met the high bar for enterprise users.

"We wanted to ensure that our application is compatible with Chrome-OS and Chrome browser, so that our customers have multiple device options to run our software, therefore maximizing success for their practices" said Girish Navani, CEO and cofounder of eClinicalWorks. "eClinicalWorks has been selected as a Chrome Enterprise Recommended solution because of our commitment to providing secure and effective cloud-based solutions to healthcare organizations."

About Google Chrome Enterprise Recommended
Google Chrome Enterprise Recommended is a program created to help enterprises find technologies that make working on the web and in the cloud even better. From optimizing with ChromeOS to integrating with Chrome, enterprises can count on Chrome Enterprise Recommended solutions to support their workforce, wherever they work.

About eClinicalWorks
eClinicalWorks was founded in 1999 to help digitize paper charts for ambulatory practices. Today, eClinicalWorks leads the nation in innovation with cloud-based solutions for Electronic Health Records and Practice Management. In addition, we help ambulatory practices, specialists, health centers, urgent care facilities, and hospital systems manage their revenue cycle, patient relationships, and Population Health initiatives. More than 150,000 physicians and 850,000 medical professionals rely upon the power and scalability of the eCW Cloud for flexible clinical documentation, better front-office workflows, and more efficient billing driven by Robotic Process Automation. We combine innovation, leading-edge technology, and a commitment to patient safety to enable practices to grow and thrive amid the challenges of 21st-century healthcare. For more information, visit www.eclinicalworks.com, follow us on Facebook and Twitter, or call (866) 888-6929.