Kicks off 4th Annual Health Center Summit; Showcases Latest Innovations
NEWPORT,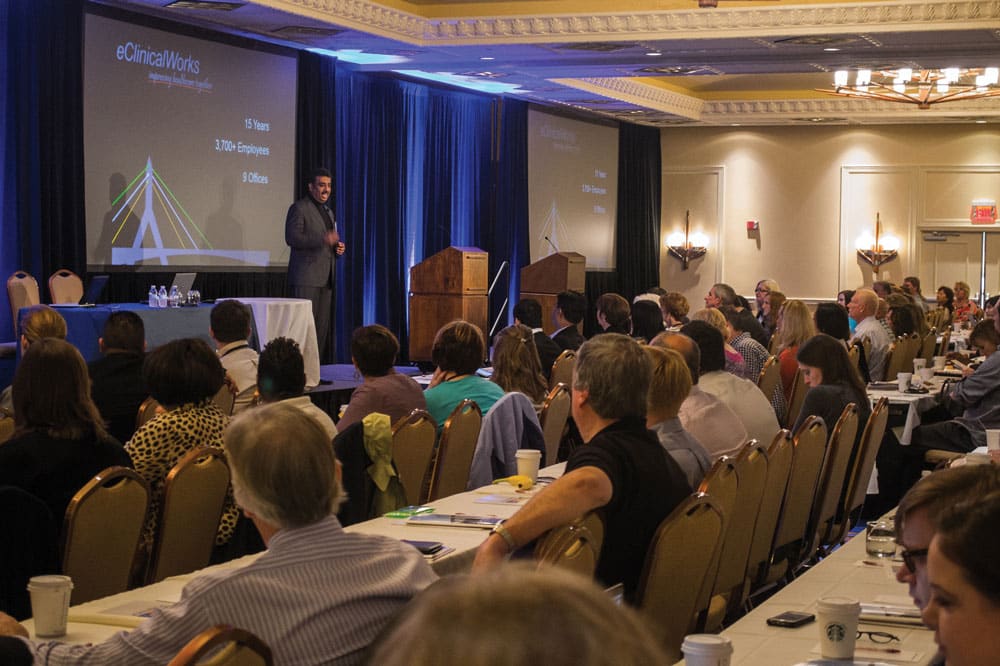 R.I.—May 13, 2014—eClinicalWorks, a leader in ambulatory healthcare IT solutions, today kicks off its 4th Annual Health Center Summit at the Newport Marriott Hotel in Newport, R.I., with approximately 300 attendees representing more than 100 health centers. This two-day event offers lessons and best-practices as well as a showcase of the most recent advancements in electronic health records, patient engagement and population health management.
Currently, there are 1,147 Federally Qualified Health Centers (FQHCs) across the United States, offering primary and comprehensive healthcare services to underserved communities and populations nationwide. With 580 FQHCs using eClinicalWorks, and nearly 700 health centers total, customers represent 50% of the market. Additionally, four of these centers have been recipients of the HIMSS Nicholas E. Davies Award of Excellence Program.
"We look forward to the Health Center Summit every year as it is an opportunity to meet with and learn from health centers from around the country," said Girish Navani, CEO and co-founder of eClinicalWorks. "This year, we will demonstrate new technologies and enhancements that will benefit these centers. Our Health Center Summit is always an exciting and educational event, and this year will be no different."
Health Center Summit attendees will have the ability to interact with peers from around the country, learn specifics for Patient-Centered Medical Home (PCMH) 2014 and best practices for health centers. During the opening ceremony, behavioral health enhancements will be showcased and how leveraging eClinicalWorks technology will provide the tools for achieving shared savings for accountable care organizations and PCMHs. Community Service Awards will also be presented to select individuals. Attendees will also receive an exclusive look at further enhancements products including eClinicalMobile, eClinicalTouch and the eClinicalWorks Kiosk, which is now available in Spanish.
About eClinicalWorks
eClinicalWorks® is a privately-held leader in ambulatory healthcare IT solutions. With customers across all 50 states using its solutions, customers include ACOs, physician practices, out-patient departments of hospitals, health centers, departments of health and convenient care clinics. Ten eClinicalWorks customers have received the prestigious HIMSS Davies Awards during the past six years, honoring excellence in electronic health record implementation. The company is second largest in the country for e-prescribing. Based in Westborough, Mass., eClinicalWorks has additional offices in New York City, Chicago, California and Georgia. For more information, please visit www.eclinicalworks.com, Facebook, Twitter or call 866-888-6929.