PRISMA: How Better Data Improves Care and Reduces Costs
Results
With PRISMA in place, staff at Orthopaedic Institute of Ohio no longer need to spend hours manually retrieving patient records from 14 different hospital sites. Everything is available to them in eClinicalWorks, facilitating more complete records, better medical decision-making, and helping control costs.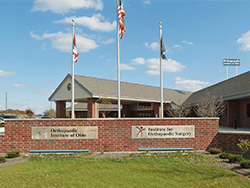 "We're able to aggregate data better now and we don't have to make those phone calls, we don't have to pull the information from the hospital sites. We can bring that information directly into eClinicalWorks and view it. We can also do searching, using keywords to search for information or more meaningfully use that data."
– Ben Broseke, IT Director, Orthopaedic Institute of Ohio
Problem
Working with more than a dozen hospitals throughout northwest Ohio meant that staff at Orthopaedic Institute of Ohio were spending many hours retrieving patient data in order to develop the most accurate and up-to-date patient histories possible to support the work of physicians.
Solution
Orthopaedic Institute of Ohio enabled PRISMA, the health information search engine from eClinicalWorks®, to retrieve data from Epic, Cerner, Meditech, and other EHRs, creating searchable, timeline views of each patient's health history.
About the Practice
Since 1998, the Orthopaedic Institute of Ohio and the Institute for Orthopaedic Surgery have been providing excellent care to a growing number of patients. Today there are 20 Board Certified Physicians, one Doctor of Podiatric Medicine, one Pain & Rehab Physician, 30+ Physician Assistants / Certified Nurse Practitioner and more than 200 healthcare professionals on hand to provide our patients with the quality of care they deserve.