Clinical Testing Hackathon for V12 Release
Published on Wednesday, December 21, 2022
In our latest episode of the eCW Podcast, hear from our own Sharmeelee Tasto how clinical and technical teams collaborated in person and online in unscripted testing of eClinicalWorks® V12 before its release to customers. The hackathon, as it's referred to, was a recommendation from the Patient Safety Board to increase clinician involvement in the prerelease exercise of unscripted testing to identify software bugs, patient safety concerns, and usability issues. Tune in to hear how the exercise went.
"This hackathon exercise allowed our clinicians, as well as some of our usability experts, to challenge our application by exploring unexpected and sometimes out of sequence workflows. That really allow us to reveal maybe some of those nuanced software bugs, patient safety issues and usability concerns that may otherwise have gone undiscovered until they were actually used in the real world."
– Sharmeelee Tasto, Clinical Analyst, eClinicalWorks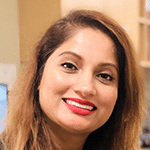 At eClinicalWorks and healow®, we strive daily to build a culture of safety, bringing together people, processes, technology, and standards for continuous safety enhancements. Our culture of safety includes a robust process for identifying, evaluating, and remediating patient safety issues. We encourage customers to report any safety concerns to us. We evaluate such reports, determine the root cause of any safety issues we identify, and implement appropriate controls.
At eClinicalWorks, we have created a Usability Team that works tirelessly to better understand the context in which our software is used and the daily challenges our users face as they take care of their patients. The Usability Team has conducted on-site usability tests where they would observe customers approaching certain tasks through techniques like the "think aloud" method to better understand the user's experience interacting with the software. Once testing is complete, we take the user's experiences into consideration when updating the software to make sure that it better meets our customers' needs.
In their first formal report, eClinicalWorks Patient Safety Board (PSB) recommended that eClinicalWorks conduct more clinician-led less-scripted testing. The Hackathon was designed as our initial iteration of unscripted user acceptance testing with the intention of discovering possible patient safety and usability issues prior to customer release of V12.