Experience a More Efficient EMR with V12
Published on Wednesday May 10, 2023

In this episode of eCW podcast Dr. Seth Eaton from MedPeds in Laurel, Maryland, discusses the adoption of V12 of eClinicalWorks® EMR. The upgrade to V12 was a browser-based and a major cultural shift from the desktop version earlier. Some of the new features that have had the biggest impact on productivity are better-managed order sets and macros, easier ways of communicating with patients through messenger, web, and text. The transition to V12 not only brought about positive changes in billing, but also took advantage of the educational components of the National Conference.
"The order sets and the macros are much better managed. There is an easier way of communicating with the patients "
Seth Eaton, M.D., MedPeds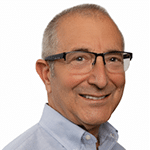 eClinicalWorks V12 is the world's first multidimensional EHR and is a quantum leap in EHR usability and flexibility. eClinicalWorks V12 brings providers, patients, and populations together through real-time cloud intelligence to change the delivery of care. You've never used an EHR like this before.