From Go-Live to Optimizing Your EHR
Published on Thursday March 28, 2019

The eClinicalWorks EHR is a powerful tool for transforming any medical practice, but too often practices don't take full advantage of all that eClinicalWorks has to offer. With Optimization Services, providers get the on-site training they need to maximize the utility and value of their healthcare IT. The tools are all there — our experts can help you make full use of them.
"After the on-site visit, we send out a Discovery Site Visit Report and Optimization Services report, including the Patient Safety dashboard, Task dashboard, Rx dashboard, Templates dashboard, and the Order Sets dashboard. And all of these reports are backdated to last one year for the practice to identify and see how they're performing with utilizing these features."
Surya Racherla, Implementation and Optimization Team, eClinicalWorks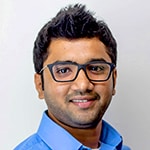 eClinicalWorks is committed to providing customers with affordable, state-of-the-art interoperability solutions to ensure that providers have complete visibility into each patient's medical history, and all the data they need, on demand and at the point of care, to help promote quality care.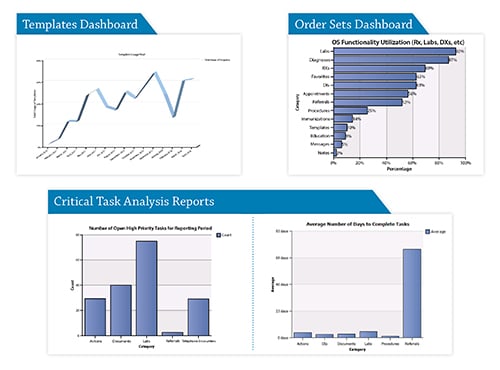 Maximizing Use of the EMR
eClinicalWorks practices make daily use of their EMR for documentation and frequent use of many other features. But they may not realize just how many tools and options are available to them. Optimization Services provides the insight necessary to unlock the full power of eClinicalWorks V11, which includes the eClinicalWorks Virtual Assistant, the latest interoperability through On-Demand Activation, Enhanced Prescribing of Controlled Substances (EPCS), improved prescription order management, and enhanced patient safety and compliance dashboards.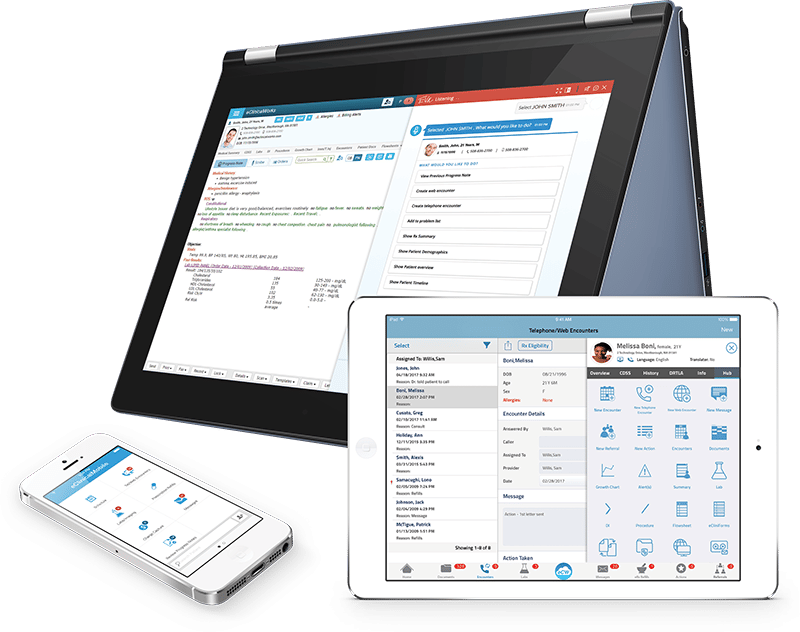 Strengthening Patient Engagement
With so many patients to serve, medical practices today can easily overlook some of the powerful tools available to them. When it comes to strengthening Patient Engagement, eClinicalWorks V11 includes a powerful array of such tools, including an enhanced Kiosk, Messenger campaigns, customized patient satisfaction surveys, healow Open Access® scheduling, and third-part app support using healow Fast Healthcare Interoperability Resources (FHIR) APIs.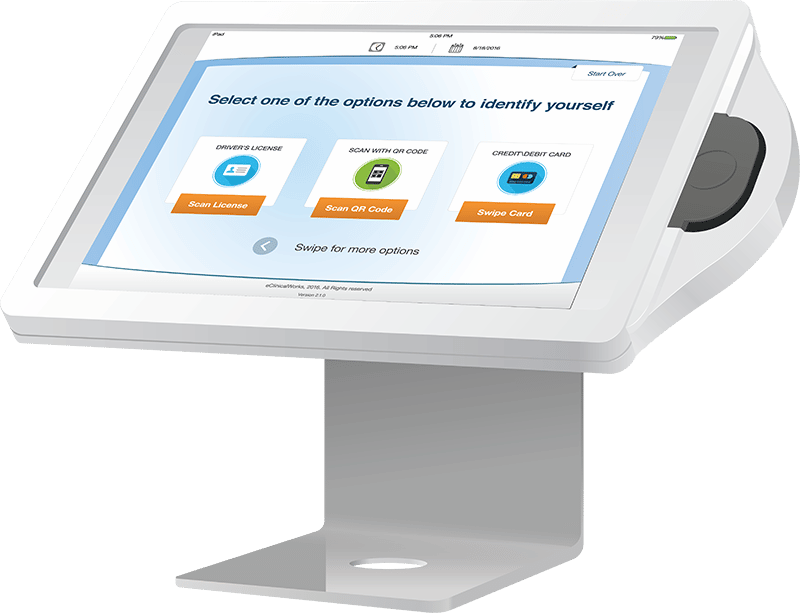 Brian Hughes: Welcome to the eClinicalWorks Podcast! I'm Brian Hughes. After the initial Go-Live of using the eClinicalWorks product, the goal is to get back to normal. However, it can be hard to expand your knowledge past that initial experience. As technology and software are rapidly integrating and changing, so is the learning curve. Here with me today is Surya Racherla, with the Implementation and Optimization team here at eClinicalWorks.
Surya: Hi Brian.
Brian: How are you, Surya?
Surya: I'm good. Thank you for having me today.
Brian: Thanks for being here. So, when a practice goes live on eClinicalWorks initially, what are some of the struggles after a certain amount of time that they might run into?
Surya: After the successful Go-Live, practices fail to adopt all of the products and the features that are present in the application. Based on my experience, some of the services which I can think of on the front office side, are the Kiosk, the Patient Portal, and the e-payment solutions and the healow Open Access®; and, from the clinical side, the MAs struggle with entering the medications, they don't know that we already have an external Rx history, where it gives you real-time medication history, all you have to do is just do the taking or not taking. And for the providers? They fail to utilize the features that are already in the eCW system, the templates, the Order Sets, the Right Chart Panel, the ICW — Integrated Clinical Wizard is what we call it now.
Brian: So there are a lot of tools that you just mentioned that some of the providers may now know that's there, so they might run into bad habits initially, correct?
Surya: Yeah. They end up spending a lot of time doing the charting, and some of the providers complain that they take it back home.
Brian: So you mentioned a lot of things that kind of align with physician burnout, which we had a series on a few weeks back with Adam Siladi. Now, does eClinicalWorks offer any kind of services or solutions to help those eClinicalWorks users use the system to its full potential?
Surya: Yes, absolutely. eClinicalWorks offers Optimization Services. These Optimization Services are suitable for the clients who are already live with eClinicalWorks. And in Optimization Services we have three different approaches. One is the discovery phase, one is analysis, and one is the recommendations phase.
Brian: Great. So, if someone wants to move forward with your Optimization Services, how does your team, the Optimization team, get involved, and how do they contact and interact with the customer?
Surya: The practices may reach out to their practice-assigned SAM (Strategic Account Manager) or they can also put in a request through our support portal, my.eclinicalworks.com, or, if they're visiting any of the eCW Days, they can also reach out to our consultants, and they can help them with signing up for the Optimization Services.
Brian: That's great. So, once you're assigned to an account or a customer, do you reach out to them, do you facilitate an on-site to kind of view some of their workflows and how they're actually using the system?
Surya: Yes. So, the first step would be the sales team would reach out to the practice and then they help them with their contract based on the size of the practice, they help them with their contract, and once the client signs up, the contract would be sent to our Business Analyst team. And someone from our team would reach out to the client and do a kickoff call, and explain the rules and responsibilities of the analyst when they go on-site and what they try to achieve with the on-site visit.
Brian: So, before you go on-site, is there anything the practice can do to prepare for that on-site, anything they can give you so that you kind of know what to expect?
Surya: Absolutely. We always recommend to list down all their pain points or their focused areas where they want to utilize these Optimization Services. We request that the clients list down all their pain points and send it back to us.
Brian: That's great. So, once you've completed your on-site and viewed their workflows and how they're using the system, if you discover any gaps or any underutilized products that they might have, how do you deliver that information to them, or how do you communicate that to them?
Surya: After the on-site visit, we send out a deliverable called the Discovery Site Visit Report, which would be sent within two weeks' timeframe, and we also send out Optimization Services reports. The reports include the Patient Safety dashboard, Task dashboard, Rx dashboard, Templates dashboard, and the Order Sets dashboard. And all of these reports are then backdated to last one year for the practice so that we can identify and see how they're performing with utilizing these features. And one of the important parts is a majority of the practices based on my experience like the Rx dashboard, which gives them more insights into how a provider is prescribing medications and also controlled drugs. And they can also identify the medications that are not associated with an NDC code. So, these reports will help them to identify and go back and look into the system and associate those NDC codes that are missing.
Brian: That's great. So that you provide them with analytics to tell them how they're actually using the software and what features they're utilizing or underutilizing. That's great.
Surya: Absolutely.
Brian: So, once a practice identifies a particular feature or workflow that there's a gap in, what are the different approaches that customers can take in terms of correcting those?
Surya: There are three different execution tracks the practice may approach once we delivered to them our deliverables. The first one is the DIY. The second one is the hybrid. And the third one is the eCW recommended. And in the DIY approach, we deal with the client and the Discovery Site Visit Report. The practice identifies and they work on their own to do the system build with the identified gap. With the hybrid approach we deliver to them the Discovery Site Visit Report, and eCW recommends the superuser training in the hybrid approach, based off the gaps that the client recommends. So, the client recommends the gaps and then we recommend the superuser training in the hybrid approach. Whereas, in the eCW-recommended, we deliver the Discovery Report and we provide the superuser training and end-user training to the clients based off the identified gaps.
Brian: So, the customer really has the choice of their three different approaches in terms of how they can correct some of those inefficiencies that they might have in their office.
Surya: That's correct.
Brian: That's great. So, I actually have a customer experience here that said you know, they were shown several things that make their life easier for documentation, and they never really had formal training. And it was very helpful. Would you be able to speak more upon that?
Surya: One of my customers, Tulip Tree Family Health Center, was having trouble with documentation, spending more time on the documentation. So, I helped them. When I went back, during my observation, they were underutilizing the templates. For instance, say for the pediatrics, we have templates for zero to age 21, and nobody knew it. And they went and asked the providers, and they were quite surprised to see that we already had these templates in the system. And they were underutilizing them. So this was one of the challenges for them. This really helped them, when I showed them the templates and they started using them and they were able to complete the charting by the end of the day.
Brian: So, eClinicalWorks has the tools, and you're making the recommendations based off their practice.
Surya: Yes.
Brian: That's great. I have another one here, actually from the Stat-Care CEO that says eClinicalWorks has so many features that we were really underutilizing and having an expert on-site was immensely helpful. Would you be able to speak upon that experience as well?
Surya: Yes. So we turned on a feature called Tracking Board to the Stat-Care urgent care, and I walked through them with the Tracking Board features that we feature. And Tracking Board is nothing more than an advanced version of an Office Visits screen, which would let the urgent care change their provider on the fly — as it's an urgent care setting, based on the emergency, they can just change the provider when they walk in — and you can also do the check-ins and the checkouts from the Tracking Board. And once the provider orders any labs, the MA can go back — they don't have to go to the Progress Notes or into the labs, they can enter the lab results from the Tracking Board — and then they can check out the patient. And also making sure they can publish the results to the Patient Portal right from the Tracking Board. Isn't that great?
Brian: That's great. So, also, I assume individuals might want to seek out your services with any version upgrades or moving from the EXE to the browser. Do you have any feedback on that, as well?
Surya: Yeah, absolutely. So, I had one client where they were switching from 10e to 11e, and before my site visit, I recommended to the client to upgrade to 11e so that when I visit on-site I could show them all the new features that are on 11e. And apparently the client upgraded before my site visit, and when I went on-site, I walked them through all these new security features with the enhanced security controls that we have today, with the login settings and the admin, which would let the administrator control their staff logins, when they can log in and log out.
Brian: That's great. It sounds very impactful. I appreciate you coming on the Podcast today and speaking to a lot of your experiences.
Surya: Thank you, Brian, I appreciate it.
Brian: Thank you. And thank you for joining out Podcast today. You can find more information about our Optimization Services on my.eclinicalworks.com or reaching out to your Strategic Account Manager. You can also find more podcasts on our website, my.eclinicalworks.com, iTunes, or YouTube. On behalf of the podcast team, thank you for joining today.