How PRM Services Boosted Youth Engagement in NYC
Published on Thursday November 15, 2018

The Door, a busy New York City health center serving youth ages 12-24 with primary care, mental health, career and legal guidance, art, and even nutrition classes, needed more effective ways to deliver the comprehensive range of services they offer. After attending the 2017 eClinicalWorks Health Center Summit in Boston, they recognized that healow Patient Relationship Management (PRM) Services was the best strategy for them. With training and marketing assistant from the PRM team, The Door has improved workflows and communications internally, and provided their patients with new tools that are keeping them more involved and engaged with the health center than ever.
"A lot of these young people are coming to a health center for the first time on their own. It was important for us to add Patient Relationship Management Services to our EHR. It's added to our efficiency. It's helped with our productivity. It's helped us really serve patients in the way they want to be served."
Renee McConey, director of health services, The Door Adolescent Health Center, New York City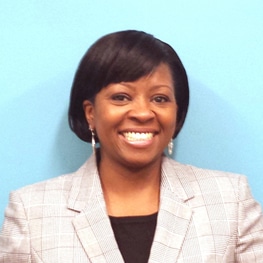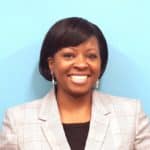 Patient Relationship Management (PRM) Services
healow Patient Relationship Management (PRM) Services brings a team of eClinicalWorks experts on-site at your practice to show your providers, staff, and patients how to get the most out of the Patient Engagement tools already available to them. Through customized training, web-enabling patients, and offering hands-on demonstrations, PRM Services can transform a practice's use of Kiosk, Patient Portal, eClinicalWorks Messenger, and more, as well as creating marketing materials that meet the specific needs of a given practice.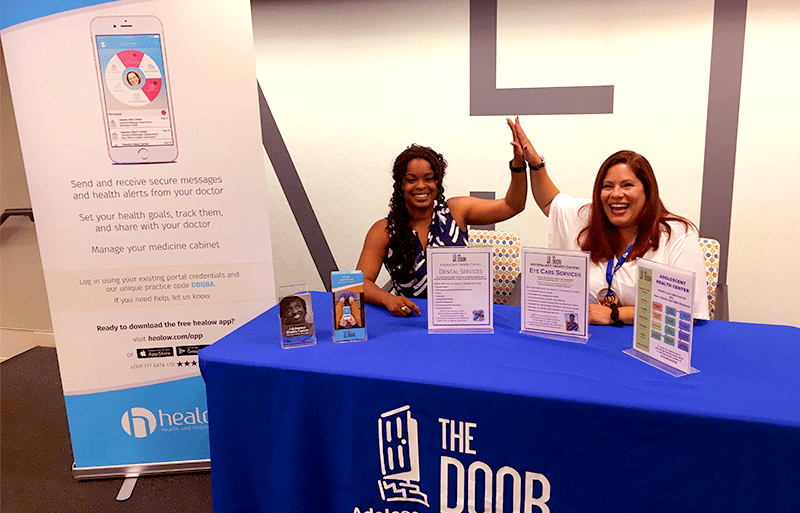 Patient Portal gives patients a powerful way to stay in touch with their healthcare providers. Through Portal, patients can check health records and lab results, request prescription refills, book appointments, send messages to their providers, and obtain reliable health information — and do it all confidentially and from the comfort of home. Staff at The Door recognize that having a strong relationship with a healthcare provider is an important part of modern life, and seek to build that understanding among the NYC youth they serve.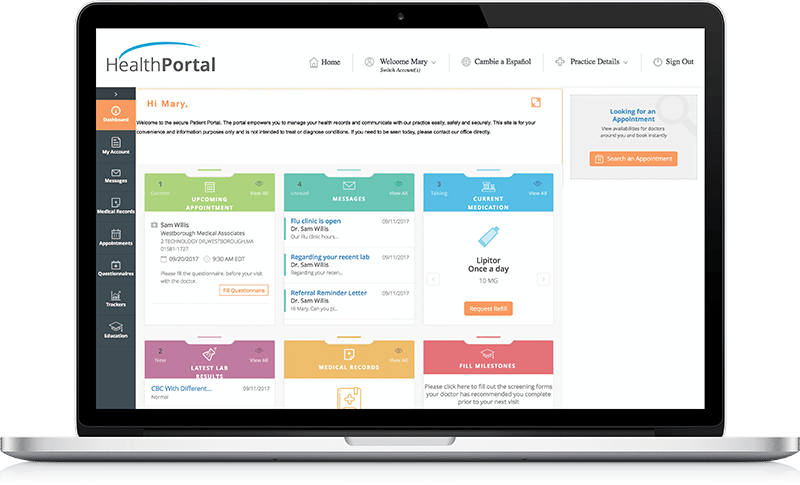 Staff at The Door understand that today's youth are never far from their smartphones and are very comfortable with technology. That's why Kiosk check-in, which allows them to check in on an iPad®, has proven to be so popular. The Door's patients can update their demographic and insurance information quickly and confidentially, and the health center can ask them to complete questionnaires that can yield information that is critical to meeting their overall physical and mental health needs.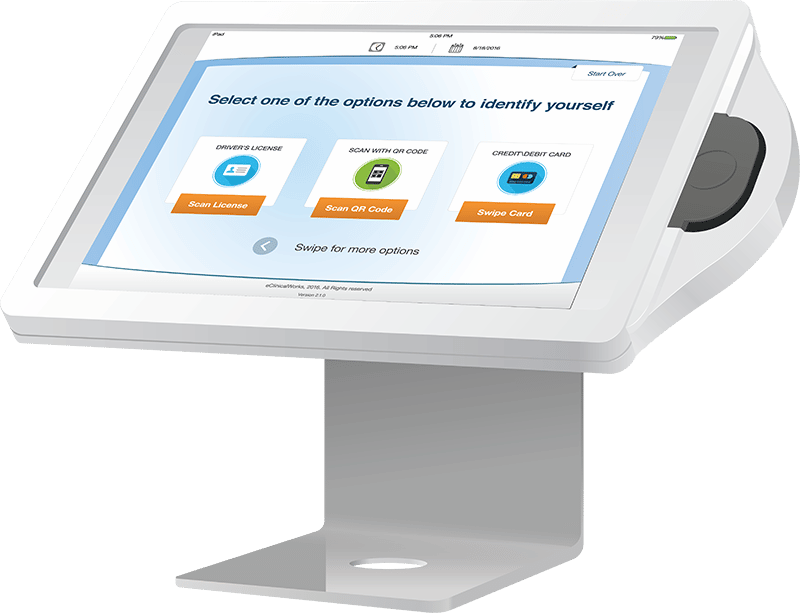 Adam Siladi: Welcome to this special edition of the eClinicalWorks Podcast, here at the National Conference here in Nashville, Tennessee. You know, one of the big topics that we've been talking about this year has been Patient Engagement. It's really something that's come to the forefront. And there's a lot of tools available to help engage patients, both in sending out messages to them, making it easier for them to check in to the office, and also having them communicate with you when they would like to find a doctor, or maybe get some services from you. And to talk about that with us today we have Irene and Tamar from The Door in New York. Welcome, everybody.
Irene Rodriguez: Thank you.
Tamara McDonald: Thank you.
Siladi: So, we're really excited to hear what you have to say about Patient Engagement, but before we get to that, why don't you tell us a little bit about your organization and who you are?
Rodriguez: Hi, I'm Irene. I'm Manager of Operations at The Door, which is a youth health center in New York City and SoHo. And we love empowering our young adolescent population. We serve ages 12 to 24, and I have a big hand in, you know, dealing with these young kids, and just making them more empowered with their healthcare. Tamara?
McDonald: Hi, I'm Tamara. I'm the Health Center Coordinator at The Door Adolescent Health Center, and we provide our youth with a lot of services to help them lay that foundation in healthcare from an early start, so that they can just be healthier adults.
Siladi: So, now, Patient Relationship Management, Patient Engagement, eClinicalWorks offers a ton of stuff there. We have the Portal, we have the healow app, we have Messenger, all sorts of things, Kiosk. And I think your organization utilized our Patient Relationship Management consulting to help you get a start with that. So, tell us a little bit about your experience there, and what you got out of that.
Tamara: The PRM Services, we did this in 2017, and it was a great experience for us. We had long meetings with homework, but it was all worth it in the end, as one eClinicalWorks staff person came on-site to help us promote our PRM Services with the healow app and our Patient Portal. Our patients loved it. They're always on their phones, and they're gravitating toward that device daily, so it was helpful for us to finally open up that space for them, to have their healthcare record available to them in the app. And on-site they were able to just go learn about the healow app, get their pamphlets, available in English and Spanish, and learn about their health. And inquire more about their health. We had a lot of questions stemming from that whole session in that week, and we enjoyed the feedback and interactions with those patients at that time. And it continues on today.
Siladi: Yeah, so you're talking about your patients there. They're very technologically connected, because you're serving that younger population. Like you said, they're glued to their phones all the time. You had to keep up a little bit with this technology here, keep with the times, huh?
Rodriguez: When we went to the Boston Health Center Summit in early 2017, and learned about the PRM Services, we were excited and we said, you know what, we really need this in our practice. This is something that's valuable to offer our young people. Again, you know, they're glued to their cellphones. What teenager isn't? And having that technology at their fingertips, where they can go on the healow app and request an appointment, they can log in to their Portal and ask those delicate questions that teenagers have as they're entering adulthood, and get those questions answered. They are able to access certain results on their Portal, and it's just that one on one. The healow app does, however, save time with my front-desk receptionists, as far as making appointments and being on the phone, they're actually getting that instant gratification through the app to get that appointment secured. Now, dealing with our population, our kids aren't in school, so they can't call to make that appointment, but on their phone they're able to go through the healow app and say "I need to come in tomorrow, do you have availability? I want this time slot." And that's what the healow app does, and it helps us do our job, and it helps them get the immediate appointment. So, we love that, for sure.
Siladi: So not only providing, it sounds like, really enhanced, very convenient access for your patients, but also, like you said, saving your front office time. That's right there, that's half of what they need to do. They just need to, I'm sure, make sure a couple of things are in place to move forward. Now, with the PRM Services, I know they offer a lot. Can you share a little bit about what — you said they gave you some homework! — so what were some of the things that they came in to do with you, the PRM Services?
McDonald: So, that was a great experience, to see what things that we currently have available with eClinicalWorks. We were already using the Messenger part of the service to remind patients via text or by a phone call, automated, to say your appointment is on this date, please come in. But now we're able to use our encounters to see how many people are coming in for the day, and what they can use better with the healow app, such as making appointments, booking it online. We had a lot of people interested in our site. When we booked online and went live, we got a lot of input from people in the area that wanted dental services, optometry, or primary care services, and we were like "Oh, well we're sorry, but you're not in our age group, but please use the healow app to find another health center and get that service done in our area."
Siladi: That's great, there's thousands and thousands of doctors on healow right now, and if they found you with that tool, it sounds like it's just a great way to just redirect them and say "You found us so easily, go ahead and find another doctor who's more suited to deal with your — because they're not part of your patient population. So, with your Patient Engagement, because, you know, there's a lot of different things, like you said, Messenger, Messenger campaigns, stuff like that, how are you measuring your success? What goals are you setting for yourselves with regard to Patient Engagement?
McDonald: We really want to see our patients increase usage, and log into their Portal, communicating with their provider, and reflecting on the importance of healthcare and why it's important. They often get the messages, come back from their appointment, but they're like, "Why do I have to come back? I came back the week before." It's about follow-up and care, prevention, and that technology allows them to see things on their own, and have that time they need to be young adults and learn about information quickly. And with the healow app, I've seen a lot of patients ask "Oh, what is that? What does that mean? Why do I have to go into my phone?" I'm like, download the app, you can view your health record, see what's going on, your past appointments, your upcoming appointments, so it was a great tool and a conversation starter about healthcare. And oh, by the way, did you have your follow-up visit with this provider? So, it allowed a lot of patients to have that dialogue with receptionists and other staff.
Rodriguez: What I also like about it is the campaign part of it. You know, we do utilize the campaigns in the system. The current one that we're going to launch off is "Get your flu shot!" because it is flu shot season, so get the kids in, make them aware. We've also done cervical cancer screening, or Pap tests. Make your appointment for your yearly Pap test. What other campaigns have we run?
McDonald: We were running — the cervical cancer one was a big one for us, because we ran it twice already within the last two years. It was so successful the first time that we wanted to run it again, and help that with promotion of annual examinations for our female population. We were actually doing a quality improvement project on-site for this year, and that helped with our quality improvement. It was actually an action plan to help with the goal of having patients come in more for Pap examinations, so it was a big help.
Rodriguez: Also for PCMH, because we are PCMH, and those quality measures did help us with that, as well. Another good thing about the campaigns, if you've never run a campaign before, is you can target based on sex of the patient, the age group, so say, for the Pap screening, you know, we wanted to target the 18 to 24-year-olds, because if you send 17 and under, you don't really need a Pap test. So, you're able to utilize the settings in there to target your specific audience that you want to reach.
Siladi: Right, and there are a lot of other filters and things that are available there, and specifically the campaigns will look at people who may have already had that test done, and not contact them if they meet that criteria, so you are automatically weeding out those people who have had that service, and are not contacting them again. Now, you're also using the Kiosk in your office. Is that a new thing for you guys? Tell me why you decided to go with the Kiosk.
Rodriguez: Well, that's me! The Kiosk, I really needed the Kiosk. One good thing about the Kiosk is the young people can update their demographics at their fingertips when they're checking in, arriving in for the appointment. As you know, young adolescents, they're always changing their cellphone number, they may move around. You know, we're dealing with the underserved, so we have a lot of young people who move, or are in transition, or are in different shelters, so they can update their address, their cellphone, their contact information when they arrive themselves, in the Kiosk. Another cool thing which I'm really excited about is the SO/GI. We updated to, you know, Version 11, and they are able to identify and fill out the SO/GI form. You know, "Am I transgender? Am I gay? Am I lesbian?" Because those are very important questions that we need to ask so that this way, the provider can coordinate their care accordingly. And this way we can identify them, you know, if they have a nickname. You know, they have their government name, you know they have their nickname. And if I identify as he/him/they or she/her/hers, we have that at our fingertips regarding SO/GI. So that's another big thing on the Kiosk that we're able to do. The consent forms are all electronic, so they'll sign away their HIPAA consent and other consents that we have loaded in there. So that's less scanning for my front-office staff, which is like, really a plus. My front-office staff is able to do other things instead of scanning all of these consent forms. We have a population of about 50 to 60 kids a day, so that really cuts down as far as the paperwork.
McDonald: And it's opened up our center more, to have more open availability to our receptionists.
Siladi: Perfect. Now, how have you set up your Kiosk? How many of them do you have? Do you have a configuration?
McDonald: We have three. We have two standing, helping out with our ADA compliance, and one on the desk. It was very helpful. At first, we were like, "Do they see it? Should we put lights around it?" But they were — it was able to stand out, and people were like "What is that?" Like: "Go over there and fill it out!" So they were excited about it.
Siladi: You know, they have those models over there on the floor with all the flashing lights. It makes it certainly attention-grabbing, for sure!
Rodriguez: It is. And then, you know what, we've got to talk about the marketing. When we started the implementation and we were choosing the different marketing and posters, you know, there's different variations, we chose the young vibe, the young kids in the pictures. We have marketing everywhere. We have our Wi-Fi password posted everywhere, so that this way, if they're brand-new, they can download the healow app right then after they've checked in. And then, our front-office staff has that dialogue with the new kids as they come in to register — download the healow app, this is our Portal, explains a little bit about that service, so that this way, they have that at their fingertips. But the marketing is just awesome.
Siladi: Yeah, if they don't know it's available, they're not going to use it, so you need to make sure that they know about it. Well, it sounds like you guys are doing a fantastic job with your Patient Engagement, you're using a lot of those tools. Those PRM Services sound like they came in very handy, and if anybody else is interested in any of those services, make sure you make your way down to eCWCentral today, so we can talk to you about those things. We've got our Patient Engagement booth, where you can get more information on all of the things we've been talking about here today — Messenger campaigns, Patient Portal, Kiosk, wow, the app, the list really just goes on and on. Well, Irene, Tamara, thank you so much for your time… for being here. This is really fantastic.
McDonald: Thank you.
Rodriguez: It's been a pleasure.
Siladi: You can check out our other eClinicalWorks Podcasts on iTunes, YouTube, and my.eclinicalworks.com. For the eClinicalWorks Podcast, I'm Adam Siladi, and thanks for watching.