How Software Updates Promote Usability and Patient Safety
Published on Tuesday, May 11, 2021
Keeping up to date with the latest version of eClinicalWorks® is really about having the best of two worlds — the latest innovations plus enhancements for tried-and-true features. The V11.52 series features an enhanced patient safety dashboard that tracks more than 100 KPIs, along with improved drug and allergy checks. Plus, practices can rely on immunization templates, flu clinic features, and improved voice-recognition technology to speed daily documentation. In this edition of the eClinicalWorks Podcast, Brian Hughes and Marzia Fatimah discuss why regular updates are so beneficial for today's busy medical practices.
"We're not just documenting and getting paid anymore, we are interacting with the entire patient experience, from wellness to chronic care and everything in-between. I believe staying up to date on the EHR means keeping pace with the changing technology — security, usability, bug fixes, enhancements, and so much more to support better taking care of our patients."
– Marzia Fatimah, Business Development Manager eClinicalWorks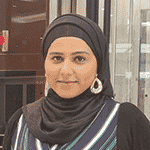 eClinicalWorks V11 is the next step in the evolution of healthcare IT, a cloud-based EHR and Revenue Cycle Management solution designed to meet the challenges and opportunities of value-based care. Providers enjoy easy documentation, the latest in interoperability, and can access patient data anytime, anywhere — on a PC or Mac® using a web browser, a smartphone, or an iPad®. And V11 surrounds our core EHR with tools for stronger Patient Engagement, deeper understanding of Population Health, and a renewed emphasis on patient safety.