Leveraging Technology and the Impacts on Allied Physicians of Michiana
Published on Wednesday, January 20, 2021
Listen in to find out how Michelle Hurtt was able to leverage multiple tools from eClinicalWorks and how she was able to measure their effectiveness. Utilizing Kiosk has helped speed up check-in and the intake process for completing patient history forms. Kiosk continues to improve the efficiency of the practice's front office. The practice also utilizes HEDIS® measures and Messenger Campaigns to help cut down on no-show rates, figure out if a patient is overdue for a wellness visit, and more.
"We're using HEDIS in conjunction with our Campaigns. First, we look through and see if a patient is overdue for a well visit. Then we contact those patients through a Campaign message. The office told me that they were shocked by how few patients they had to contact since they had already been contacted earlier."
Michelle Hurtt, Senior Application Analyst at Allied Physicians of Michiana, LLC.

Kiosk allows your patients to check in for their appointments with ease, confirm insurance information, answer questionnaires, and links information directly to the EHR. Using Kiosk could give your front office staff more time to answer calls and assist other patients.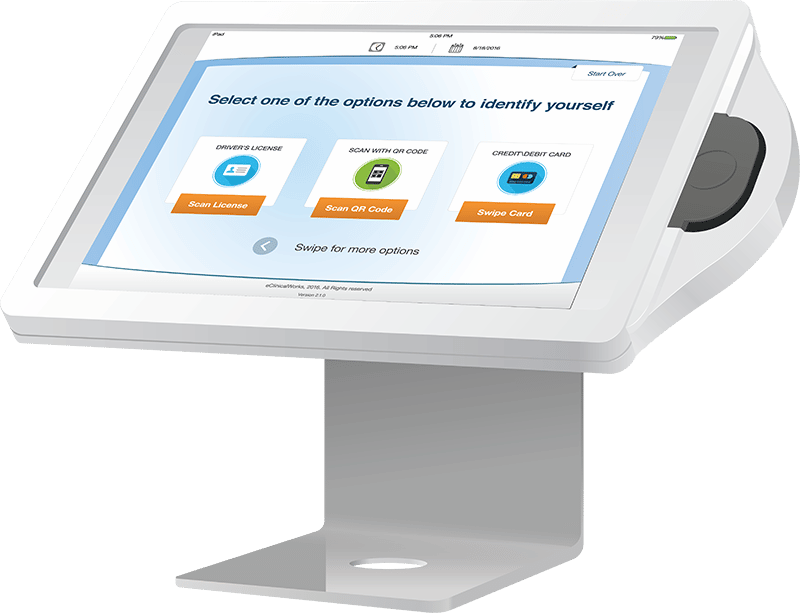 The Healthcare Effectiveness Data and Information Set (HEDIS) is an essential tool for Population Health planning, offering a set of performance measures designed to improve the delivery of quality care, measure access to care, assess high-risk patients, measure compliance with treatments, and evaluate provider performance and patient satisfaction.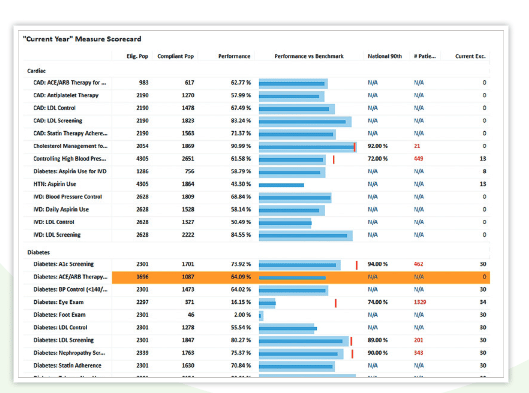 Meeting the demands of modern healthcare is about more than quality providers and facilities – true excellence requires access. The Patient Portal has revolutionized workflows and the doctor-patient relationship by offering secure online communications for appointments, visit summaries, messages, lab results, and patient education. And the latest version of the Patient Portal has a Spanish language interface and proxy access to meet the needs of families, adolescents, and adults caring for aging parents.
Customizable Messenger Campaigns target patients who can benefit from additional health reminders. Using clinically relevant information, Messenger identifies patients who need reminders for follow-up care and let's you reach them by phone, email, the healow® app, or through the Patient Portal.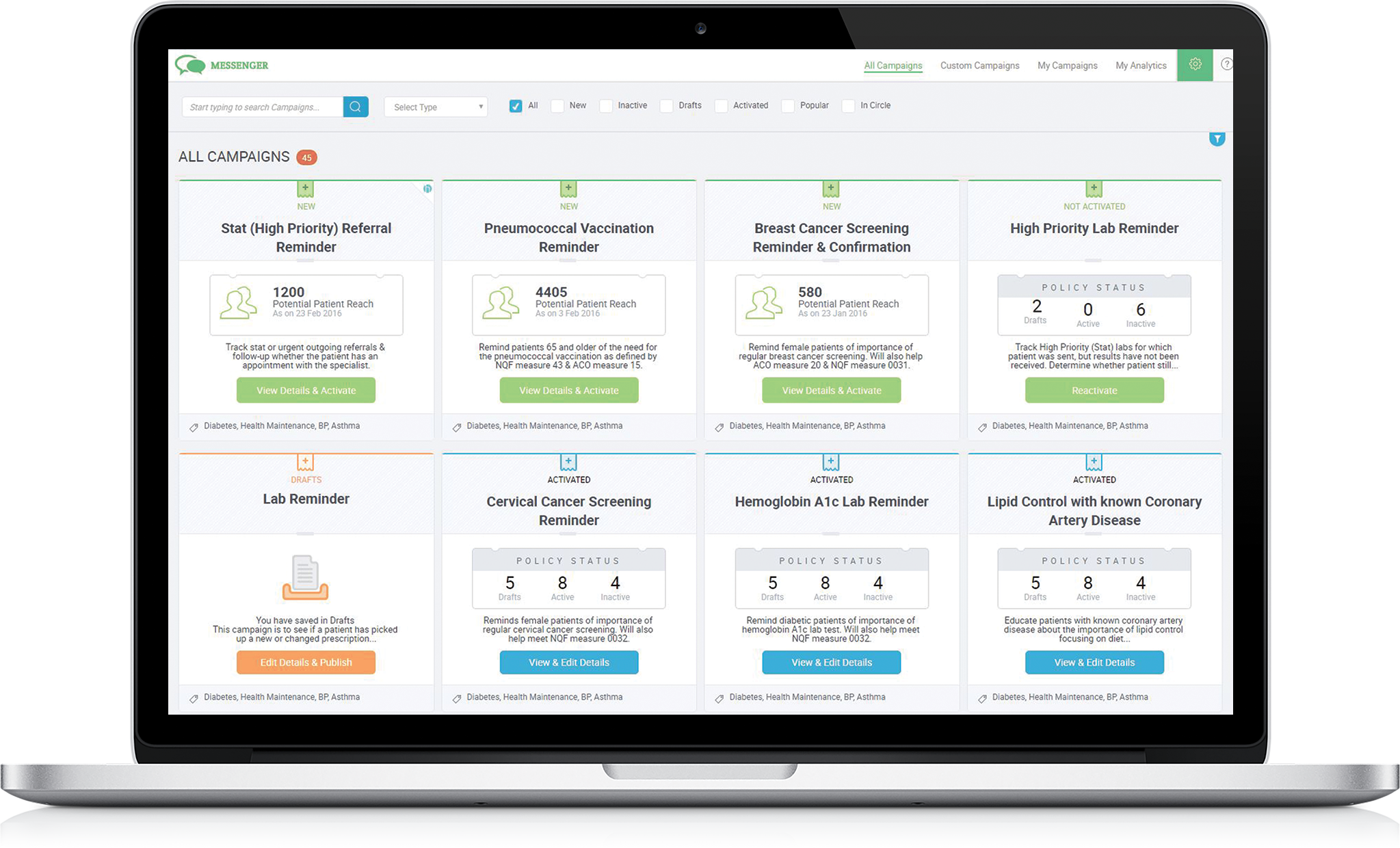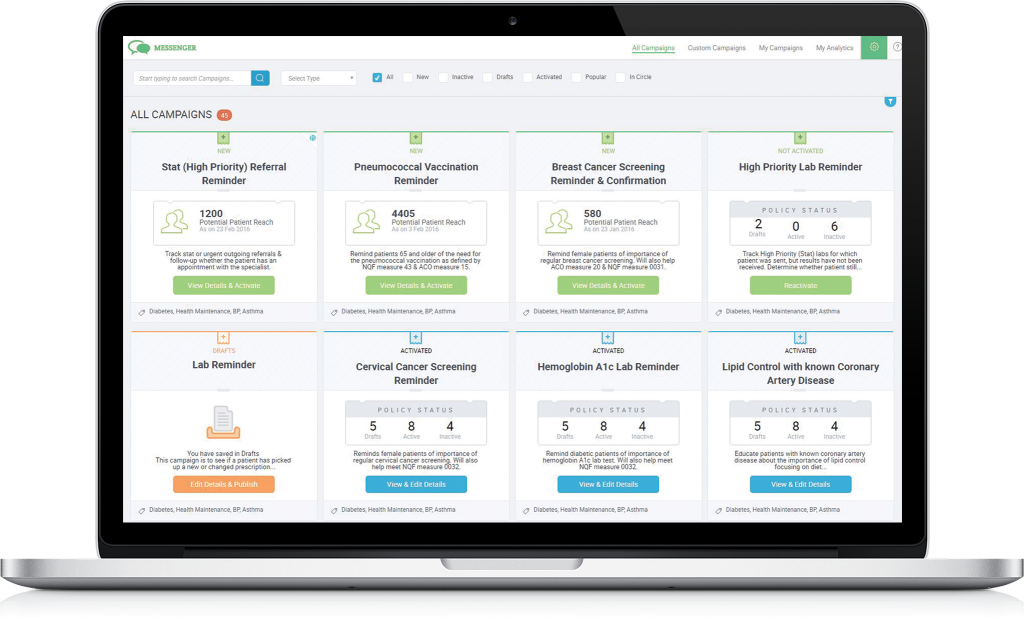 eClinicalWorks Business Optimizer (eBO®)
Healthcare is changing rapidly and so is the industry's need for reporting, analytics, and business intelligence. eBO gives clients an easy way to gain insight into their data. Offering a wide suite of canned reports and an ever-expanding list of metadata, eBO gives practices all the tools necessary for success.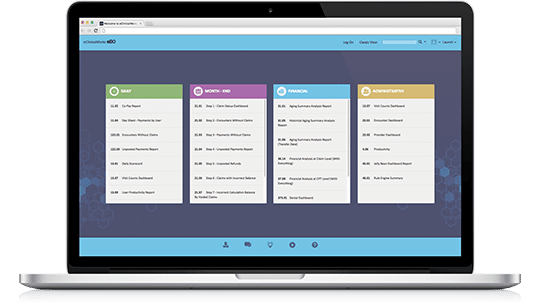 HEDIS® is a registered trademark of the National Committee for Quality Assurance (NCQA).