Optimizing EHR Performance at a Virginia Health Center
Published on Wednesday, November 9, 2022

Busy practices, including some who are veteran users of the eClinicalWorks® EHR, may not always have the time to explore the full ranger and power of the healthcare IT they use every day. An EHR Implementation Specialist (EIS) helped Johnson Health Center, in Madison Heights, Virginia, recognize they could use some assistance getting their providers more comfortable using the browser version of eClinicalWorks. Providers gained new knowledge and confidence and learned lots of shortcuts and tricks that are speeding workflows and efficiency.
"The optimization rep showed us how to navigate different areas of the eClinicalWorks EHR. Even though some of us are superusers, we had no idea we could get to different places in the applications so much more quickly and efficiently."
Joban Singh, Chief Strategy Officer, Johnson Health Center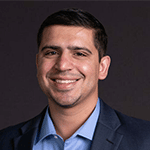 EHR Implementation Specialists (EIS)
A successful EHR implementation requires both client and vendor thoroughly understand project processes, methodologies, and goals. Our EIS team provides on-site expertise, during and after implementation. EIS team experts have vital industry experience and the highest level of product and training certifications. They have the knowledge and tools needed to translate your ideas into a well-functioning EHR solution.
eClinicalWorks is committed to providing customers with affordable, state-of-the-art interoperability solutions to ensure that providers have complete visibility into each patient's medical history, and all the data they need, on demand and at the point of care, to help promote quality care.