Telehealth: Expanding the Range of Specialty Care
Listen as some of our in-house subject matter experts explain the benefits of using healow TeleVisits™. Orthopedics, pediatrics, gastroenterology, and behavioral health have all taken advantage of the features televisits offer in order to keep their practices open during the COVID-19 pandemic. Hear how telehealth has completely changed the way practices function during and after the pandemic.  
Behavioral Health
Published on Monday July 20, 2020
Jimeet speaks about how patients have been asking for televisits, and how, because of the COVID-19 pandemic, they have finally gained traction. Behavioral health specialty groups have benefited greatly from the eClinicalWorks telehealth solutions, which have made physicians more easily accessible to their patients.
"When I started doing televisit demos, they told me that it's a product of the future, we don't see it being used for the next couple of years, reimbursement guidelines are not clear. Fast forward 15 days: Stay at home orders came into effect, and that changed everything. You know, we had televisit webinars where we had closer to 800 attendees joining in a single day."
Jimeet Mehta, Business Development Manager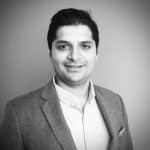 Gastroenterology
Published on Monday July 20, 2020
Minesh discusses how gastro specialty groups are using televisits to provide a more efficient patient experience, and how eClinicalWorks is regularly enhancing the software to make it even more accessible to both the patient and provider. He shares how a Florida gastro group is helping to prevent unnecessary urgent care visits.
"Everything is integrated at the point of care. It's a seamless workflow for the physicians."
Minesh Gadhia, Business Development Manager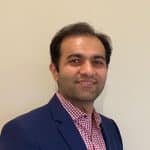 Pediatrics
Published on Monday July 20, 2020
Amandeep describes how pediatric groups have taken to a eClinicalWorks telehealth solution and are using all the tools eClinicalWorks has to offer — from campaign notifications to customizable questionnaires and wearable tracking devices. She emphasizes the optimal user experience and how televisits can be accessed across many different device platforms while being completely secure and HIPAA-compliant.
"healow TeleVisits is an integrated solution. It is fully HIPAA compliant — you can do appointment scheduling, document your notes, publish questionnaires, do documentation, and integrate with wearable medical devices."
Amandeep Chawla, Business Development Manager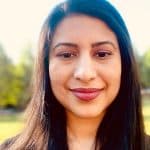 Orthopedics
Published on Monday July 20, 2020
Palak explains how orthopedic specialty groups have effortlessly added healow TeleVisits to their workflows during the pandemic. Televisits are helping cut down on no-shows, integrating seamlessly into the eClinicalWorks EMR, and working in conjunction with Patient Portal and healow Open Access® appointment booking.
"From a practice perspective, it breaks down a lot of traditional barriers, so if you are offering telehealth, you now have a potential to see a patient that's probably living hours away from your practice; that patient was never going to drive to your practice. It pretty much expands your reach as a provider."
Palak Pandya, Business Development Manager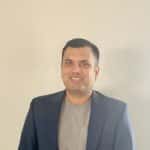 With healow TeleVisits physicians can deliver an in-office experience to patients with online ease. healow TeleVisits use a practice's existing equipment, such as webcams, and work with any browser. Fully integrated with the eClinicalWorks® EMR, healow TeleVisits offer providers access to the same clinical tools available for any office visit. Patients enjoy the comfort and privacy of being at home or the office. Perfect for routine, follow-up, and check-in visits that don't require the patient to be present in the provider's office, healow TeleVisits are helping expand access to healthcare. And patients can use their smartphone or computer to complete questionnaires and submit vital signs readings before their appointment begins.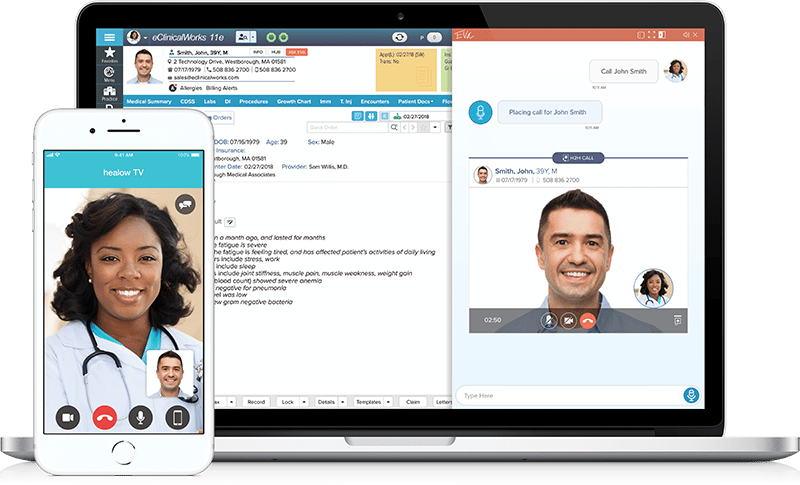 Ready to take Patient Engagement to a new level? Add healow Open Access (additional costs apply) to healow Telehealth Solutions and put an end to scheduling headaches. Patients can request or book appointments online, while your practice remains in full control of providers' schedules with just a few keystrokes.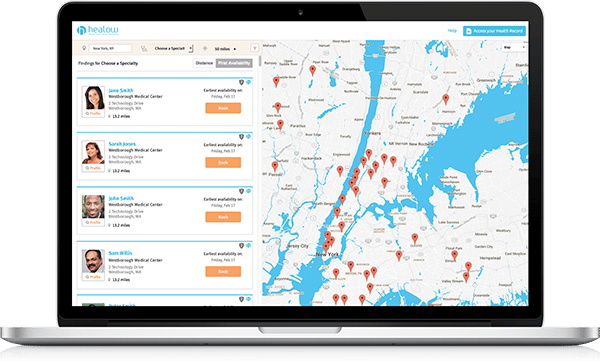 Meeting the demands of modern healthcare is about more than quality providers and facilities. True excellence requires access. Patient Portal has revolutionized workflows and the doctor-patient relationship by offering secure, online communications for appointments, visit summaries, messages, lab results, and patient education. And the latest version of Patient Portal has a Spanish language interface, as well as proxy access to meet the needs of families, adolescents, and adults caring for aging parents.
eClinicalWorks Scribe® allows providers to generate accurate and comprehensive Progress Notes. Partnering with speech-to-text software, providers complete documentation and tasks within eClinicalWorks, eClinicalTouch, and eClinicalMobile® dictating or typing patient narratives directly into a text box lets eClinicalWorks Scribe convert the free text into structured data. eClinicalWorks Scribe places the text within the appropriate sections of the Progress Note for you.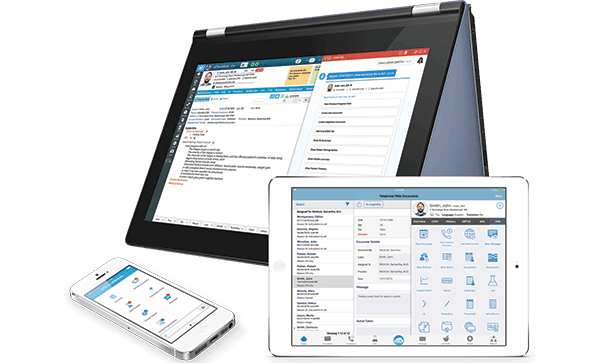 The eClinicalWorks EMR integrates seamlessly with devices, scopes, and monitors used in a wide variety of medical specialties. Enjoy intuitive, easy-to-use interfaces, whether you are capturing structured data, receiving a PDF for an ECG test, or running registry reports to identify cardiac patients with an abnormal LVEF, FVC, or METS.