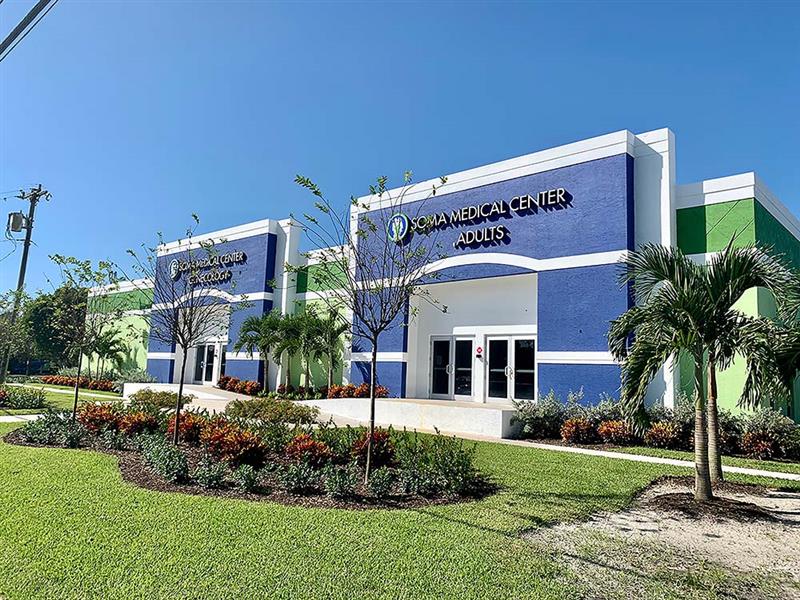 Florida-based healthcare institution leverages eClinicalWorks' cloud EHR to boost clinical outcomes and simplify workflows
WESTBOROUGH, Mass.—October 26, 2021—eClinicalWorks®, a leader in healthcare IT solutions, today announced that Soma Medical Center, P.A. recently implemented eClinicalWorks' consolidated cloud platform and services for its 50+ providers. Through eClinicalWorks' patient engagement and automated solutions, physicians at Soma Medical Center have more efficient ways to keep in touch with patients and their families, helping ensure the reliable delivery of care.

Soma Medical Center offers a wide spectrum of health services to families in the Palm Beach County, Florida area. The center deployed eClinicalWorks primarily to promote patient access and satisfaction. Physicians use leading-edge technology to ensure every aspect of patient care is taken care of, greatly enhancing patient engagement. With eClinicalWorks, the center will transform patient services at 25 facilities through solutions such as the cloud for keeping data safe, and the health information search engine, PRISMA, for providers to better know their patients.

"With eClinicalWorks, our team of physicians and administrators are more efficient and effective, which has helped us continue to fulfill our mission of satisfying health necessities with an ethical, social, and environmental responsibility," said Andres Florez, Vice President of Soma Medical Center. "It was so easy to transition to eClinicalWorks' software and we're excited to see how quickly we benefit from using it."

Soma Medical Center utilizes the following products and services by eClinicalWorks:
Cloud platform for integrated health data: The eClinicalWorks EMR is based on a cloud framework, allowing Soma Medical Center to keep practice and patient data secure and accessible in any situation. This national infrastructure serves as the most reliable service possible without the challenges of data backup, security, server upgrades and maintenance.

eClinicalWorks is certified with ISO 27001:2013 and HITRUST to continue improving security and data privacy.

Access to complete medical records: Providers at Soma Medical Center are now able to lower patient wait times, create greater efficiency, and provide better care by utilizing PRISMA, the industry's first health information search engine. This one patient, one record approach by eClinicalWorks collates medical information from a variety of national and local sources in a searchable format to enable faster and more accurate medical decision-making.
"We are excited about partnering with Soma Medical Center as there is great alignment between both organization's patient-centric culture, vision and mission," said Girish Navani, CEO and cofounder of eClinicalWorks. "The innovative work eClinicalWorks is doing in regard to robotic process automation (RPA) will further enhance and streamline appointment booking, registration, referral management, payment posting, statement processing and document routing, minimizing costs and human error while improving satisfaction.

Our focus is on providing Soma Medical Center staff and patients with eClinicalWorks' advanced technology to simplify a number of functions, including data collection and patient communications, and ultimately improve patients' access and outcomes."

About Soma Medical Center, P.A.
Located in Palm Beach County and founded by Rafael O. Nuñez, MD President and Jacqueline Nuñez, CEO, Soma Medical Center is characterized for its quality in health care, dedication, and treatment of their patients. That is how it has successfully acquired all of its patients in the past 21 years of service. Furthermore, they offer a source of employment, and have generated great opportunities in Palm Beach County. For more information, please visit https://somamedicalcenter.com.

About eClinicalWorks
eClinicalWorks® is a privately held leader in healthcare IT solutions, offering Electronic Health Records, Practice Management tools, and solutions for Patient Engagement, Population Health, and Revenue Cycle Management. More than 130,000 healthcare providers use eClinicalWorks — from ambulatory clinics and hospitals to regional health systems, community health centers, departments of health, Ambulatory Surgery Centers, walk-in clinics, and more. To date, 19 eClinicalWorks customers have received the prestigious HIMSS Davies Award for excellence in implementing healthcare IT. Founded in 1999 and privately owned, eClinicalWorks is headquartered in Westborough, Massachusetts and has offices in New York City, Chicago, Austin, and Pleasanton, California, as well as in India. For more information, visit www.eclinicalworks.com, follow us on Facebook and Twitter, or call (866) 888-6929.