Unique features enable parents to keep track of their child's health at the touch of a finger
Westborough, Mass.—July 11, 2017—eClinicalWorks®, a leader in healthcare IT solutions, announced today the benefits providers and parents have experienced with the company's Health & Online Wellness healow Kids mobile app, which provides a channel for parents to manage their children's health. Through the app, parents can access health records, send and receive secure messages to the pediatrician and book appointments.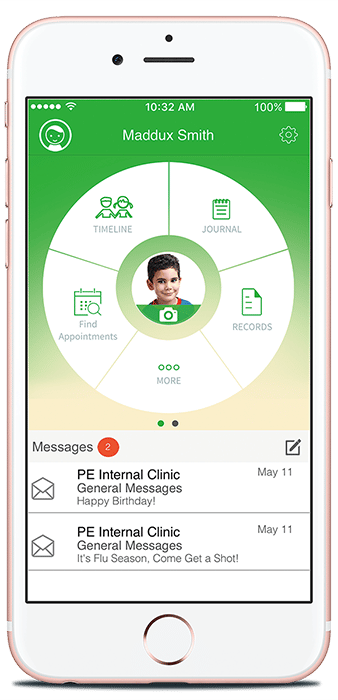 "As an experienced user of the healow Kids app, both professionally and personally with my own children, I can say that the ability to obtain your children's medical information in real-time is great," said Tiffany B., MedPeds staff member. "In the case of an emergency room or urgent care setting, parents may not remember every single detail about their child but with the use of the healow app, can give providers pertinent information about their health. From a parental perspective, healow also offers the ability to obtain medical information, such as dosing for fevers and other helpful information, which I believe will help detour unnecessary after hour calls regarding pediatric emergencies."
healow Kids assists parents in keeping track of their child's health and progress. The mobile app is fully integrated with the eClinicalWorks Electronic Health Record (EHR), giving them direct access to complete health records, lab results, a secure messaging system where they can connect with their providers and a feature that allows them to book future appointments. Additionally, it allows parents to record home health monitoring data, such as growth, nutrition and developmental milestones. An education feature shares regular resources on wellness and parenting to help parents stay informed on what to expect as their child grows. Patients can use the journal feature to take notes on their child's health and track achievements.
"healow Kids is a useful tool for parents that makes managing their child's health easier and more convenient," said Girish Navani, CEO and co-founder of eClinicalWorks. "With this app, parents can keep a comprehensive record of their child's health and development, which not only provides reassurance, but also helps them be more informed when having conversations with the pediatrician. This app also helps providers streamline workflows within their practices by allowing them to communicate and share health information directly with the parents."
About eClinicalWorks
eClinicalWorks® is a privately held leader in healthcare IT solutions. With more than 125,000 physicians and nurse practitioners using its solutions, customers include ACOs, physician practices, hospitals, community health centers, departments of health, and convenient care clinics. During the past eight years, 16 eClinicalWorks customers have received the prestigious HIMSS Davies Award, honoring excellence in electronic health record implementation. The company is second largest in the country for e-prescribing. Based in Westborough, Mass., eClinicalWorks has additional offices in Austin, New York City, Chicago, California, Georgia, London, India, and Dubai. For more information, please visit www.eclinicalworks.com, Facebook, Twitter or call 866-888-6929.