New Cloud Services Platform Changes Definition of Electronic Health Records to Include Population Health and Patient Engagement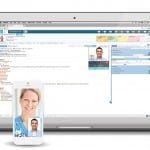 WESTBOROUGH, Mass.—October 16, 2015—eClinicalWorks®, a leader in ambulatory healthcare IT solutions, today announces eClinicalWorks 10e, a new cloud services platform. This technology takes a new approach to electronic health records (EHRs), incorporating population health and patient engagement for a single unified user experience. Built on HTML5, 10e can be used on any platform and with the same usability and aids healthcare organizations in managing patient care delivery across every aspect of where the patient is going to be: home, office, work and fitness location.
Traditional EHR systems have struggled with usability, with this being a hurdle for many healthcare providers. The ability to work on any system means customers can use the devices of their choice, even within the same organization. There is no need to standardize on one type. Additionally, patient engagement, telehealth visits and population health functions are normally separate products. 10e combines all of these within one product, one log-in with an intuitive user interface.
The main features of 10e include:
Ability to run on every platform, including Mac, Chrome and Windows;
Integrated EHR, population health and patient engagement;
Health and wellness tracker data fed directly into platform;
Integrated telehealth visits from within the EHR;
Intuitive user interface.
"10e is a game changer for this industry," said Girish Navani, CEO and co-founder of eClinicalWorks. "Patient engagement and population health are necessary components to care delivery, so it is logical to have them part of a single EHR solution. 10e's capabilities are so diverse, and so powerful, yet so simple to use, that this is the most intuitive EHR system yet. We truly believe that this is going to raise the bar in the industry."
eClinicalWorks 10e will be available to customers by the end of 2015. For additional information about this version, please visit www.eclinicalworks.com/products-services/eclinicalworks-10e-cloud-ehr.
About eClinicalWorks
eClinicalWorks® is a privately-held leader in ambulatory healthcare IT solutions. With physicians across all 50 states using its solutions, customers include ACOs, physician practices, out-patient departments of hospitals, health centers, departments of health and convenient care clinics. Thirteen eClinicalWorks customers have received the prestigious HIMSS Davies Awards during the past eight years, honoring excellence in electronic health record implementation. The company is second largest in the country for e-prescribing. Based in Westborough, Mass., eClinicalWorks has additional offices in Austin, New York City, Chicago, California and Georgia. For more information, please visit www.eclinicalworks.com, Facebook, Twitter or call 866-888-6929.