eClinicalWorks Blog Details
20 Years of Growth and Success
eClinicalWorks

How eClinicalWorks has endured and thrived
Twenty years after setting out on our mission of improving healthcare together, eClinicalWorks is not just surviving, but thriving. The numbers tell part of our success story: From five employees in the spring of 1999, we now have more than 5,100, and are continuing to seek out the best talent to strengthen our many teams.
Perhaps less appreciated is how remarkable it is for a privately held company to endure and grow as eClinicalWorks has. Fewer than 25% of private-sector healthcare organizations which began in 1999 still exist, according to the U.S. Bureau of Labor Statistics.
Moreover, eClinicalWorks, with revenue of more than $500 million annually, stands out as a leader in a crowded industry, where more than 1,800 companies in the U.S. provide some form of EHR to medical practices. More than 80,000 facilities use eClinicalWorks, encompassing 130,000+ physicians and 850,000+ healthcare professionals.
Whether the standard is market share or overall user satisfaction, eClinicalWorks is consistently ranked among the industry's leaders.
That eClinicalWorks stands out is shown by a January 2018 Reaction Data survey of nearly 900 physicians who use an EHR daily. That survey showed that 82% of users gave eClinicalWorks a "5" or higher on a scale of 1-10 — placing us well ahead of other industry leaders.

What's the secret to our success?
The secret to our success is really no secret. Good timing helped a bit. After all, the EHR industry was in its infancy in 1999, and the time was right for a company with innovation and vision to make a difference in healthcare IT.
But good timing and a bit of luck can't explain 20 years of continual growth!
The real keys to our success have been our founders and employees, lots of hard work, and the thousands of amazing customers with whom we continue to grow and learn.
Within three years of our founding, we had signed up our first 250 providers. (Imagine — in those days, we issued our software on CD-ROMs.) In 2003, we opened our first office in Westborough and received a TEPR industry award for excellence in serving small medical practices.
In 2007, Inc. Magazine named us the fourth-fastest growing software company in the U.S.
By 2007, eClinicalWorks was offering a Patient Portal, had thousands of new customers, had built an interoperability network, issued the seventh version of our core EHR software, and opened additional offices in Georgia and India — not bad for an eight-year-old! Check out more success stories with eClinicalWorks here.
Dawn of the National Conference
In 2008, eClinicalWorks added a new chapter to our history when we brought together employees, customers, partners, vendors, and industry-expert guest speakers for our first National Conference in Orlando, Florida.
Those four days in November 2008 were crucial not only for the participants themselves, but for the ongoing conversation sparked by learning, sharing, and networking with healthcare professionals from across the nation. Each year, National Conference attendees return to their practices with deeper insight and fresh ideas. Their experiences and testimonials have been among the most powerful factors fueling the grow of eClinicalWorks.
And that growth has been exponential. As we return to Orlando once more for what will be our 12th National Conference this October, we are thrilled to note that we have tripled our attendance over the last 12 years, and quadrupled our customer base. Join us at #eCWNC19!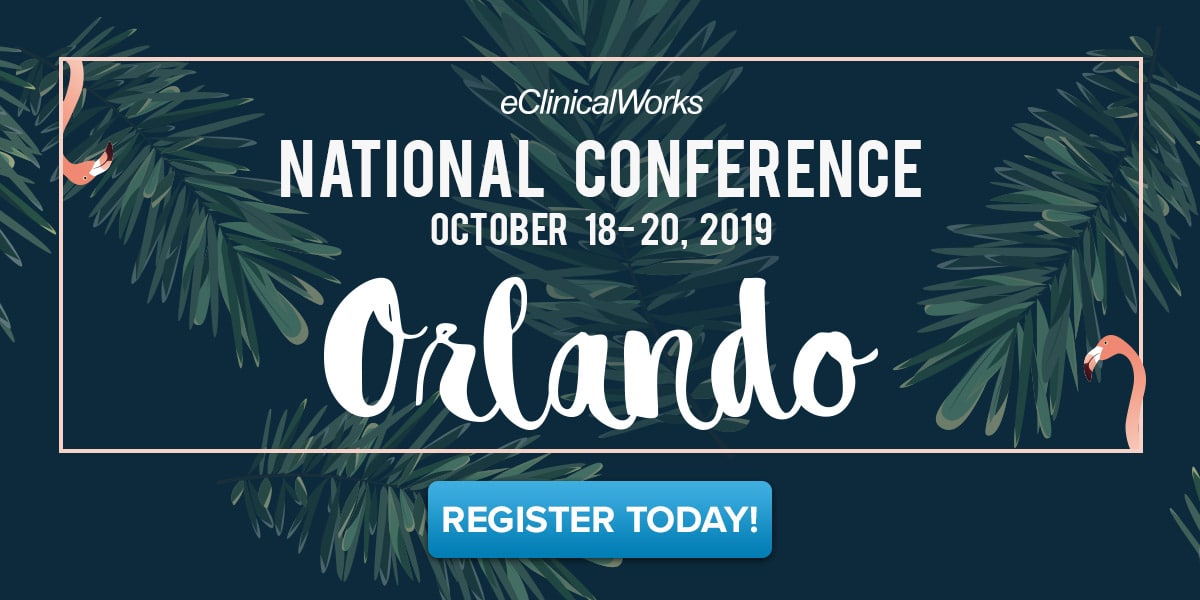 Looking to the Future
This year, eClinicalWorks is marking our 20th anniversary by taking time to thank our employees and customers for their innovation and inspiration.
We take great satisfaction in looking back at our successes, including the 19 eClinicalWorks customers who have received HIMSS Davies awards for excellence in implementing healthcare IT. We feature many of our customers' success stories in print, online, and through the eCW Podcast.
And our company continues to enjoy strong growth around the world. We are welcoming new employees to our family each week. Our employees are working every day to develop innovative solutions for the challenges our customers face each day — for better documentation, faster workflows, deeper understanding of Population Health, and reducing the risks of provider burnout. And eClinicalWorks is leading the way in developing a culture of patient safety, with advisory panels to seek out and promptly respond to defects in software design or implementation.
"For 20 years, eClinicalWorks has done big things for big customers, big things for small customers, and small things for all our customers. From cloud computing and artificial intelligence to telemedicine, interoperability, and improved usability, I'm confident that the next 20 years will see our company doing even better things for every one of our customers!"
– Girish Navani, eClinicalWorks CEO and cofounder