eClinicalWorks Blog Details
Using TCM to Improve Care & Capture Revenue
eClinicalWorks

Uncovering what you can't always see
Most Americans probably don't put Arkansas high on their list for tourist attractions. But from Blanchard Springs Caverns and the Buffalo National River to famous Civil War battlefields, and country music, our state has it all — natural beauty, history, great music, and wonderful people.
In short, there's a lot more here than you might see at first glance.
Three years ago, our medical practice — Dr. Randy Walker Family Practice & Allergy — was experiencing something similar to that.
We were doing a great deal of work managing patients who were transitioning from hospital settings to rehab clinics and their homes. But when we looked at our reporting, we just weren't seeing the reimbursements we knew we had qualified for.
The Centers for Medicare & Medicaid Services permit practices to bill for a variety of services aimed at keeping patients well during what can be stressful and vulnerable transition times. CMS' Transition Care Management program helps practices get reimbursed for what is important and often complex work.
The problem was that every time we ran reports to capture those charges, that money was not there.
Putting the
Transition of Care Management

module to work

Beginning in 2017, we began using the Transition of Care Management (TCM) module from eClinicalWorks. We wound up recovering about $5,000 in revenue that year. But we knew we could do better.

For me as the office manager, anything that improves my ability to track patients and data is awesome, and the TCM module has done exactly that. eClinicalWorks provides us with the tools we need to keep track of patients, identify their needs, and provide the appropriate care to them. And the module offers dashboards that allow me to see everything I need at a glance.

Last year, with the help of a former nurse who came out of retirement to work part-time, we were able to capture more than $48,000 in revenue through the TCM program, nearly 10 times what we had seen three years before!

And the numbers for 2020 are looking even stronger. In spite of the coronavirus pandemic, we've been able to continue providing quality care and expect to exceed that $48,000 figure.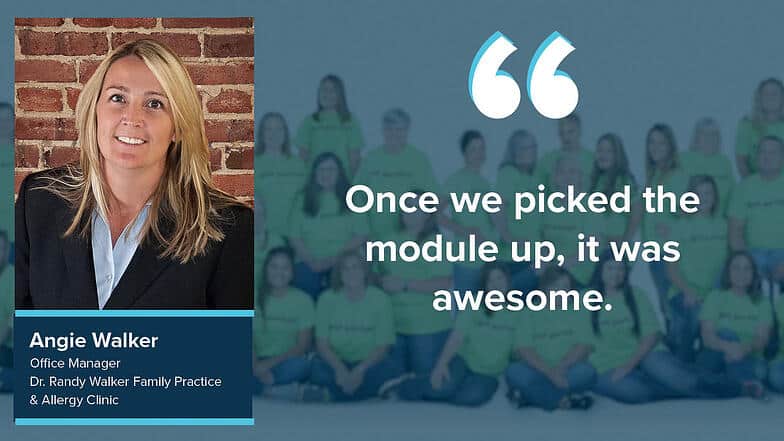 Driving down hospital readmissions
The extra revenue is nice, of course, but the real purpose of the TCM program is to improve the care we provide to Arkansans, and one of the best ways to measure our progress is by hospital readmissions.
Our readmission rate had been 1.29%, which isn't bad for a small practice. But when I recently ran the numbers for the fourth quarter of 2019, our readmission rate had fallen to 0.95%. That represents dozens of folks who did not have to be hospitalized, allowing them to remain comfortably at home with their families, enjoying better health, and driving down overall costs.
The nurse running our TCM program continues to do a phenomenal job, and with the help of eClinicalWorks our practice is providing great care while capturing revenue that we knew was there all along.
Sometimes, as with our beautiful state, it's just a matter of knowing where to look.
Angie Walker is Practice Manager at Dr. Randy Walker Family Practice & Allergy Clinic in De Queen, Arkansas. To watch Angie's Customer Story Video, click here.