Growth in all three market segments of EHR, Population Health and Patient Engagement, with revenues of $120 million for Q2, 2017
Westborough, Mass.—July 28, 2017—eClinicalWorks®, a leader in healthcare IT solutions, is reporting its strongest sales month of 2017 thus far, with over 1,000 providers selecting eClinicalWorks' comprehensive EHR solution in June. The second quarter of 2017 showed excellent results, with more than 3,000 providers added — contracting with small, midsized, and large enterprise clients, including FQHCs, Ambulatory Surgery Centers, and ACOs. Last week, it was announced that Medical Associates of Clinton, a 49-provider group across four locations in Iowa, selected eClinicalWorks. This growth is attributed to the ongoing strength and quality of eClinicalWorks' cloud-centric, fully integrated EHR/PM products, which offer organizations the scalability they need to accommodate growth.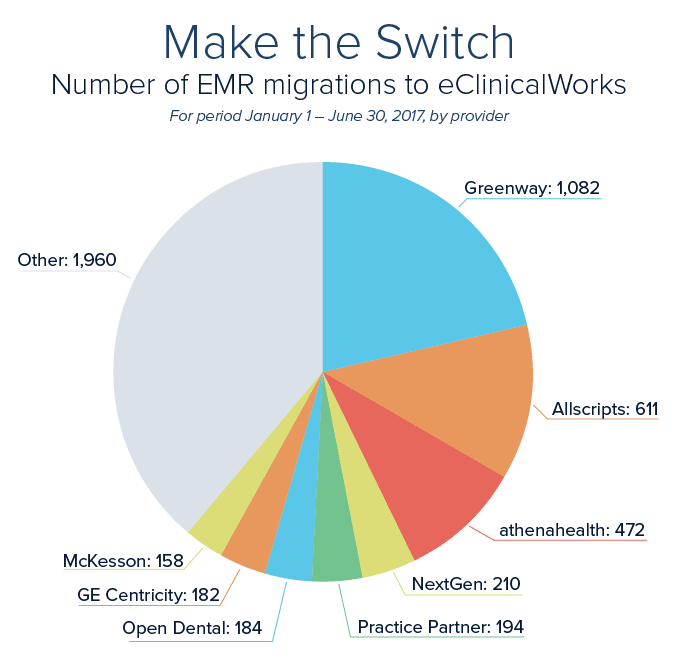 In the first six months of 2017, 70% of eClinicalWorks' new providers switched from different EHRs, which included Greenway, Allscripts, NextGen, athenahealth, and Practice Partner. Organizations are switching to eClinicalWorks because it offers a suite of tightly integrated cloud solutions to help practices deliver quality care, increase ROI, and attract new patients. Frost & Sullivan recently awarded eClinicalWorks' Revenue Cycle Management with the 2017 North American Customer Value Leadership Award. The award recognizes the robust and effective medical billing and practice management services and solutions to medical practices across the nation at the generally available cost of 2.9% of monthly collected revenue.
eClinicalWorks recently announced three new Accountable Care Organizations have selected eClinicalWorks for their 17,000 beneficiaries, adopting value-based care models to improve the healthcare of patients in their surrounding communities.
eClinicalWorks' Patient Engagement solution healow® (Health and Online Wellness) continues to see strong adoption, helping providers and patients build true health partnerships. In the first half of 2017, healow Messenger crossed 100 million transactions for voice and text reminders. healow Open Access, TeleVisit and Kiosk each accomplished major adoption milestones in the second quarter of 2017.
"We are proud to announce our strong results for Q2, 2017," said Girish Navani, CEO and co-founder of eClinicalWorks. "eClinicalWorks has over 15,000 customers and we continue to add more customers from other EHR systems. From my vantage point I am seeing strong successes with my existing customers growing with eClinicalWorks, adding more providers, deploying Population Health and healow products. Our sales pipeline is strong and I expect to add over 10,000 providers in Q3 and Q4. Additionally, the company is focused on delivering Version 11 and continues to enhance the service to our customers."
About eClinicalWorks
eClinicalWorks® is a privately held leader in healthcare IT solutions. With more than 125,000 physicians and nurse practitioners using its solutions, customers include ACOs, physician practices, hospitals, community health centers, departments of health, and convenient care clinics. During the past eight years, 16 eClinicalWorks customers have received the prestigious HIMSS Davies Award, honoring excellence in Electronic Health Record implementation. The company is second largest in the country for e-prescribing. Based in Westborough, Mass., eClinicalWorks has additional offices in Austin, New York City, Chicago, California, Georgia, London, India, and Dubai. For more information, please visit www.eclinicalworks.com, Facebook, Twitter or call 866-888-6929.