eClinicalWorks Blog Details
healow Insights: Helping to Bridge the Data Gap
eClinicalWorks

More bidirectional exchange of data is needed
The practice of medicine is difficult but comes with a deeply rewarding experience — maintaining and restoring patients' health. Properly handling all the patient data that healthcare generates, on the other hand, may be equally difficult while offering few — if any — emotional rewards.
Bridging gaps between providers and payers requires more efficient exchange of data. Experts agree that better solutions are needed to foster bidirectional exchange of data between those who deliver healthcare and those responsible for monitoring and paying claims.
And as this recent online article from the American Health Information Management Association makes clear, the need for data exchange is becoming still more important as practices everywhere adjust to changes in the wake of the COVID-19 pandemic.
At the most basic level, data exchange between providers and payers means having ready access to patient records and overcoming the barriers that exist when trying to exchange such records among multiple Electronic Health Record systems.
Toward a deeper understanding of shared goals
But in a broader sense, the gap between providers and payers is a gap in understanding that both are working toward the same goals — improving health, controlling costs, and meeting regulatory and compliance requirements.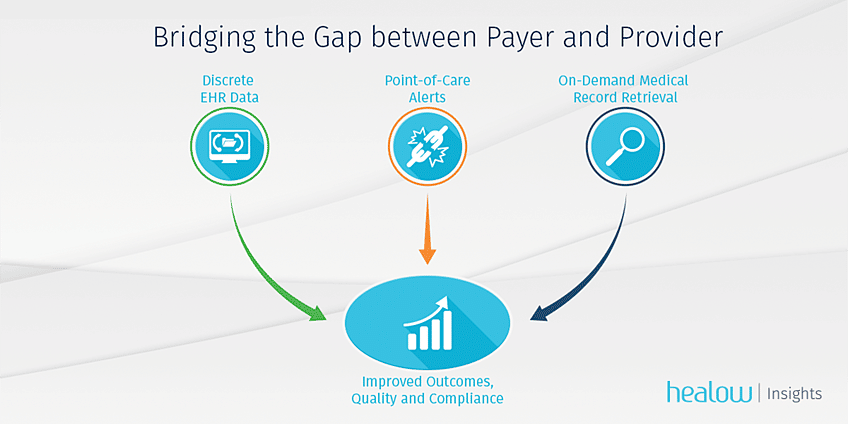 The partnership between healow Insights and a Washington, D.C.-area health plan illustrates how effective better data can be in achieving common goals.
How one D.C.-area health plan is succeeding
healow Insights is a cloud-based service that automates the sharing of clinical records and supplemental data between providers and payers. CareFirst Community Health Plan District of Columbia (CHPDC) is a growing medical organization with tens of thousands of members in Washington, D.C.
By using healow Insights, CareFirst was able to achieve an improvement in their Star ratings on three key measures for Well Child Counseling.
"Before healow Insights, we had a dedicated staff that would go out to all of the providers' offices and pull records," said Dr. Karyn Wills, CareFirst's Chief Medical Officer. "Each staff member would look at maybe 100 records a day, and that took a lot of time."
Indeed, it would normally take one employee between two and three weeks to manually pull 1,500 patient charts remotely — or even longer if they had to go on-site to several practices. Once CareFirst began using healow Insights, those 1,500 records could be obtained in under 48 hours, with no on-site visits needed.
More records, better audits, and higher ratings
Between 2019 and 2020, CareFirst was able to capture between 17% and 34% more records for three key measures pertaining to Well Child Counseling. That, in turn, meant they had more patient data to work with, which meant improved reporting and subsequent improvements on all three of their Star ratings on those measures as judged by the National Committee for Quality Assurance.
Making it easier for practices and payers to share data — quickly and accurately — allows everyone to focus more of their time and energy on ensuring that patients are getting the care they need and that resources are being used efficiently.
Watch the CareFirst story to learn more!