eClinicalWorks Blog Details
A Critical Moment in the COVID-19 Fight
eClinicalWorks

Vaccines and the race against variants
Americans now have widespread access to two vaccines that offer protection against COVID-19, with a third — the single-dose Johnson & Johnson vaccine approved by the FDA on February 27 — expected to reach providers in the coming weeks.
Developing safe and effective vaccines against a global pandemic in under a year is an unprecedented accomplishment. But the next step of the process — getting those vaccines to doctors and administering them to patients — has proven to be almost as complex.
Limited supplies and political wrangling have contributed to a slower-than-expected rollout. However, even if there were unlimited supplies and no political considerations, vaccinating a nation of more than 300 million people is an enormous logistical challenge. That challenge is made even more daunting amid misinformation suggesting the vaccines may somehow be unsafe or ineffective.
Slowly and surely, vaccination rates are improving nationwide. Even so, epidemiologists and public health authorities worry they may now be in a race against coronavirus variants that are spreading around the globe. While most variants of the coronavirus pose no greater risk than the original, there is evidence that some variations are more easily transmitted. Experts are also concerned about the possibility of variants that could be resistant to existing vaccines, thus undermining the progress made to date.
Why practices need a VAMS
That combination of complexity and urgency means that the U.S. — like the rest of the world — is at a critical moment in the battle against COVID-19. Infection rates are declining, and vaccination rates are slowly climbing, but bringing the pandemic to an end requires vigilance and sustained effort. Even experts cannot say for certain what level of vaccination will be needed before herd immunity is achieved.
Administering vaccines may seem like a routine medical procedure. Children, after all, routinely receive a series of vaccines. But when nearly everyone wants a place in line, it can be a nightmare to keep accurate track of who is eligible, who has received a first dose, and who is fully vaccinated.
The Vaccine Administration Management System (VAMS) becomes a critical means of tracking all that and much more. The VAMS from eClinicalWorks®, for example, lets practices offer patients online booking of appointments, automated reminders, and contactless check-in. The system makes it easy for providers to document vaccine administration, track inventory, report to state vaccine registries, and remind patients to return if they need a second dose.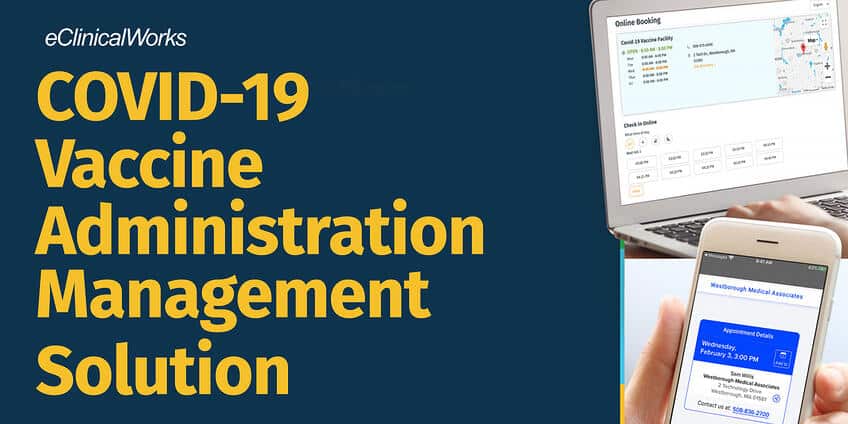 Making progress toward herd immunity
Many experts are cautioning that the nation may need to vaccine between 70% and 90% of the population to achieve herd immunity. The best way forward, they say, is to continue to push vaccine production and distribution.
Healthcare IT providers can't impact national vaccine policy, speed production and distribution, or take part in debates over who should be first (or next) in line for receiving a vaccine.
But any practice, health center, or clinic that is administering COVID-19 vaccines can certainly use help as they do their part to bring this pandemic to an end. The next several weeks are a crucial time in that fight as the nation — and the world — look to build upon the remarkable successes that pharmaceutical manufacturers have already achieved.
Having a secure and effective VAMS in place can make a real difference, helping to ensure that vaccine supplies reach those who need them in a timely way while minimizing paperwork and waste.
{{cta('af4775ad-4a19-4659-b337-30f9db8a6694')}}