eClinicalWorks Blog Details
Meeting the Challenge of Vaccine Administration
eClinicalWorks

Development was only the first step
As soon as the scale and seriousness of the COVID-19 pandemic became clear in early 2020, talk began to focus on the challenges of developing vaccines. The past year has seen an unprecedented effort to develop and deploy safe and effective vaccines to control a virus that has now claimed 2.5 million lives worldwide — and more than 500,000 in the U.S. alone.
Several vaccines are now in use, but producing, deploying, and administering those vaccines to all who need them has proven to be nearly as daunting a challenge as developing them in the first place.
Why a VAMS is essential
Practices can't control how many vaccine doses they receive, but they can control nearly every aspect of administering those doses. The complexities are many, from notifying patients and documenting administration of doses to tracking inventory and handling reporting and billing.
Your staff have plenty to do without struggling with your software in the midst of a pandemic. Handling the complexities of this pandemic demands having a comprehensive Vaccine Administration Management Solution (VAMS). That's why eClinicalWorks developed a flexible and affordable VAMS that provides:
A fully HIPAA-compliant solution that works with the eClinicalWorks EHR and is backed by the experience and support of an industry leader in healthcare IT.
Patient outreach campaigns that use multiple modalities to target those patients most in need or those who become eligible to receive the vaccine in their area.
The tools to document vaccine administration, track inventory, and send reminders to patients to come back for their second dose.
Automated reporting to eCW-supported state vaccine registries.
Easy billing for reimbursements from payers.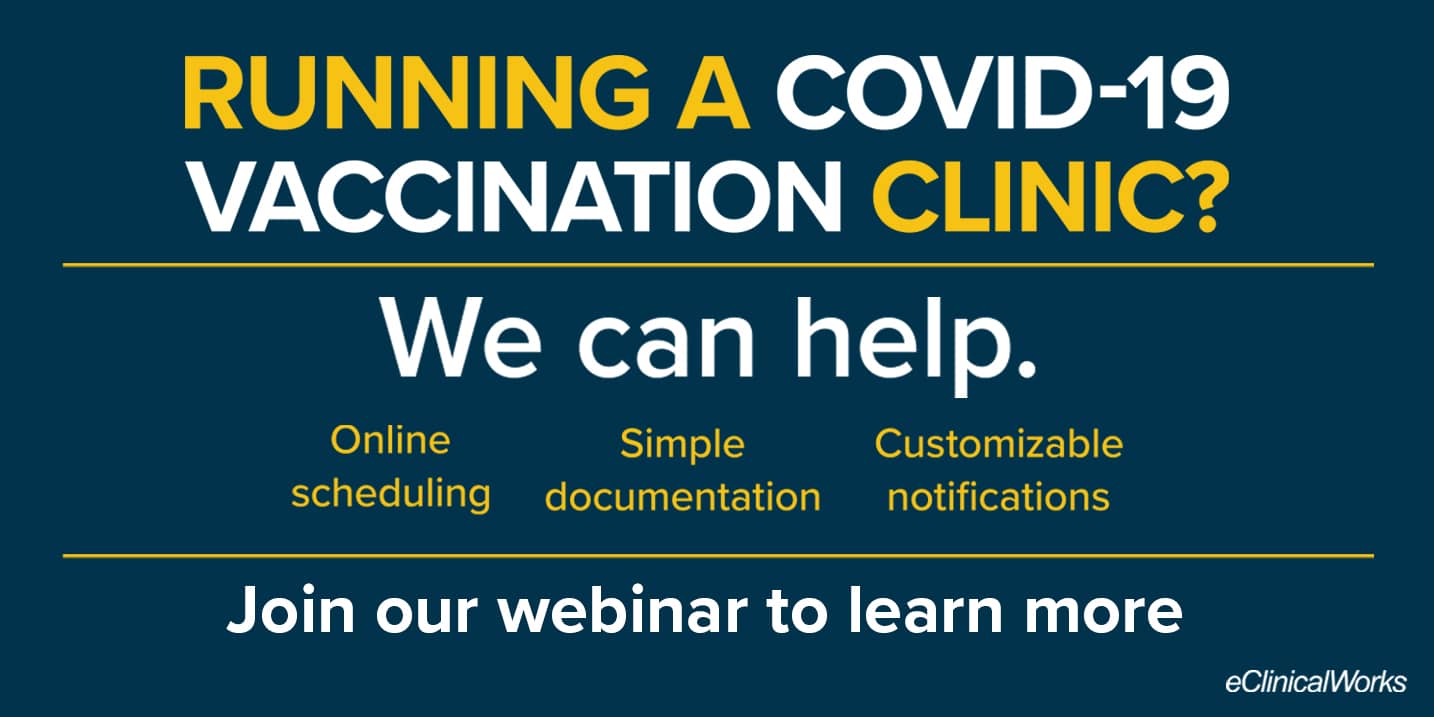 Ready to learn more?
Whether you are looking to vaccinate your own patient population or are interested in setting up a vaccination clinic, eClinicalWorks has the tools and information you need to get started — in as little as 48 hours.
See how our VAMS covers every aspect of the COVID-19 vaccination process, and register for an upcoming VAMS webinar at my.eclinicalworks.com.