eClinicalWorks Blog Details
It's Your Practice — Dream Big!
eClinicalWorks

Remember, Project Kickstart is here to help
Once upon a time, you dreamed of medical school. You knew that would be hard to achieve. And it was. But you being you, there was always another dream — that of opening your own medical practice.
That was like taking all those years of study, late nights, and rotations, cramming them into a few months, and adding business-related headaches you didn't even know existed.
Which is why eClinicalWorks® developed Project Kickstart.
Everything you knew — and a few things you didn't
Most folks starting their own practice are not right out of medical school. They generally have years of experience in medicine and have learned a thing or two about business.
The beauty of Project Kickstart is that we work directly with you, reinforcing your strengths, drawing on your experience, and helping you identify and improve upon those aspects of your new endeavor that may be less familiar to you or more difficult than you realized.
eClinicalWorks can offer advice on the best location for your practice, how to attract the best talent, and how to build awareness of what you can offer to the community.
We can help you build a basic website, set up local search engine optimization, claim your business listing on Google, create awareness on social channels such as Facebook or Yelp, and provide printed marketing materials for your office.

Getting you started with an industry-leading EHR
Of course, any modern medical practice relies upon its Electronic Health Record. And the cloud-based, eClinicalWorks EHR and Practice Management solution is ready to meet your providers' documentation needs and styles.
We participate in state-of-the-industry interoperability networks that deliver complete patient records, on demand and at the point of care, helping ensure patient safety.
We provide the freedom your providers want to document on the device of their choice, including a desktop, laptop, smartphone, or iPad® — as well as the option to use eClinicalWorks Scribe® for voice dictation, also on any device.
Our healow TeleVisits™ telehealth solution that allows your providers to conduct remote visits with their patients — even before you've opened your physical office, if you choose.
Offering better ways to engage your patients
Once you're up and running, we can help you continue to grow your business with Patient Engagement solutions.
We've solved the entire appointment booking cycle. We begin with healow Open Access® for online appointment requests or booking. Next, healow® CHECK-IN provides a safe, contactless check-in experience. And eClinicalMessenger® campaigns can automate your reminders, helping reduce no-shows and keeping your schedule full.
And eClinicalWorks doesn't simply provide these tools, but offers on-site and remote training, 24/7 customer support, and abundant resources through free, online eCW University courses, webinars, and our support portal, my.eclinicalworks.com.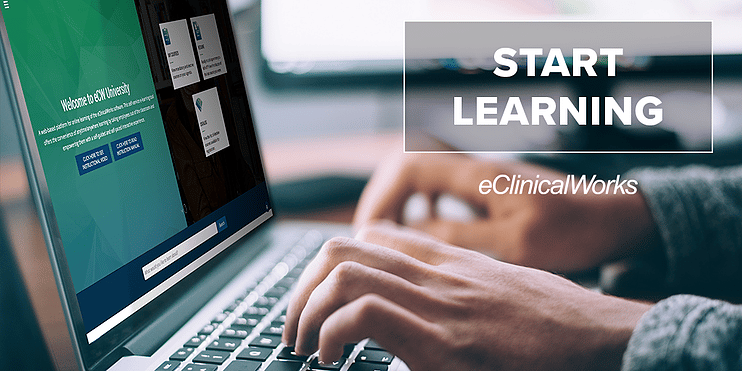 Sustaining your practice for the long haul
Finally, we understand what it takes to sustain your new practice for years to come. We offer Revenue Cycle Management solutions, innovative and insightful data analytics, and a full range of solutions to improve your Population Health capabilities.
On your first day and every day, eClinicalWorks wants to be your healthcare IT partner, helping you face and overcome every challenge that comes your way.
Ultimately, Project Kickstart isn't about us. It's about you. It's about ensuring your dream comes true. Adding value to your community. And improving healthcare together.
To learn more about eClinicalWorks and to schedule a conversation about your organizational goals, contact us today.
{{cta('0f1990db-ba07-4764-b72d-8a89c21459b9')}}
Related Post