eClinicalWorks Blog Details
Securing Access to Care During a Pandemic
eClinicalWorks

Providers and patients welcoming telehealth
Across the nation, talk has turned to telehealth for improving access to medical care during — and after — the coronavirus pandemic.
Solutions to support remote office visits are not new, but the growth of direct audio and visual encounters between providers and patients was being held back by lingering doubts regarding ease of use and effectiveness.
The coronavirus pandemic changed that — and much else. Suddenly, providers and patients across the nation, in hospital systems and medical practices of every size and specialty are turning to telehealth to facilitate medical encounters with greater safety.
The impact of coronavirus
To better understand telehealth's growth, consider that just one year ago, a report from MarketsandMarkets Research projected the worldwide telehealth market would grow from $25.4 billion to $55.6 billion by 2025 — an average of nearly 17% per year.
That study noted that the U.S. accounts for about 60% of the world's telehealth market. It cited several reasons for the projections: rapidly aging populations, rising chronic illnesses, a shortage of primary-care doctors, the need to cut costs, and the advantages of telehealth for reaching rural populations.
Acceptance of telehealth one year ago was already strong.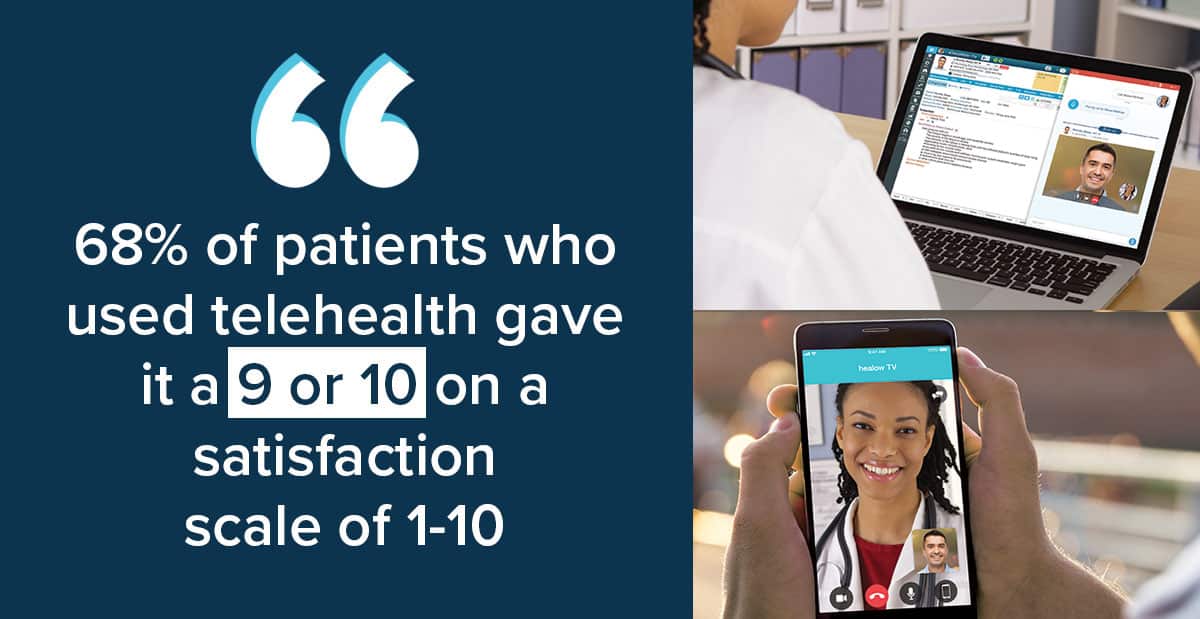 According to January 2019 data from Massachusetts General Hospital, 68% of patients who used telehealth gave it a 9 or 10 on a satisfaction scale of 1-10. What's more, 79% of those surveyed felt it was easier to schedule a follow-up visit via telehealth than going to the doctor's office.
And an October 2019 study from J.D. Power showed satisfaction in the range of 85% to 90%, with 84% of survey respondents saying that a virtual visit fully addressed their medical concern.
Looking ahead
The researchers behind these studies had lots of data to draw upon. But none anticipated the coronavirus pandemic, which is now the largest single driver of telehealth nationwide.
Although the human and economic impacts of the pandemic continue to unfold in ways no one can fully anticipate, one thing is clear: Coronavirus is likely to lead to both greater acceptance of remote visits as a part of day-to-day healthcare and — provided those visits are done right — still higher rates of satisfaction among patients.
The routine office visit may never be routine again.
Dr. Jeff Gelblum Sr., at Florida's First Choice Neurology, is already viewing the current crisis as a turning point in how he and his fellow doctors will practice medicine in the years ahead.
"It is a fundamental transformation, a fundamental pivot in how I and my colleagues are going to be practicing medicine going forward," Dr. Gelblum said. "And there may be a silver lining to this COVID cloud. And the silver lining may be folks will have better access to the doctor."
Contact us today to learn more about how healow Telehealth Solutions from eClinicalWorks.
{{cta('6c3afc1c-d3ba-4f7a-98ef-4d6cc9780ceb')}}