eClinicalWorks Blog Details
Remaining Vigilant in the Lung Cancer Fight
eClinicalWorks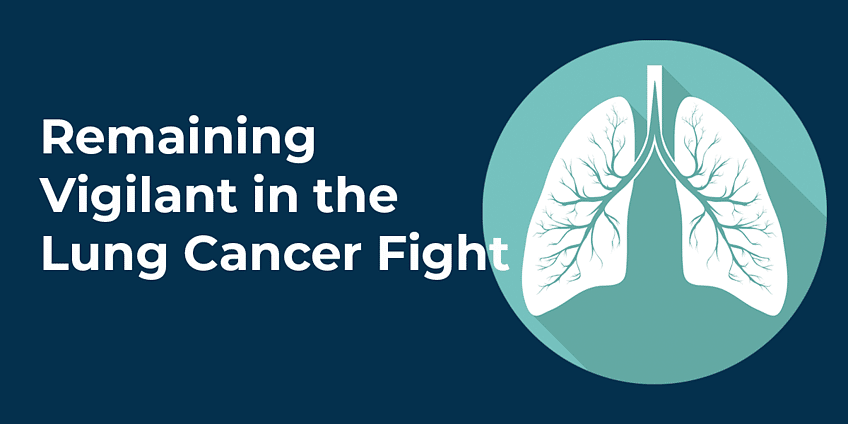 While lung cancer remains the leading cause of cancer deaths in the U.S., the death rate has steadily declined for more than 30 years, thanks to increased screening, early detection, and improvements in treatment.
In addition, an overall decline in smoking — in 2018, just 13.7% of Americans were smokers — has also played a key role in reducing the incidence of lung cancer.
Despite those positive trends, there is no place for complacency in the fight against a leading cause of death among Americans. November is Lung Cancer Awareness Month, an annual effort by the American Lung Association to raise awareness and improve screening rates.
Lung cancer can affect anyone
Smoking is well established as a leading risk factor for the development of lung cancer, but up to 20% of lung cancer deaths each year are people who either never smoked or report having smoked fewer than 100 cigarettes in their life.
Other risk factors include exposure to second-hand smoke, asbestos, radon, and other environmental hazards.
That's why individuals who experience symptoms such as a persistent cough or shortness of breath should seek medical care and abide by a physician's recommendations, which may include a screening for lung cancer.
That is particularly important given that during the COVID-19 pandemic, many people put off regular health checkups.
Massachusetts General Brigham, for example, among the largest healthcare systems in the Northeastern United States, recorded a sharp drop in cancer screenings during the first three months of the pandemic in 2020.
Great tools mean great results
For the past few years, new lung cancer treatments and immunotherapies have played a part in the increased survival rate of those diagnosed with lung cancer. Another area that has aided in the fight against the disease is ever-improving healthcare IT technology.
For example, with the help of the eClinicalWorks® EHR, providers at Compass Medical were able to screen over 2,000 patients at risk for lung cancer, detecting and treating cancer in 19 patients.
"Our ability to do that work is aided by the systems that we've set up, the questionnaires, the templates, the Order Forms. We then track and follow these patients carefully over time because they have to have annual scans," said Dr. Michael Myers, Chief Medical Officer for the practice.
Healthcare IT tools for 2022 and beyond
Throughout 2020 and 2021, COVID-19 forced deep changes in the way providers practiced healthcare and how people lived their lives. But the wide availability of telehealth solutions and tools for safe, contactless check-in has helped practices rebuild the volume of patient visits they enjoyed prior to the pandemic.
As we enter 2022, practices and patients — even those with chronic illness — can be confident that their office visits will be safe.
Are you interested in learning more about the comprehensive tools that eClinicalWorks and healow® offer?
{{cta('b7bde2c1-90cf-4997-9ed0-76b01b3948db')}}