eClinicalWorks Blog Details
Telehealth: Helping Throughout History
eClinicalWorks

Coronavirus is the latest case in point
The resurgence of telehealth amid the coronavirus pandemic is a reminder of the lifesaving role that remote delivery of medical services has always played.
Whether for reducing the risk of infection, delivering care to remote places, or helping with recovery from natural disasters, telehealth is once more proving its value as a critical part of the worldwide healthcare ecosystem.
Reducing the risks of infection
Way back in November 1879, the British medical journal The Lancet reported that telephones were installed at a children's hospital near Manchester, England so as to hold "free communication with the fever ward without the slightest risk of conveying infection to other parts of the Hospital."[1]
Today, hospitals and medical practices across the U.S. and around the world are turning to telehealth for precisely the same reason — to reduce the risk of spreading coronavirus to patients whose health conditions require they be kept away from crowds and public settings.
Delivering care to remote locations
In the 1970s, NASA, Lockheed, the Indian Health Service, and the Department of Health, Education and Welfare teamed up to deliver care to a Native American tribe in a remote area of Arizona.
Today's telehealth efforts are often aimed at patients in rural areas who lack easy access to a doctor's office. Today, with so many practices and hospitals focused on emergency and urgent care, using telehealth to overcome obstacles of distance is more important than ever.
Helping with disaster recovery
In the wake of a major earthquake in Armenia in 1988, U.S. and Russian officials used telehealth to consult with doctors providing medical and psychological care to victims.
Amid the coronavirus crisis — a very different but even more complex and challenging situation — telehealth is once more available to serve both the physical and mental health needs of patients.
TeleVisits are secure, flexible, and affordable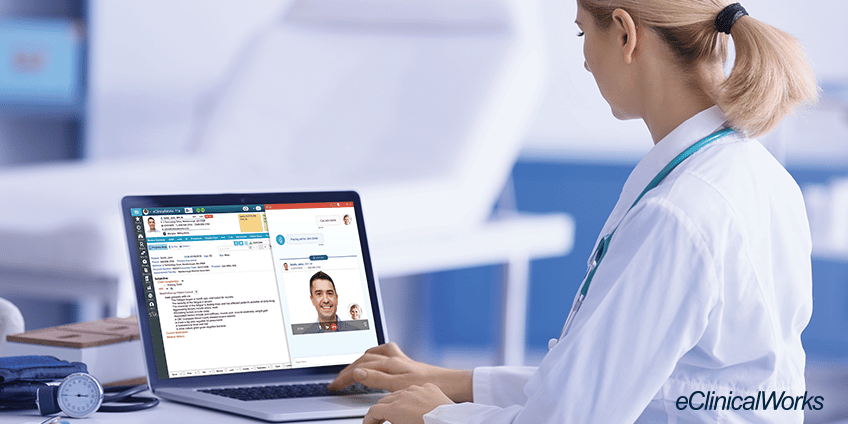 eClinicalWorks is helping meet the telehealth needs of practices across the nation. We are helping eClinicalWorks practices activate and use TeleVisits, as well as offering TeleVisits as a stand-alone solution to medical providers who may use a different EHR.
For complete information on how we can get your practice started using TeleVisits, click below.
{{cta('127a46f6-3881-467a-9570-711a44740956′,'justifycenter')}}
[1] http://www.thelancet.com/journals/lancet/issue/vol114no2935/PIIS0140-6736(00)X9003-4