eClinicalWorks Blog Details
3 Patient Stories of TeleVisits in Action
eClinicalWorks
healow TeleVisits™ were created to make care easier for the patient and provider. When the COVID-19 pandemic started, providers across the country realized that televisits were a safe, secure, and effective solution to bring comprehensive care to their patient base. As a result, a 16x increase in televisit utilization has occurred in the last month.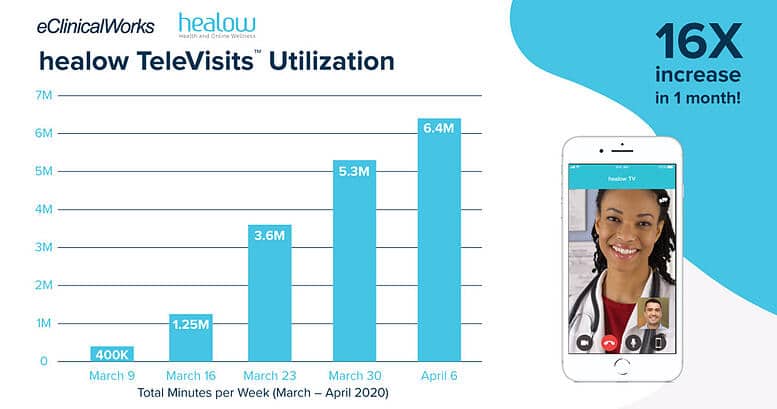 Providers and patients continue to enjoy the flexibility and quality level of care of our telehealth technology. Here are their stories.
Simple and easy to use
Amber Mead, who works in clinical systems support for Pioneer Physicians, tells a story about how she was able to teach a 96-year-old patient (who never uses the computer) how to join a televisit.
The patient was so thankful that she did not have to risk coming into the office and risk possible exposure to the virus that she ended up in tears.
Reducing stress and ER visits
When Dr. Jamie K. Stamps was asked about televisits, a particular patient she recently saw came to mind. The patient was a woman in her upper 60s suffering from UTI-related symptoms and upper-respiratory symptoms, including fever and shortness of breath.
The patient was very concerned that she had contracted the coronavirus. Dr. Stamps ordered and conducted the appropriate testing and determined that her patient did not have the coronavirus.
"If it weren't for televisits, she may have ended up in the emergency room. It's our duty as primary care physicians to take care of these patients in our best capacity in the outpatient setting. And I believe televisits are enabling us to do that," said Dr. Stamps.
Saving patient lives
Dr. Amar Shah, owner and physician at Vital Care Family Practice, located in Chesterfield, VA, realized that the best way to reduce the spread of the virus was to shut down the physical office and see patients through telehealth.
Shortly after the practice switched over to televisits, Dr. Shah received a call from a patient. The patient was vomiting, had diarrhea, and was suffering from abdominal pain. Dr. Shah quickly set up a televisit with the patient and asked what the vomit looked like. The patient said it looked black, showing Dr. Shah a jar of black vomit. Dr. Shah knew that the patient was bleeding internally and advised him to go to the hospital immediately.
Once the patient made it to the hospital, he received the necessary care and the bleeding was stopped. "He said that we saved his life because of that televisit," said Dr. Shah. "So, I think that televisits have transformed the way I practice medicine."
Watch healow TeleVisits™ patient stories