eClinicalWorks Blog Details
Routine Care During Nonroutine Times
eClinicalWorks

The challenge of coronavirus isn't just coronavirus
Everyone knows an ounce of prevention is worth a pound of cure, but what happens when you have difficulty finding that ounce of prevention?
For weeks Americans have missed their daily routines, some of which we'll catch up on over time. But it can be harder to make up for missing check-ups with doctors and dentists, which often detect conditions that need attention.
For example, CVS Health Corporation, which owns Aetna insurance, recently reported that while usage of medical services and filling of prescriptions was strong in March, both declined sharply in April, as millions of Americans stayed home.
Telehealth in a time of transition
In a normal year, we average between two and three visits to a medical professional. In 2016, for example, Americans made 883.7 million office visits to physicians, according to the Centers for Disease Control and Prevention. Of those, 54.5% were to primary care physicians, the first line of defense for detecting medical issues.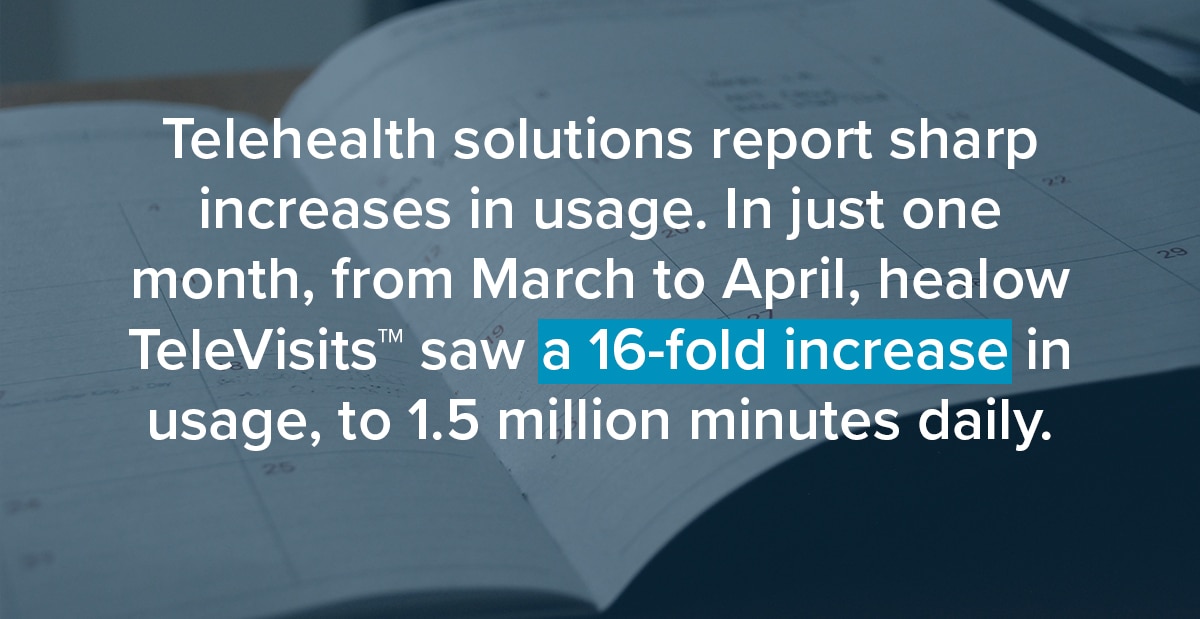 Many of those millions of visits aren't really missing, but have moved online. Telehealth solutions report sharp increases in usage. In just one month, from March to April, healow TeleVisits™ saw a 16-fold increase in usage, to 1.5 million minutes daily.
Nearly 8,000 practices — covering 54,000 physicians in primary and specialty care — are enabled to use healow's telehealth solutions. Practices report moving between 25% and 100% of their visits online, depending upon their specialty and patients' needs.
Opportunities remain across healthcare
For a variety of reasons, some medical practices have still not incorporated telehealth into their workflows, or have not maximized its use. There are still excellent reasons to do so and plenty of opportunity to use telehealth in the coming months and years.
Prevention remains essential. A wealth of studies chronicle the value of preventive medical care, including a 2007 study of the hazards of delaying treatment for Veterans Administration patients, and a 2012 study of the benefits of timely cancer care.
Telehealth is easier than ever. healow Telehealth Solutions offer practices rapid set-up and training, getting them up and running in just days.
Regulations offer new flexibility. Federal and state regulations have been adapted to make it easier for practices to use and bill for telehealth.
Looking forward to the 'new normal'
It is too soon to know exactly what the healthcare landscape will look like six months or a year from now, but telehealth is certain to play a significant, ongoing role.
Just as many restaurants and other businesses are reopening with new procedures to limit the numbers they can accommodate at any given time, medical practices are also adapting to new workflows. Telehealth is essential for meeting their needs.
And patients, many of whom have experienced the quality and convenience of telehealth, will demand that providers continue to offer it — or begin to do so.
To learn more about how healow Telehealth Solutions can help your practice, contact sales@eclinicalwork.com today.
Related Post