eClinicalWorks Blog Details
Patient Engagement in New York City
eClinicalWorks
Do you live in a busy urban area? Do you work in healthcare? Do you multitask?
If you said yes to the first two, we can guarantee you said yes to the third.
Riverdale Family Practice (RFP) knows firsthand what busy is. Marking their 30th year in the Kingsbridge/Riverdale neighborhood of the Bronx, New York, RFP serves more than 35,000 people — young and old, rich and poor, from every corner of their neighborhood — which in the Bronx means from every corner of the globe.
And because Riverdale provides primary and family care, their practice isn't simply busy — it's usually marching double-time. As the nation continues to grapple with a shortage of primary care doctors, those who serve on medicine's front lines find themselves busier than ever, and always in need of tools to help them better serve their patients.
Remarkably, Riverdale does it all as an open access practice. You can make an appointment, but if you don't, you won't be turned away. They are open from 8 a.m. to 8 p.m. and Saturday morning for emergencies.
Riverdale has been with eClinicalWorks since 2009, and has enjoyed tremendous success with us. From the receptionists doing intake in the front office to the studious staff doing billing and analysis in the back office, everyone is fully trained in healthcare IT. Workflows are efficient. Wait times are reasonable. And Riverdale is making a difference in their community.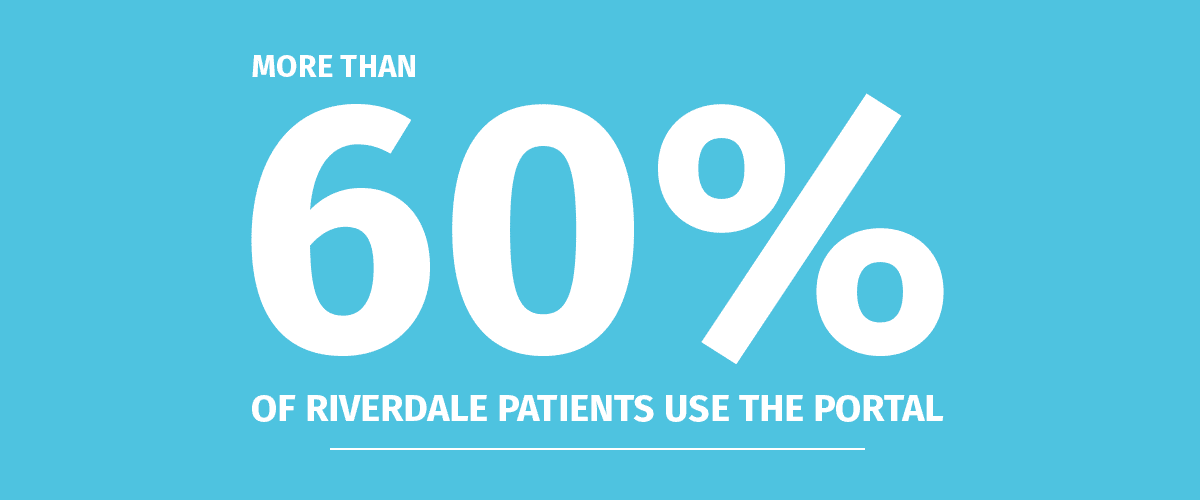 From good to even better
But amid the success, even the staff at Riverdale realized they could be still more effective.
Enter the Patient Relationship Management (PRM) Services team from eClinicalWorks.
Practice Manager Catherine Franzetti acknowledges that she was pleasantly surprised by how useful the PRM team proved to be, especially because they visited during a time when Riverdale had recently hired new staff.
The practice took some simple steps that have made a big difference. Staff wore "healow" buttons to promote the online wellness app. They held brief daily meetings, first thing each morning, to give everyone the opportunity to share tips in using the eClinicalWorks EHR, or simply to ask questions on points they might not yet have fully grasped.
And Riverdale redoubled their efforts with eClinicalMessenger, using the automated tool to conduct reminder campaigns for mammograms, diabetes control, and much more.
During our recent visit to the practice, the energy, enthusiasm and diversity of the practice — staff and patients alike — mirrored the dynamic nature of the neighborhood itself.
Breaking down walls — and putting one up
Co-founder Dr. Frank Maselli told us how he used eClinicalMobile at a restaurant one evening to help instruct a local hospital how they could safely proceed to do a catheterization for one of his patients who was having chest pain.
That's just one example of how providers use eClinicalWorks tools to break down walls.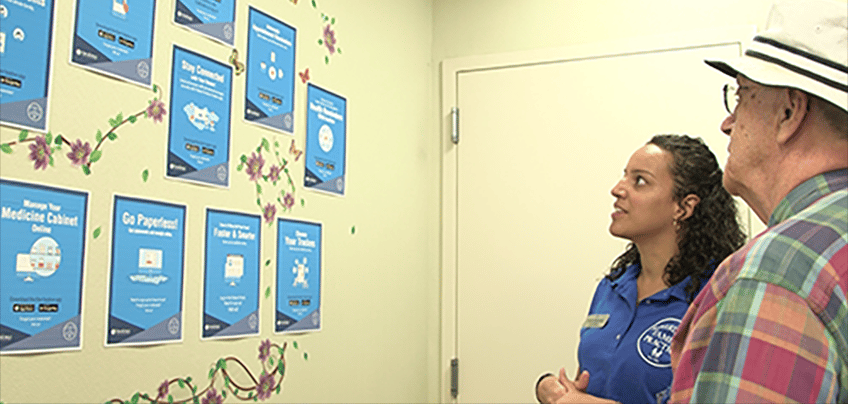 But Riverdale Family Practice's success also involves putting up one particular wall — their Wall of Wellness.
When they arrive to check in, and while they wait to see the doctor, Riverdale patients can check out the Wall of Wellness, which displays posters, news and information, all designed to inform them about tools and technology they can use to take greater charge of their own health.
As one of Riverdale's front office staff told us, "It's actually been a conversation starter for the patients."
It's a conversation that's leading to positive change. Today, more than 60% of Riverdale's patients, more than 20,000 people, are using Patient Portal to check their records, see lab results, and send messages to their doctor.
Nothing can quite replace the ages-old, face-to-face interaction between patient and healer. But in our ever busier world, making technology our ally is just plain smart.
{{cta('b6083e63-5b15-4dff-a5db-0902884af834')}}