eClinicalWorks Blog Details
How Advocare Put healow TeleVisits™ to Work
eClinicalWorks

Battling the unexpected — with the unexpected
British writer C.S. Lewis once said that "we must stop regarding unpleasant or unexpected things as interruptions of real life. The truth is that interruptions are real life."
By that measure, life can't get much more real than it has since it was interrupted so suddenly and completely by the worldwide coronavirus pandemic. And as more and more medical practices nationwide restore a sense of normalcy with new tools and procedures, some are finding that the best answer to the unexpected is coming from an unexpected source — telehealth.
Once considered a minor part of medicine, telehealth now occupies center stage.
Rapid adoption of telehealth
"We weren't geared up for telemedicine at the time of the crisis," said Chuck McQueary, Executive Vice President and COO of Advocare, a 600-provider, multi-specialty group with nearly 200 locations in southern New Jersey and the Philadelphia, Pennsylvania area.
With the help of eClinicalWorks, Advocare was able to get up and running on healow TeleVisits™ within days, much more quickly than the practice's leadership had expected.
The pleasant surprise was shared by providers throughout the practice, many of whom had previously thought telehealth simply wouldn't meet their needs.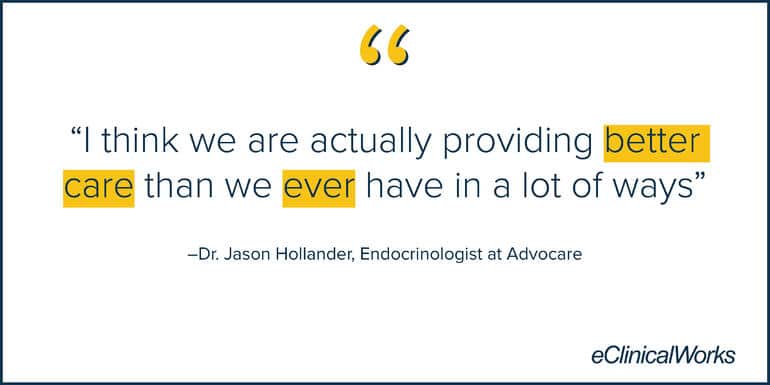 A perfect tool for specialty care
"Our practice was just absolutely perfect for telehealth services," said Dr. Jason Hollander, an endocrinologist, who said most routine visits for treating diabetes and thyroid disorders can be done through telehealth.
"We've been able to fill whole schedules, a normal volume of patients on a daily basis," Dr. Hollander said. "And I think we are actually providing better care than we ever have in a lot of ways, because we're able to actually spend the whole period of that visit addressing the medical issues."
McQueary added that while he and his colleagues never expected telehealth to replace in-office visits, they have been amazed at how effective remote visits can be, both to deliver care and as a quick screening tool to decide which patients need to be seen in the clinic right away. Telehealth is now a feature at all 200 of Advocare's locations.
A permanent change in practice
Dr. Howard Orel, President and CEO of Advocare, said that about 70% of their practices are focused on adult and pediatric primary care, with the remaining 30% engaged in specialty care. Among those finding telehealth most useful have been specialists in endocrinology, rheumatology, nephrology, allergy, and pulmonology.
"It doesn't replace in-office care, but it augments it — and in such times as a crisis such as this, it allows us to fulfill our mission," Dr. Orel said.
"By all means, it would absolutely be my choice to be able to continue to manage patients with chronic disease through telehealth," Dr. Hollander said, noting that he has had great success using telehealth to control diabetes, including during the first trimester of pregnancy.
"For chronic illness, it's just a terrific platform," he said, "and I'm really hoping that this becomes a part of our armamentarium to manage diabetics in the future."
{{cta('98635b28-cd72-47b7-b85b-61cea346c624')}}