eClinicalWorks Blog Details
Healthcare 2022: Regulatory Trends to Look for in the Year Ahead
eClinicalWorks

Overcast with COVID-19 and scattered regulations
While much attention will remain focused on the COVID-19 pandemic in 2022, other topics of importance to healthcare providers in 2022 include:
Telehealth. Demand is expected to remain strong for telehealth services, but it remains to be seen whether insurance coverage mandates will continue as they were in 2021.
Information blocking regulations. Practices will need to understand the impact of a coming expansion in the definition of electronic protected health information (ePHI).
Electronic Prescribing of Controlled Substance (EPCS). Enforcement and compliance penalties are delayed to January 1, 2023, but the EPCS mandate is in effect nationwide.
No Surprises Act. Effective January 1, 2022, federal regulations protect consumers from surprise medical bills, requiring insurers cover most

out-of-network claims.
Telehealth should hold steady in 2022
Among the most visible impact of the pandemic has been expanded use of telehealth solutions. According to Rock Health, satisfaction with telehealth declined in 2021, from 53% to 43% of respondents more satisfied with telehealth than in-person care.
That decline likely reflects a shift from doing many kinds of visits online to being more selective about what kinds of visit are appropriate for telehealth.
While experts see bipartisan support for continuing coverage of telehealth services, practices should remain watchful, so they understand how best to meet patients' needs.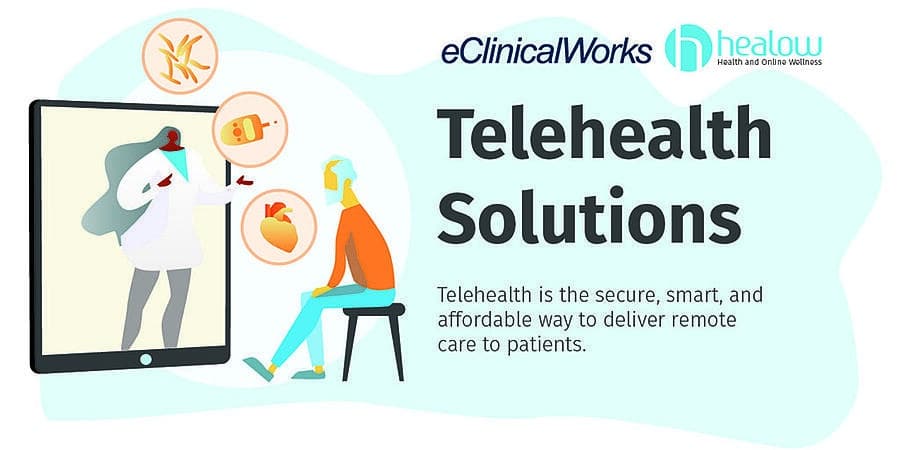 Information blocking rules take effect
The Information Blocking regulation — part of the 21st Century Cures Act — took effect on April 5, 2021. The regulation aims to encourage sharing of patients' electronic health information by prohibiting health IT developers and healthcare providers from "engaging in any action or inaction that is likely to interfere with the access, exchange, or use of electronic health information."
A crucial element is the definition of "electronic health information." A major change is coming on October 6, 2022, when the definition expands from the relatively narrow United States Core Data for Interoperability (USCDI) standard to encompass all electronic protected health information contained within a designated record set, as defined by HIPAA.
This change will have a major impact on how data is made available to authorized entities and patients. eClinicalWorks is developing strategic enhancements to the EHR and Patient Portal to ensure that ePHI is readily available.
As October 6 approaches, we encourage our practices to visit the Information Blocking tile on the Customer Support Portal.
EPCS requirements are already in place
Effective January 1, 2021, CMS requires electronic prescribing of controlled substances (EPCS) for Medicare Part D beneficiaries.
Enforcement and penalty provisions of EPCS are delayed until January 1, 2023, but practices are already required to have an electronic solution in place.
If your practice doesn't have EPCS or would like to switch from a token-based to an app-based method, contact us. This video shows how a large Texas practice is succeeding with it.
No Surprises Act and price transparency
Finally, legislation that took effect January 1, 2022, ends surprise bills for out-of-network services, limiting consumers' liability to copayments and deductibles within their networks. The rules also create a dispute resolution process.
You can learn more at the Centers for Medicare & Medicaid Services website, www.cms.gov.
And CMS in 2021 finalized a price transparency rule to modernize the Medicare Advantage and Part D prescription drug programs, helping consumers more easily compare prices. A real-time benefit comparison tool debuts on January 1, 2023.
The value of a trusted healthcare IT partner
No one knows what course the COVID-19 pandemic will take in 2022 or what other regulatory actions may impact healthcare. But every practice needs a trusted healthcare IT partner for the solutions and insight they and their patients need.
Learn how eClinicalWorks can help your practice in 2022 and beyond.