eClinicalWorks Blog Details
The State of Telehealth in 2020
eClinicalWorks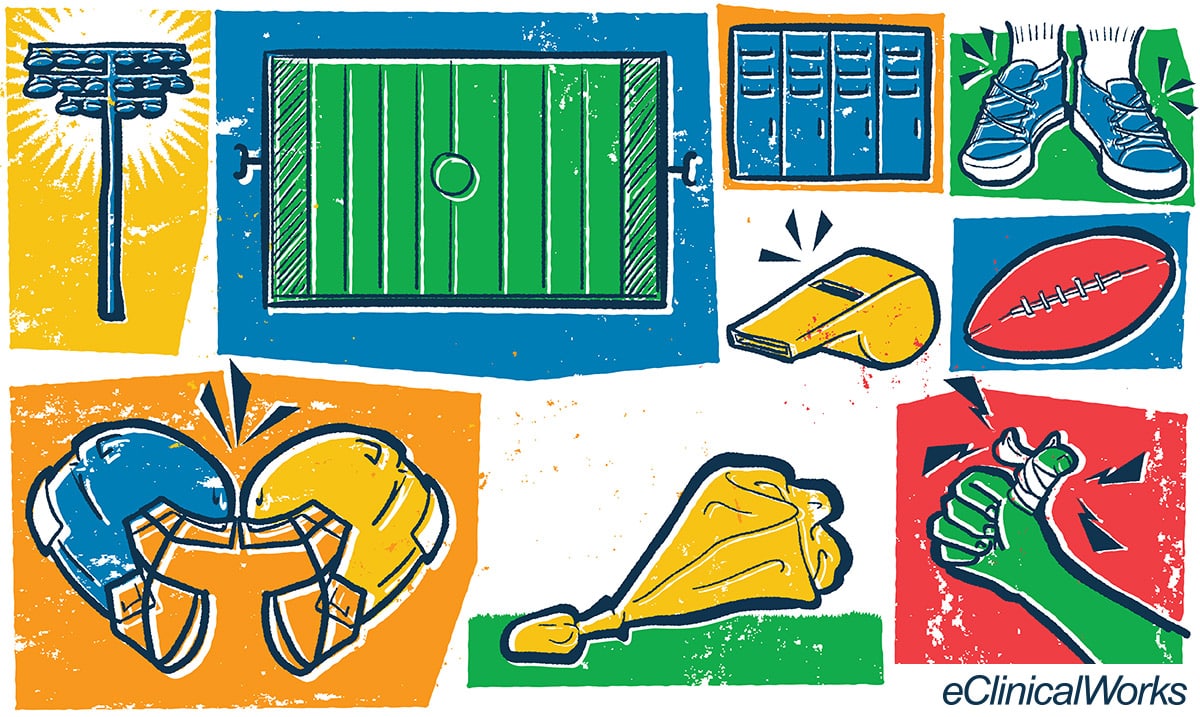 It's the last game of the season. The floodlights turn on – illuminating the crisp autumn sky and revealing the compact emerald turf. As you sit on the locker room bench, you hear the other high school students stamping their feet on the metal bleachers in anticipation. You stand up and rush through the tunnel, the nervous euphoria that was in your stomach now an all-encompassing focus on the game.
The whistle blows, you get the ball, your opponent comes directly for you. You shimmy to the left. They saw it coming. BAM! You're on the ground. Waves of pain circulate from your thumb. Your coach tells you to wrap it. Later, when you take the bandage off, your thumb is more swollen than it had been before. The minute you see the doctor in the emergency room, they look at it and ask why you wrapped up your hand for a broken bone.
The doctor was able to determine how to treat the injury in seconds by simply looking at the hand. If the coach had access to a telehealth solution, a doctor could have determined what to do quickly and accurately. Utilizing telehealth for sports is just one application for this increasingly useful technology.
What is telehealth?
No matter where you are, telehealth gives you a way to provide patients with medical care anytime and anywhere. Telehealth solutions like healow TeleVisits™ help practices like The Clark Clinic deliver quality care to patients who may have difficulty making it into the doctor's office.
Telehealth that's right for you
Sometimes it also may be challenging for a provider to make it to the doctor's office. Thanks to telemedicine, Alynna Manriquez, a Nurse Practitioner at Project Vida in El Paso, Texas, is able to provide mental health counseling to patients from home, making it easy to help her patients while attending to her growing family.
Dentists are also embracing telehealth technology. Teledentistry uses electronic information, interactive audio, and video to provide and support dental care, consultation, diagnosis, and the transfer of dental information and education. This technology is also used to purchase contacts, conduct banking, and prepare taxes online.
New for this year
With the start of the new year, the Centers for Medicare & Medicaid Services (CMS) have furthered their efforts to support the use of Medicare telehealth and virtual health. In the final 2020 rule, the agency has added three new HCPCS G-codes for the treatment of opioid use disorder. Each of these codes include development of a treatment plan, care coordination, individual therapy, group therapy, and counseling. Each of the codes differ from each other based on time per month.
Ready to see if telehealth is right for you?
{{cta('86e824b3-9a26-4048-9a31-e21a8a1023f6′,'justifycenter')}}
---