eClinicalWorks Blog Details
How Telehealth is Keeping Patients Safe at Trusted Doctors
eClinicalWorks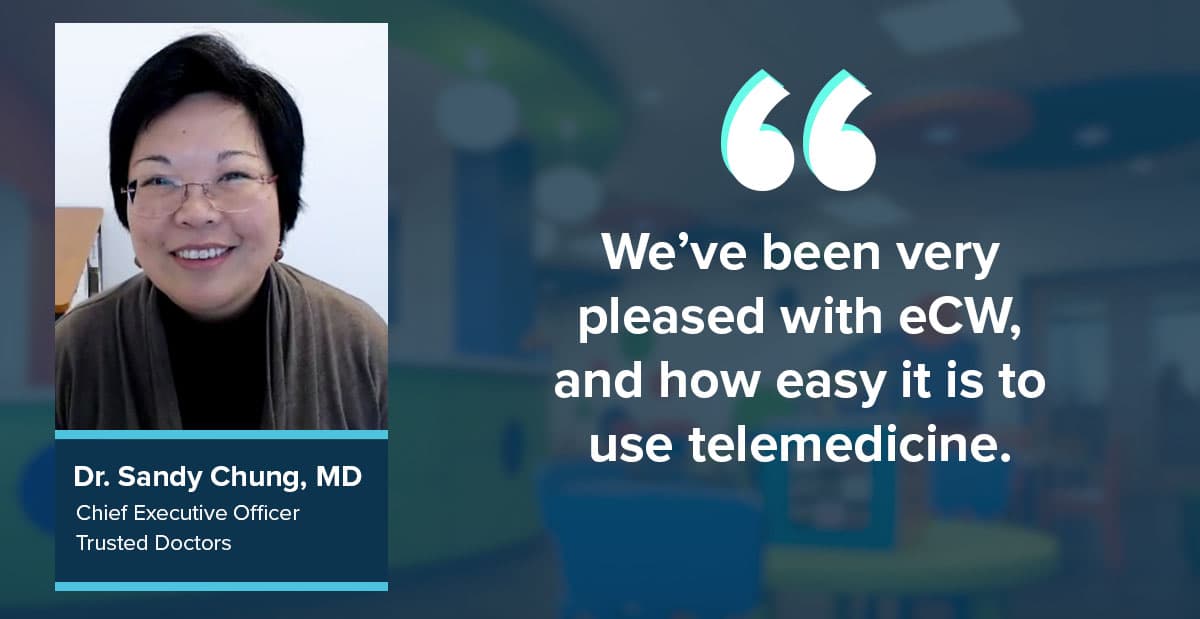 When a crisis occurs, those who can quickly adapt to the situation are usually the ones who remain successful. Before the COVID-19 pandemic, Trusted Doctors, a 70-provider pediatric practice with 13 locations throughout Northern Virginia, had not been using healow TeleVisits™ regularly.
To continue seeing their patients and keep them safe, physicians at Trusted Doctors quickly adapted and implemented the healow Telehealth Solutions from eClinicalWorks.
"We learned very quickly how to use healow TeleVisits. We've been very pleased with how easy it is to use telehealth in this platform," said Dr. Sandy Chung, CEO of Trusted Doctors.
TeleVisits have been essential in keeping the patient base safe. The patients range from infants to very young children — some of whom are immunocompromised. Keeping these patients away from potentially sick patients during the pandemic will be crucial in care going forward.
"TeleVisits have enabled us to treat the majority of our patients from home. Visits that are primarily counseling or mental health visits, but also many of our sick visits as well."
Interested in learning more about telehealth? We can help!
Contact us to learn more about healow TeleVisits or sign up for one of our informational webinars at my.eclinicalworks.com.
{{cta('6c3afc1c-d3ba-4f7a-98ef-4d6cc9780ceb')}}
Related Post