eClinicalWorks Blog Details
ADHD and Telemedicine: A Natural Fit
eClinicalWorks
Two converging trends
When you step back and look at long-term trends in medicine, some things seem obvious. The use of telemedicine to better serve pediatric patients with Attention Deficit Hyperactivity Disorder (ADHD) is such a case.
While mental restlessness has been a part of human behavior throughout history, it is only in recent decades that medical professionals have discerned a treatable difference between individuals who sometimes have trouble focusing and others, including many children, who have the disorder known as ADHD.
Similarly, the use of remote technologies to deliver care is not new, but is now playing a growing role in medicine, both general practice and specialties. For only in the last 10 years or so has technology produced the reliable, high-capacity networks necessary to deliver medical care securely, effectively, and affordably.
A natural alliance
It is no surprise, then, that when staff at Rainbow Pediatric Center in Jacksonville, Florida noticed that compliance with appointments had begun to lag among their patients with ADHD, they turned to their healthcare IT partner to forge new connections with their patients.
The practice conducted a three-month trial of healow TeleVisits, which connects patients to providers using existing computers and connections. Much as Skype and similar technologies now routinely connect millions of human beings across the globe, telemedicine is making remote connections between providers and patients a routine part of healthcare.
Dr. Prasanthi Reddy, founder of Rainbow Pediatric Center, said the response to the three-month trial was so heartening that the practice decided to go ahead with full implementation of TeleVisits. And while they are starting with their ADHD patients, they expect to use TeleVisits for many other kinds of visits in the months ahead.
Clinical quality and convenience
One key to success with telemedicine is maintaining the same quality and standards of care in a telemedicine encounter that patients would receive if they were in the office — while offering parents the convenience they want.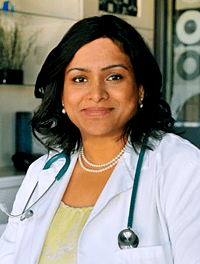 "You might screen a patient using TeleVisits and say, 'You know, I can take a look at your child and talk you through it, but if there's a more extensive physical that needs to be done, then we'll invite you in.'"
Dr. Prasanthi Reddy, founder of Rainbow Pediatric Center
In general, patients with ADHD do still need to come to Rainbow's office a few times a year.
"There are standards of care that we need to follow," said Jocelyn Restrepo, a nurse practitioner at Rainbow Pediatric Center. "But your typical follow-up visits do not need to be addressed in the office necessarily, because you don't need to do a physical exam each time. Having the option for parents to download an app on their phone, pick up their kid from school, and do the visit in a car — maybe before they even leave the pickup line — well, that is just really great!"
It's great not just for parents, but also for providers, who are able to set aside blocks of time for TeleVisits, and know that they will be able to meet the needs of more patients in less time than with physical office visits.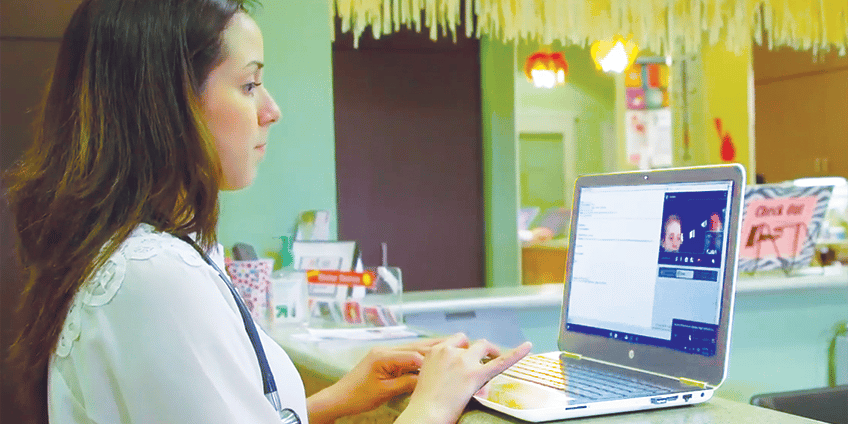 Enormous potential
Just how much potential does telemedicine hold?
A July 2015 technical report in "Pediatrics" makes clear that the answer is "a lot." Addressing just the field of pediatrics, Bryan L. Burke Jr. and R.W. Hall report:
"Children younger than 15 years old in the United States make an estimated 71 million office visits annually for acute problems, which are the leading cause of parents having to miss time from work. Clearly, the social and economic burden associated with caring for ill children is substantial. Opportunities exist to rethink how and when children receive medical care."
Bryan L. Burke Jr. and R.W. Hall report in "Pediatrics"
At Rainbow Pediatric Center, staff recognize that potential, and are already moving to implement TeleVisits in other areas, as part of their initiative to make their office breastfeeding friendly, and for patients with behavioral health issues, including anxiety and depression.
"You can't practice the same way that you practiced 20 years ago," Dr. Reddy said. "We were always paperless, we have always been electronic, but through the years we have just been more active in engaging patients through social media, through the Patient Portal, making sure that they're more involved."
eClinicalWorks — and now healow TeleVisits — have been great partners in making it all happen, Dr. Reddy added.
"I feel like I can approach them, and I will be heard. And I don't think that can be said of a lot of EMRs out there."
{{cta('19904e5e-8c64-40b2-9af5-75b2abb29680′,'justifycenter')}}