eClinicalWorks Blog Details
Shift in the Medical Mindset
eClinicalWorks

COVID-19 pandemic drives surge in telehealth
In 2007, Nassim Nicholas Taleb published "The Black Swan," a study of the impact of highly improbable events. The COVID-19 pandemic is a black swan that has reshaped daily life around the globe and will leave a lasting impact on medical practices.
The change is most evident in healthcare in the rise of telehealth. Faced with a sudden and stark choice between closing or finding new ways to serve patients, practices nationwide have turned to remote technologies. Providers and patients alike are finding the technologies easier to use and more effective than they thought possible.
A market leader to handle a new mindset
In early March, Congress loosened telehealth regulations, making it easier for practices to use various technologies and platforms. Yet many existing telehealth solutions have struggled to meet demand.
A notable exception is healow Telehealth Solutions, which has seen a 16-fold increase in usage in just one month, from under 100,000 minutes per day in early March to approximately 1.5 million minutes per day this week.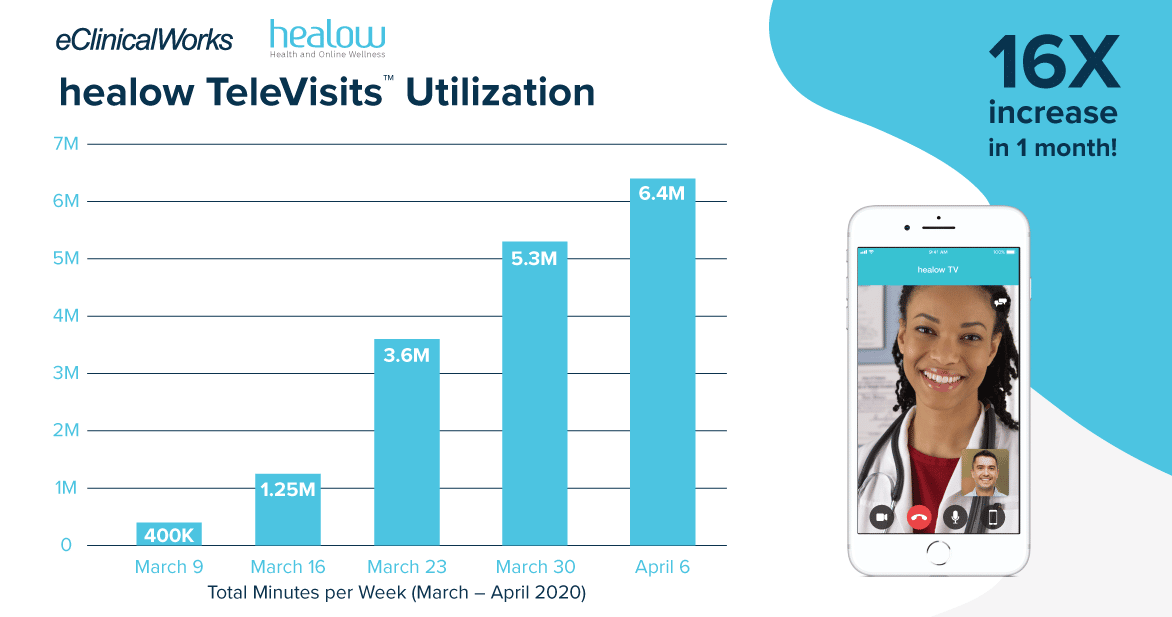 Because it is backed with 20+ years of healthcare IT experience — and designed to expand access to care while reducing burdens on physicians — healow has proven to be both flexible and scalable.
More than 45,000 physicians now use healow for their telehealth needs, sometimes as a stand-alone solution with any EHR.
healow TeleVisits™ offers practices and patients four ways to connect — through a simple text or email link, using the healow app, or through Patient Portal. And practices can be up and running with healow in just hours (for those using eClinicalWorks) or days (for those using a different EHR).
New thinking for a changed medical landscape
"This is a change in mindset," Dr. Imran S. Kahwaja of MD TruCare, a small practice in Texas, told eClinicalWorks this week.
Dr. Kahwaja is urging medical colleagues to adopt healow. He said his practice converted 80% of visits to televisits on the first day and had 100% of visits online by the end of the first week.
Perhaps most significantly, he noted that when patients ask whether remote visits will continue to be employed when the pandemic ends, his answer is an emphatic yes.
And why not? If history teaches us anything, it is that unexpected events lead to unpredictable outcomes.
{{cta('127a46f6-3881-467a-9570-711a44740956')}}