eClinicalWorks Blog Details
The Evolution and Importance of Telehealth
eClinicalWorks
The upbeat and warm sound of last year's hit "Swingin' Down the Lane" by Isham Jones fills the quiet of your parlor as you remove the stethoscope from your neck and lower the volume on your new radio.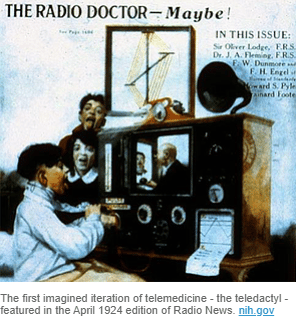 As you sit in a chair as angular as a Picasso, you pick up the latest copy of Radio News magazine and shake your head in wonder.
On the cover of the April 1924 edition of the magazine, three children are seated in front of a square system with two dials, a flaring horn, and a screen in the center of the contraption. With mouths wide open, the kids are saying "Ahh" as the image of a suited doctor equipped with robotic fingers like the metallic tentacles of the Martian ships from The War of the Worlds is projected onto a screen. Hugo Gernsback named this invention the teledactyl.
The history of telehealth
The ability to conduct a full doctor's appointment via video call did not happen overnight. From 1959-1964, the Nebraska Psychiatric Institute and Norfolk State Hospital were able to provide medical care through a video link.
As the Space Race bustled on, NASA started researching telehealth. In 1988, an earthquake decimated Armenia, and by 1989, NASA's Telemedicine Space Bridge Project provided telehealth services to the earthquake victims, marking the first time the service was used internationally.
As the 2000s took off, video chat programs and apps made it possible to communicate anytime and anywhere. By the 2010s, Americans were looking to cut down on healthcare costs and find a way to provide better care to patients.
History in the making
When healow® first released healow TeleVisits™, many practices located in rural areas of the country adopted telehealth technology so that their patients could have a convenient way to see their doctor.
In 2020, people everywhere are working tirelessly to uphold social distancing and reduce the spread of the coronavirus. Telehealth is becoming the new norm. Since the COVID-19 pandemic started, 53% of select specialties are using telehealth for the first time, and there has been a rapid increase in healow TeleVisits utilization.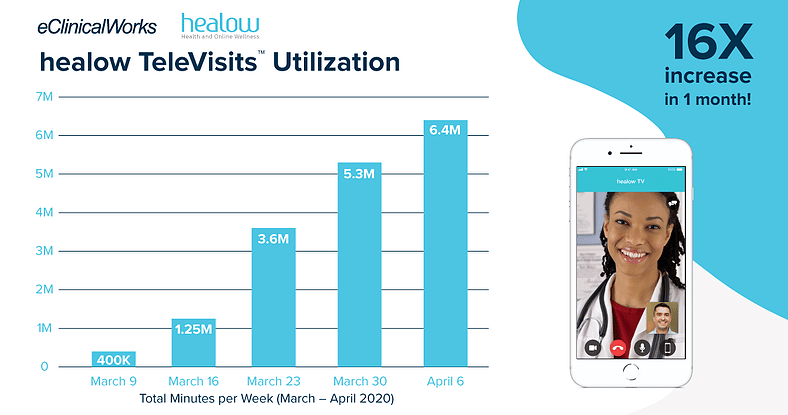 Not only are more providers using telehealth, but they are also using the technology to further expand access to care, and in certain cases, save patient lives.
The future is now
Smooth electronic thumping fills the quiet of your apartment as you tell Alexa™ to lower the volume of the music. As you sit in your plush leather La-Z-Boy® chair, you pick up your tablet and open up the healow TeleVisits app to check in with a patient miles away.
From the teledactyl to healow TeleVisits, telehealth continues to become the first choice for doctors around the country. To learn more about our telehealth solutions, download our infographic below.
{{cta('04fcf575-a013-41b5-9562-b9c28f629ff8′)}}