eClinicalWorks Blog Details
A Challenging Year Is Ending — New Opportunities Ahead
eClinicalWorks

All the elements for success are in place
The challenge of delivering quality healthcare during a global pandemic made 2020 an extraordinarily challenging time. The new year promises to be equally challenging, but perhaps in a more hopeful way. With vaccines against COVID-19 nearing approval and proven solutions for telehealth and contactless check-in in place, it's a great time for medical practices to assess their next moves.
The diverse nature of medical practices — including areas of focus, location, size, and patient population — means there's no magic formula for success. But there are key areas that constitute an "annual physical" for the health of any operation. In today's blog, we look at the first of these — the safety of your patients.
Putting safety first — telehealth
The last month of 2020 has seen both a surge in COVID-19 cases nationwide and the emergence of several potentially effective vaccines against it. There's only one message that practices should take from these times: The safety of patients must continue to be their first priority.
One of the most visible effects of the coronavirus pandemic has been the widespread adoption of telehealth services. Two years ago, the first nationwide survey of telehealth usage conducted by the American Medical Association found wide variations in adoption, from as low as 3% to between 25% and 30% for certain specialties.
How quickly times have changed!
By April 2020, one survey found that more than 75% of private practices offered telehealth services or planned to do so. A report in Medical Economics on a usage and satisfaction survey found that 42% of patients had used telehealth since the pandemic began, with high rates of satisfaction with its convenience and ease of use.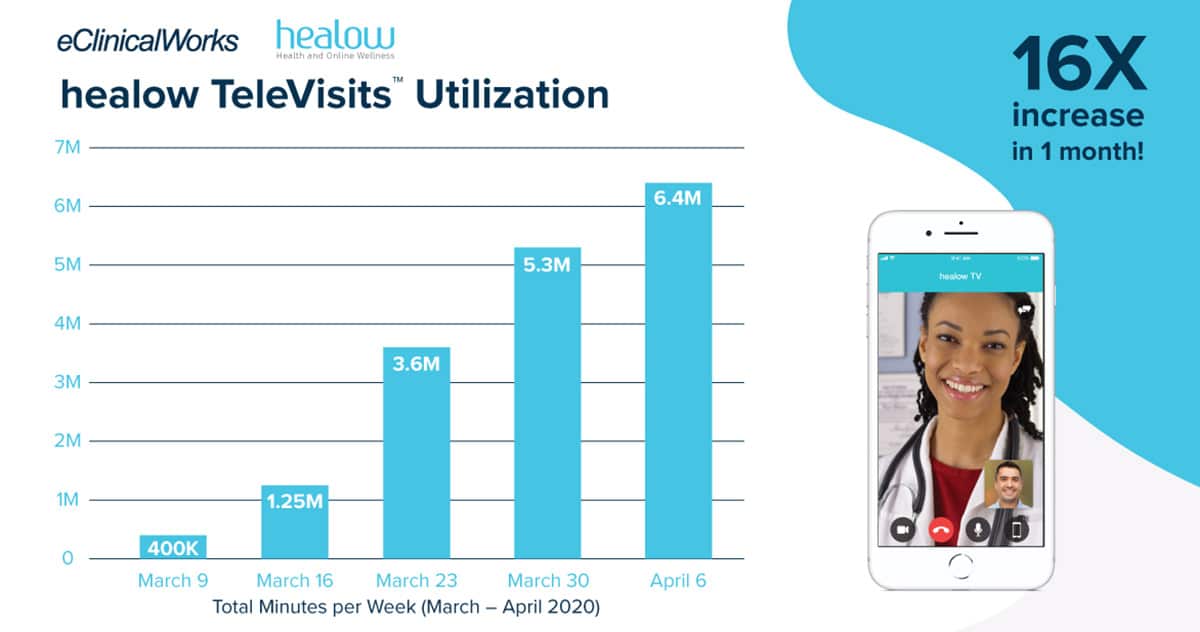 The use of healow TeleVisits™ increased 16-fold in just one month in the spring of 2020, and eClinicalWorks® and healow® have continued to enhance the quality and security of our telehealth solutions, adding features such as screen sharing and three-way calling.
How contactless check-in helps
At the same time, we rolled out healow CHECK-IN™, a comprehensive, contactless way for patients to book, confirm, and check in for their appointments.
Using smartphones and text messages, we've made it possible for patients to complete previsit "paperwork" in cyberspace, make copayments and balances, and minimize or eliminate time spent in a practice's waiting room.
Is your practice making full use of telehealth and contactless check-in solutions to ensure the safety of patients and medical staff? If not, contact your Strategic Account Manager today to learn what else you could be doing, or visit our website to learn more about the options available to your practice.