eClinicalWorks Blog Details
Toward the Liberation of Medical Data
eClinicalWorks

How Interoperability Can Solve the Data Silo Dilemma
Since ancient times, humans have used silos for the storage of crops. Efficient and sometimes elegant, such silos have helped sustain and advance human civilization. In the last century or so, however, humans have begun putting data into silos, with decidedly mixed results.
Data silos don't define the skyline like their agricultural counterparts, of course. They exist in computer systems, servers, record banks, hospitals, practices, and technology companies. And while they serve to keep data safe and secure from prying eyes, they can also become an obstacle, particularly when it comes to sharing medical records.
Doctors routinely report that they can't get at the patient data they need to provide their patients with the best possible care. That's where eClinicalWorks® can help.
Data at the Point of Care can help
"I believe that the healthcare industry has to be able to fix itself," said Dr. Martha M. Rodriguez, owner and CEO of MMR Healthcare in Boynton Beach, Florida.
The key to that fix, she noted, is the liberation of data.
Dr. Rodriguez and her colleagues have actively implemented several Population Health solutions available through eClinicalWorks. Each has sharpened their insight into the needs and conditions of their patients, enabling them to improve care while controlling costs.
Recently, they took another step by joining the Data at the Point of Care (DPC) initiative from the Centers for Medicare & Medicaid Services (CMS).
"DPC provides us with claims data for Medicare patients currently under our care," Dr. Rodriguez said. "Using the eClinicalWorks Cost and Utilization Explorer tool, I can create a roster, upload it, and in return receive back history for four years of claims on the patients I'm taking care of."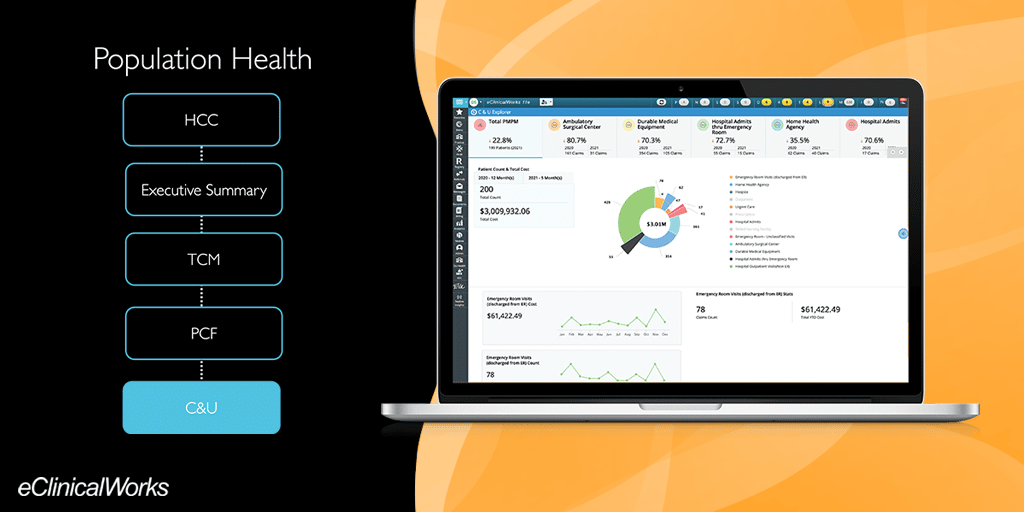 Tackling a dual data challenge
Medical practices face two primary challenges in the delivery of care ­— ensuring patients receive what they need and making sure they don't receive more than what they need.
Missing or incomplete data contribute to both problems. Patients' gaps in care — including missing diagnoses, overdue appointments, no-shows that were never followed up — can often be linked with a lack of relevant or timely information.
At the same time, as Dr. Rodriguez noted, the other challenge is the overutilization of services and duplication of care.
That can occur either because a given provider is unaware that another provider has already seen and treated a patient or because there are inadequate systems in place to detect and deter misuse or abuse of prescription drugs.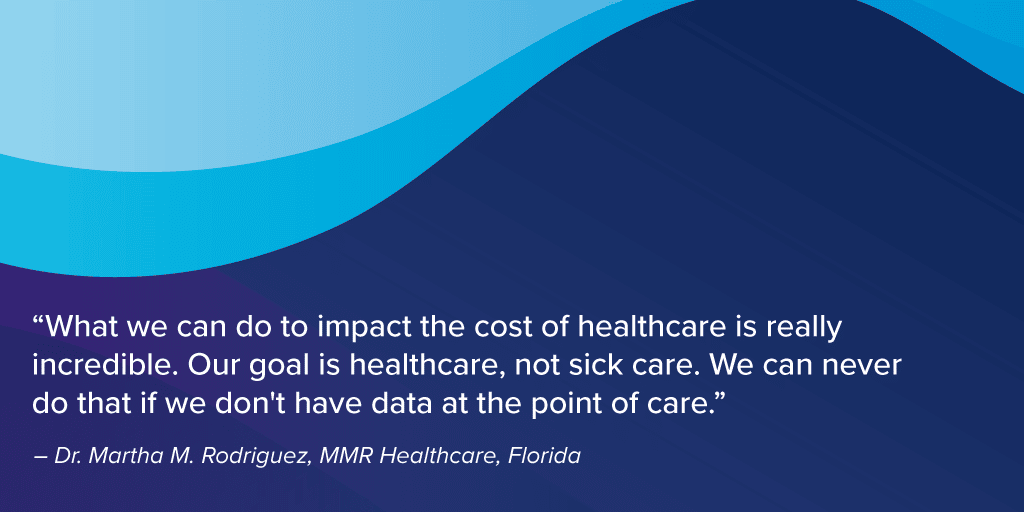 Gathering all the pieces of the puzzle
With DPC and the Cost and Utilization Explorer module in place, MMR Healthcare enjoys greater insight into their patients.
"Now," Dr. Rodriguez said, "we can see whether patients have been refilling their medications. Is medication adherence an issue? Is that causing increased costs? Are there gaps in the quality of care that are increasing costs?"
An outside observer might think such questions should be answerable with existing resources, but even if the information exists, getting at it and making sense of it can be difficult. Even the most powerful Electronic Medical Record, after all, is only as good as the database it can access. If a patient sought care elsewhere and such records are missing or inaccessible, care might be inadequate or duplicated.
"By having population data in front of us with this module, we can change those things," Dr. Rodriguez said. "By having comparisons from year to year, we can see trends. For instance, who is utilizing antibiotics for unnecessary things? How can we break that pattern? We can call a patient who goes to the ER every weekend Friday afternoon and ask, 'Did you refill your medication? Do you know that we're here seven days a week? That we will be here for the weekend?'"