eClinicalWorks Blog Details
Working on Saturday — and loving it!
eClinicalWorks
That classic line from "Office Space" — "I'm going to need you to come in on Saturday…" — works great on the screen, but it's usually not something folks like to hear in real life. Except this weekend in Dallas at the eClinicalWorks National Conference!
Simply put, this Saturday is one that no one wanted to miss. It's heart-of-the-Conference, get-down-to-business time.

From that first cup of coffee with old friends and new acquaintances to the last minute of the last breakout session, it was a day for making connections. For reminding ourselves and one another of why medicine matters. And for recognizing that, whatever obstacles we may face, the work we do each day meets human needs.
Some 200 clinicians and staff under the civilizing influence of fine coffee attended the inaugural Population Health spotlight session at 8 AM, cutting through the fog of a dozen acronyms — ACO, CCM, HEDIS, PCMH, MACRA/MIPS and more. They heard a clear message: Population Health is about connecting your patients to a cycle of success that involves identifying their gaps in care, assessing their risk, managing that risk, and evaluating results in ongoing and meaningful ways.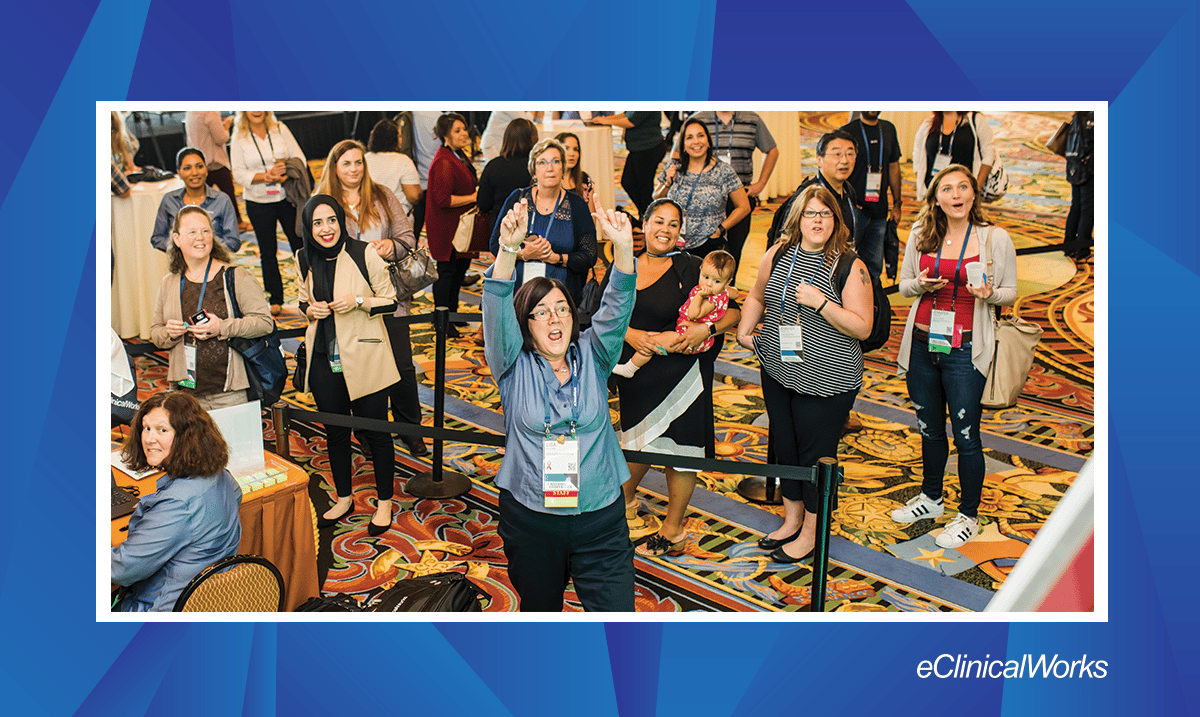 "At the root of everything we're talking about here is that we are still reactive. We need to plan for the future," Adam Siladi, a member of the eClinicalWorks Population Health team, told session attendees. He noted that it's about asking the patient what they want out of their treatments. The facts are clear: When patients are more involved, they tend to see better outcomes.
Skeptics may point out that they've heard such words before, and demand proof. Fair enough: eClinicalWorks started three years ago to build a model in which EHR data can be used to predict the disease risk burden of individual patients.
At 10 AM, the day's first eCW Podcast session sought to connect viewers to a remarkable success story unfolding in Minnesota, Wisconsin, and Florida. In those three states, the rapidly growing Bluestone Physician Services reach thousands of elderly patients — many of whom reside in nursing homes or assisted living communities and have dementia and multiple chronic conditions.
Bluestone's Candice Levy told Podcast host Shankar Samlal about their comprehensive training and follow-up programs. When a new provider joins the 70+ now with Bluestone, trainers spend two to three weeks with that provider, making sure they understand Bluestone's business model and commitment to delivering quality care with dignity.
The day saw a continuous line at the Charity Plinko booth, where hundreds of attendees took time out to connect with some deserving organizations, including DonorsChoose.org, the Houston Food Bank, and Heifer International. At one point, a surprisingly spry T. Rex could even be seen climbing the steps to try his (itsy bitsy) hand at the game.
And perhaps nothing speaks to healthcare connections like the interoperability that powers the exchange of clinical data. The popular 2 PM panel session including Carequality and the CommonWell Health Alliance illustrated the power of and need for data-sharing networks — and illustrated how easy eClinicalWorks has made it for providers to join those networks.
Simply put, Saturday was a day for making connections, a theme that would carry on into the night with the best networking stage imaginable, the Saturday Night Celebration that brings together employees, clients, and sponsors to continue — in a really fun way — the work of improving healthcare together.