eClinicalWorks Blog Details
HCC: More than Just Letters, They Are Key to Coding and Care
eClinicalWorks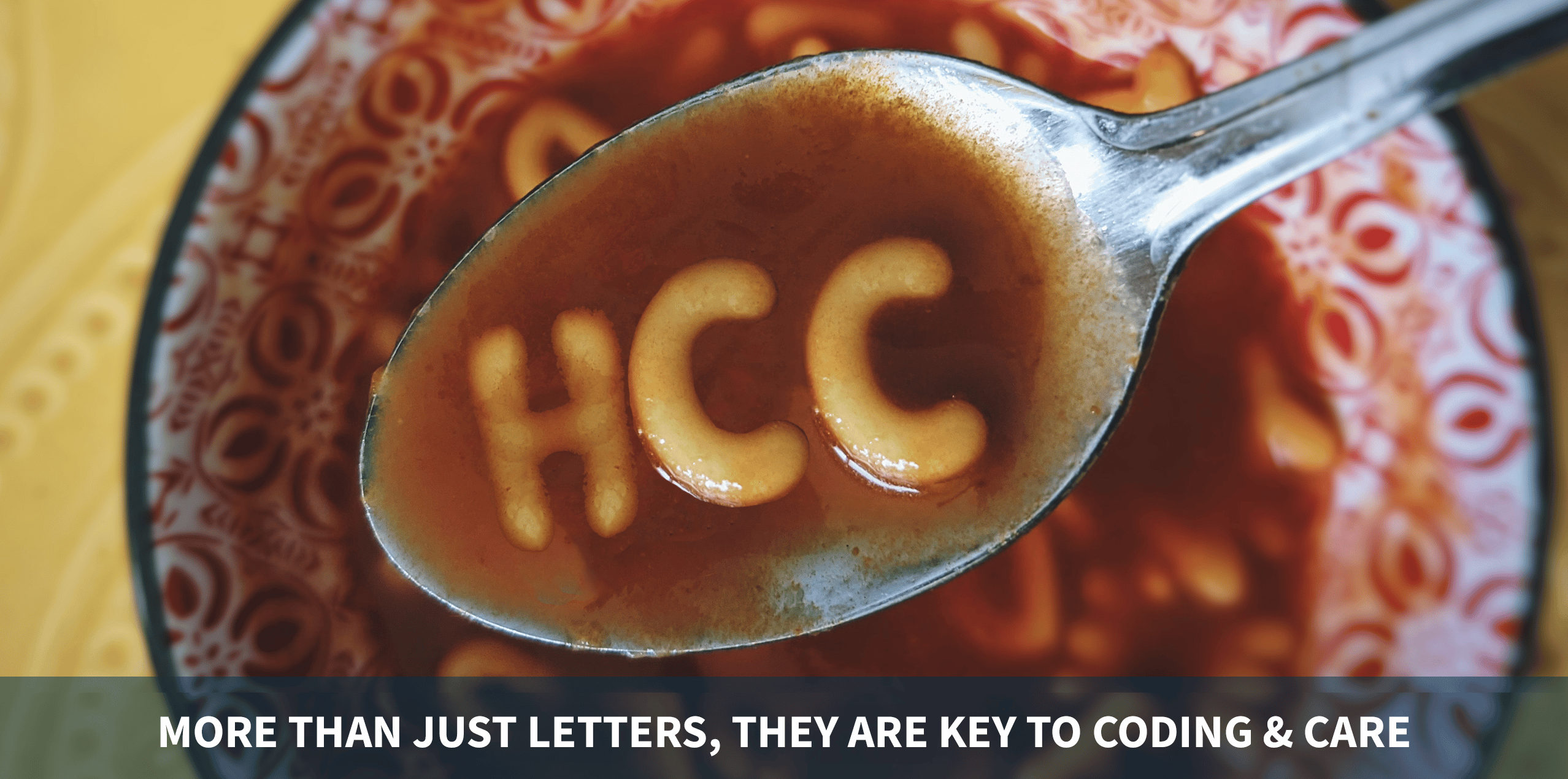 Remember eating alphabet soup as a child and gathering those tiny letters made from pasta to spell your name? Well, getting the right letters together still matters, and in the healthcare world, three letters to pay close attention to are HCC.
Those letters stand for Hierarchical Condition Category (HCC) coding. They are at the heart of calculating patients' risk scores, predicting healthcare expenditures, and determining the reimbursements that health plans receive.
Gauging risk acuity and expenditures
For practices pursuing the goals of value-based care — which means essentially every practice today, regardless of size or specialty — HCC is key. It enables healthcare organizations to more accurately calculate risk among their patients, which in turn allows them to better predict what they will spend on patient care.
The Centers for Medicare & Medicaid Services uses the HCC Risk Adjustment Model to calculate risk scores and predict healthcare expenditures for individual beneficiaries.
How eClinicalWorks helps with HCC
eClinicalWorks® offers a module that enables practices to implement HCC by:
Identifying coding gaps based on historical data and secondary manifestation codes and displaying information at the point of care
Calculating patients' Risk Adjustment Factors (RAF) scores
Filtering patients by RAF, provider, or insurance
Using the HCC dashboard for trending analysis
Comparing patients' RAF scores from current and previous years
Contacting patients using integrated Patient Engagement tools

Using HCC for Medicare patients and others
Many eClinicalWorks practices have implemented HCC coding and have found it indispensable for their success.
Matt Cady, Chief Innovation Officer at Florida's Adult Medicine of Lake County, noted that his practice has a patient population that is predominantly age 65 and older. While it is important to use HCC for such patients, Cady said that the tool is also useful for others as well.
"We now have implemented HCC coding for all patient encounters," he said. "Standardizing that workflow, no matter what patients you're seeing, seems to make it easier for doctors."
It is important to remember, Cady added, that HCC isn't a "one and done" process. Practices need to recapture patient codes every year, so they know how much money to budget for patient care.
You can watch our full interview with Cady regarding HCC in this edition of the eClinicalWorks Podcast.
Helping a practice 'outpunch its weight class'
For a small, independent primary clinic in Huntsville, Alabama, HCC coding and the support eClinicalWorks offers has been a valuable way to improve the quality of care they deliver.
David Uptagrafft, CFO and Director of Healthcare Experience at Innova Primary Care, said that HCC scores are among the metrics that the practice tracks weekly. HCC allows the practice's management team to track each physician's performance, quickly spot any areas that need improvement, and take action.
Watch this video to learn more about Innova Primary Care's use of HCC and other tools from eClinicalWorks.
"As an independent, relatively small primary care group, we need these tools," Uptagrafft said. "We can't go out and create our own software. We don't have an internal programming team, and so, partnership with eClinicalWorks and providing Population Health tools allows us to really outpunch our weight class with regards to performance and quality metrics."
Next month, our Population Health blog series looks at Healthcare Effectiveness Data and Information Set (HEDIS®). What HCC does for identifying gaps in coding, HEDIS does for identifying and closing gaps in care, making it an essential tool for effective Population Health planning.