eClinicalWorks Blog Details
Gauging Healthcare Risk: From Antiquity to HCC
eClinicalWorks
In 2004, the Centers for Medicare & Medicaid Services introduced Hierarchical Condition Category (HCC) coding.
Evaluating patient risk is as old as medicine itself. As early as the fifth century BCE, notes a 2011 study from the Centers for Disease Control and Prevention (CDC), the Hippocratic tradition focused on the prevention of disease through diet and exercise.
But ancient wisdom works best when combined with modern technology.
"It was not until 1968 that a system for appraising health hazards of individuals was first proposed in the practice literature as a component of comprehensive healthcare," notes the CDC study.
Those early efforts were built upon a 1963 pilot study that used a four-part rubric to help physicians determine how likely their patients were to develop illnesses. They looked at age, sex, race, individual health histories, routine and specialized tests, and individual health hazards.
Over the next three decades, physicians, insurance companies, and government agencies would increasingly come to understand the importance of accurate risk assessment in healthcare.
In the 1980s and '90s, payment risk adjustment models for Medicare beneficiaries grew in sophistication and importance as providers and regulators alike recognized the value of linking reimbursements to a patient's level of risk for adverse health events and conditions.
It's safe to say that ancient physicians would be astonished at the power, sophistication, and accuracy of today's risk-assessment tools. In a recent report on HCC, the American Society of Anesthesiologists notes that "of the approximately 70,000 ICD-10 CM codes, about 9,500 map to 79 HCC categories."
Practices that use HCC coding properly — focusing on the accuracy of coding and ensuring that they are coding to the highest level of specificity for each case — can help ensure that reimbursements for their Medicare patients are commensurate with the disease risks those patients carry.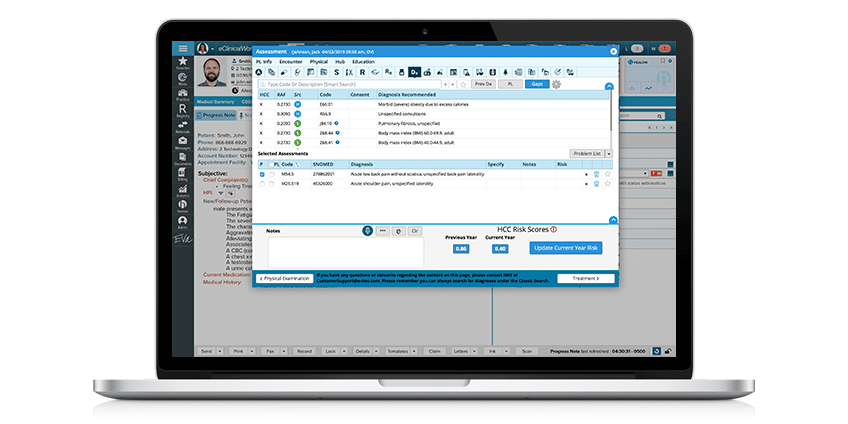 Today, as value-based healthcare continues to establish itself as the norm, a firm understanding of risk assessment is essential for practices of every size and variety. Perhaps equally important, given the complexity of today's regulatory environment, is having a tool such as the eClinicalWorks HCC module that:
Identifies coding gaps based on historical data
Displays Risk Adjustment Factor scores
Offers a dashboard to display trending analyses
Enables comparison of RAF scores from current and previous years
Having those functions at providers' fingertips makes for a more user-friendly EHR experience and helps ensure a more sustainable practice.
But the more crucial point underlying effective HCC coding is one that goes back to the very beginnings of medicine: Helping to make certain that the right resources are available to deliver the level of care each patient is likely to need.