eClinicalWorks Blog Details
AI Technology Takes Center Stage
eClinicalWorks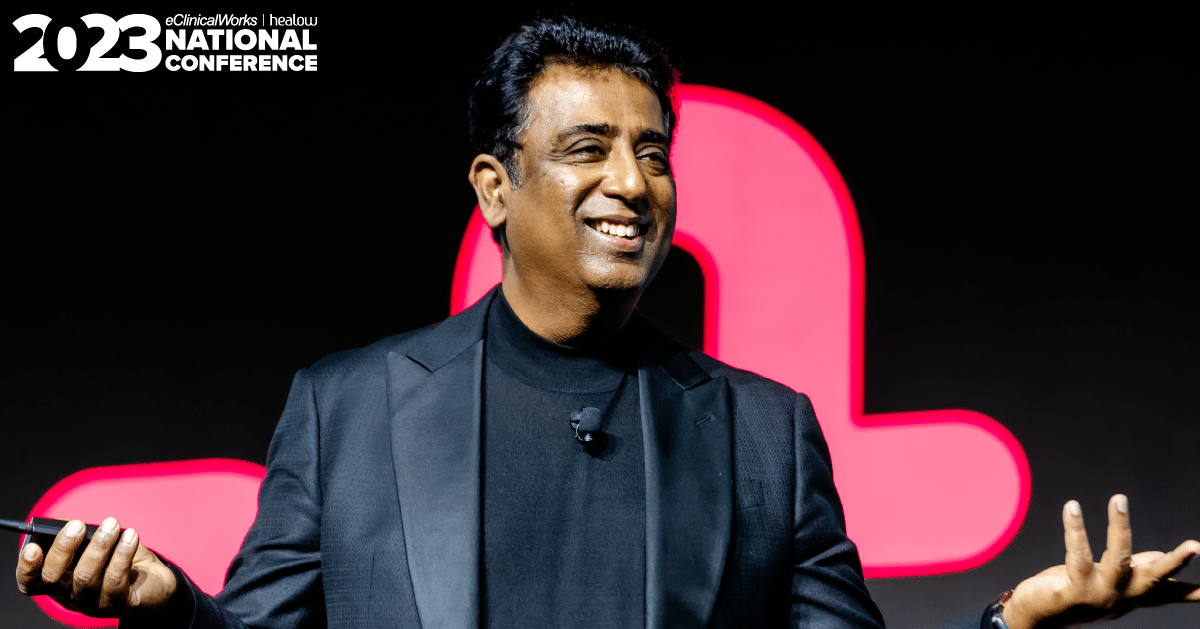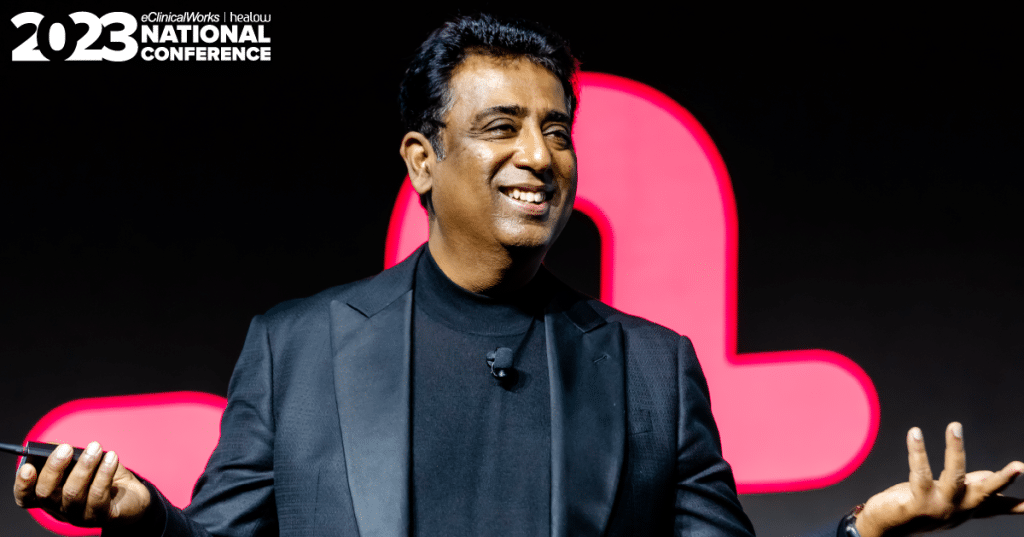 At the eClinicalWorks® and healow® National Conference in Nashville, TN, healthcare providers and industry experts filled the venue to experience the latest advancements in healthcare technology and patient-specific care.
Girish Navani – eClinicalWorks® CEO – took the stage to enlighten the audience on what will be driving us forward. The spotlight was on innovation, with the marquee attraction being AI Assistant, and the variety of executions of AI technology.
Four Models for AI Assistance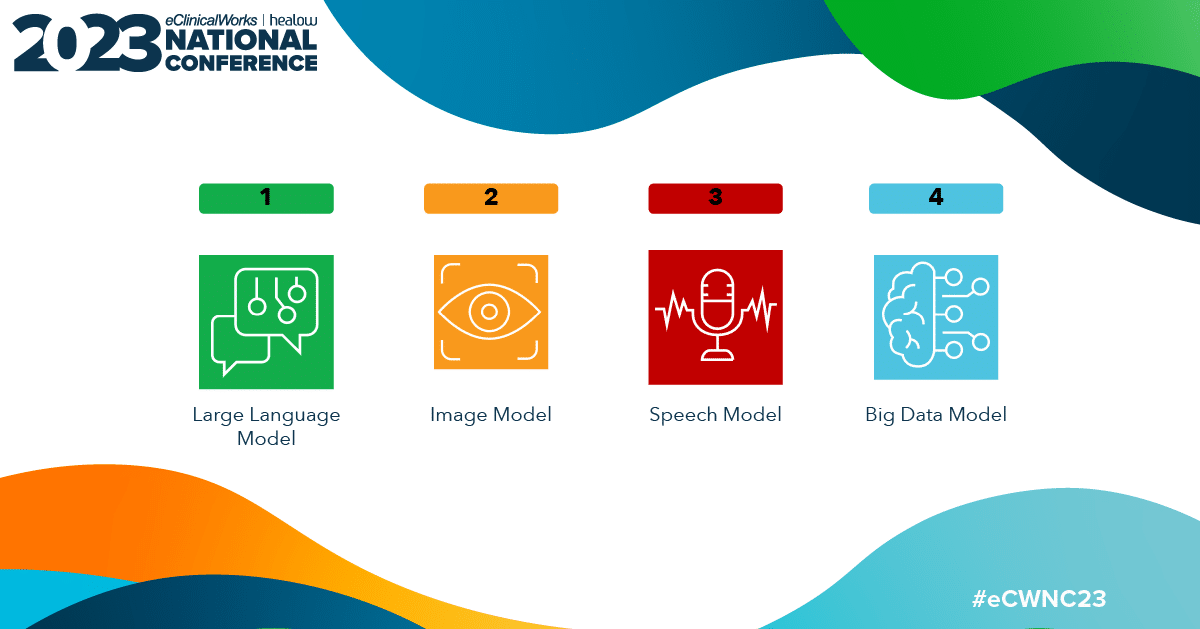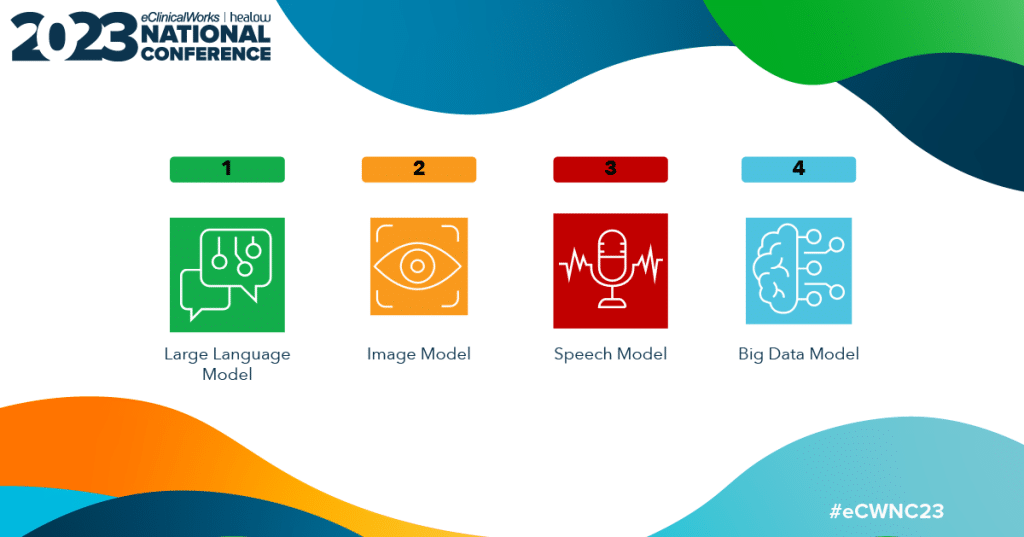 Large Language Model – using natural language to simplify tasks including updating security settings, homepage settings, and working hours.
Image Model – harnessing imagery to streamline the check-in process by turning a photo of a patient's insurance card into usable information.
Speech Model – using Sunoh.ai, a revolutionary ambient experience technology that turns doctor-patient conversations into coherent clinical documentation.
Big Data Model – interpreting large amounts of data to figure out patterns, and then developing a gameplan to account for those patterns. That's how our No-Show Prediction Model can significantly reduce no-shows for a practice.
By co-piloting with these secure assistive technologies, workflows will be streamlined, patient outcomes will improve, and revenue will increase.
healow Helps a New Practice Achieve Explosive Growth
Talkiatry CEO Robert Krayn took the stage to share how his company's relationship with eClinicalWorks and healow led to great success.
Launching a psychiatry practice just as the pandemic hit could have been devasting. Talkiatry used healow in its switch from an in-person practice to a virtual one. Necessity turned out to be the mother of innovation for a very successful practice.
In just three years Talkiarty has gone nationwide and has achieved a level of success to where it now conducts 50-60K visits per month. All full time doctors. All with the exclusive use of healow.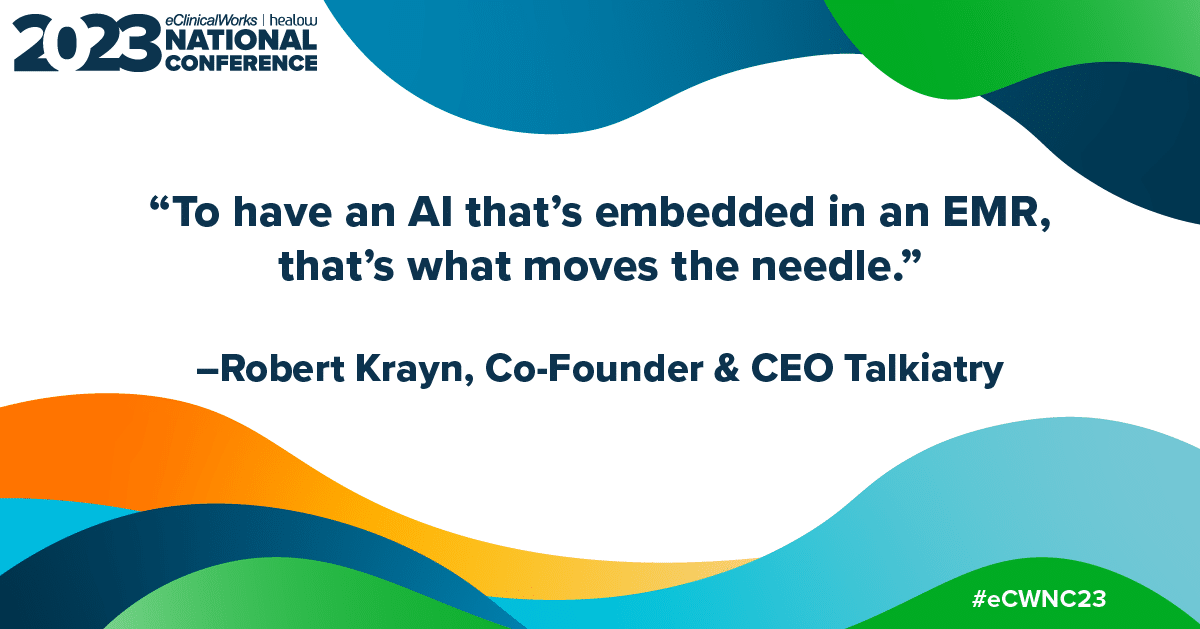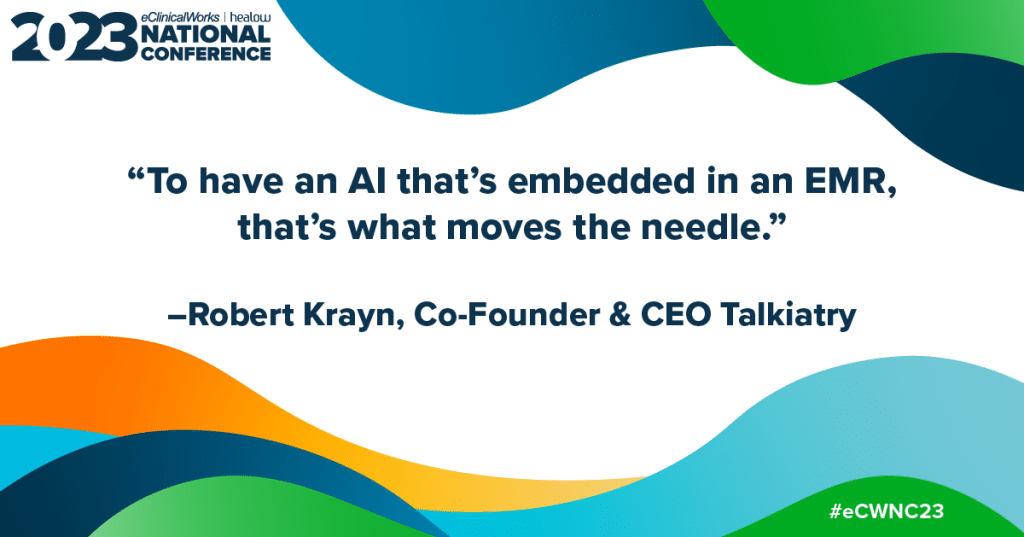 Attendees Eagerly Dive into a Thrilling Lineup of Events
As attendees participated in various conference activities, including training sessions, podcasts, and Breakout Sessions, they were united in their goal to improve healthcare together. Some key sessions today included Leveraging AI in the Mid-Office Setting, healow Telehealth Solutions – Elevating Remote Healthcare to New Heights, What's New in eBO 8.3, and healow Chatbot: Your 24/7 Innovative Patient Assistant.
In a live eClinicalWorks Podcast, Total Health Care shared how AI, specifically the healow no-show prediction AI model, is helping their practice improve operations by helping streamline the identification and outreach process to patients likely to miss their appointments.
The eClinicalWorks and healow National Conference demonstrates that innovative technologies like AI, in addition to a commitment to patient-centric care and cloud-based solutions, are the driving forces behind the future of healthcare.
Let's get ready for what Day Two has in store!