eClinicalWorks Blog Details
The Future Belongs to Value-Based Care
eClinicalWorks

How the Cloud and innovation will lead the way
When our customers look back on the 2022 eClinicalWorks and healow National Conference, we're sure they will remember the fun they had during the Sunset Soirée that wrapped up Day 2 on Saturday night. (We know we will!)
But we hope they also recall the more lasting and important lessons from this Conference. With its emphasis on the multi-dimensional EHR soon to be released with eClinicalWorks V12, Touch 4, switching to the Cloud, and putting interoperability solutions to work, our 15th annual National Conference has shown our customers a clear path to the future of healthcare.
Numerous practices have already put many pieces in place that are essential for achieving value-based care. More than 5,000 practices, for example, activated PRISMA, our health information search engine, earlier this year.
Meeting a multi-faceted challenge
But it's essential to remember that none of our technologies are developed simply for their own sake. Each addresses another aspect of the multi-faceted challenge that is value-based care.
During one Saturday morning Podcast, host Adam Siladi and Dr. Dhrumil Shah, a physician and Chief Medical Information Officer at Compass Medical, a 150-provider, multispecialty group in East Bridgewater, Massachusetts, discussed how various tools — and thinking differently — can help achieve value-based care while reducing physician burnout.
"I am more of an optimistic individual who believes the value-based medicine truly changes the way you want to practice medicine," said Dr. Shah, who cites a July 2022 study showing that proper care for one adult primary care patient requires 26.7 hours in a day — an obvious impossibility for any one physician.
However, a team-based approach can bring that down to 9.3 hours a day. And, he said, that underlines the fundamental difference between fee-for-service and value-based care. In the former, the physician is responsible for what is in front of them. Value-based care, however, demands attention both to "what you are actually not aware of plus what's in front of you."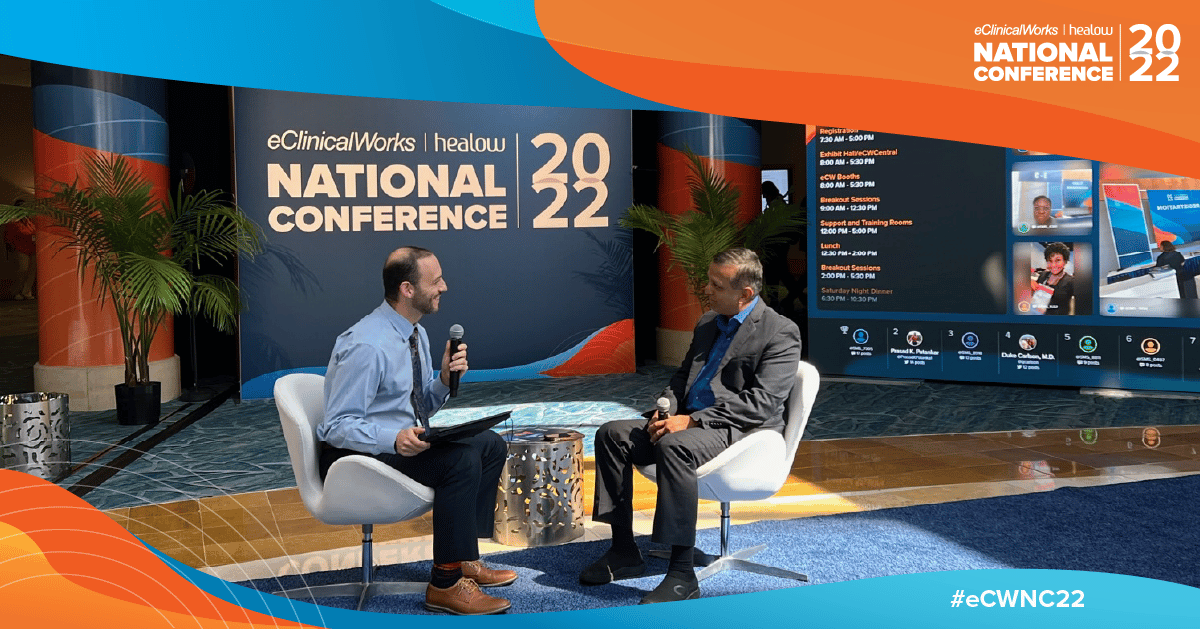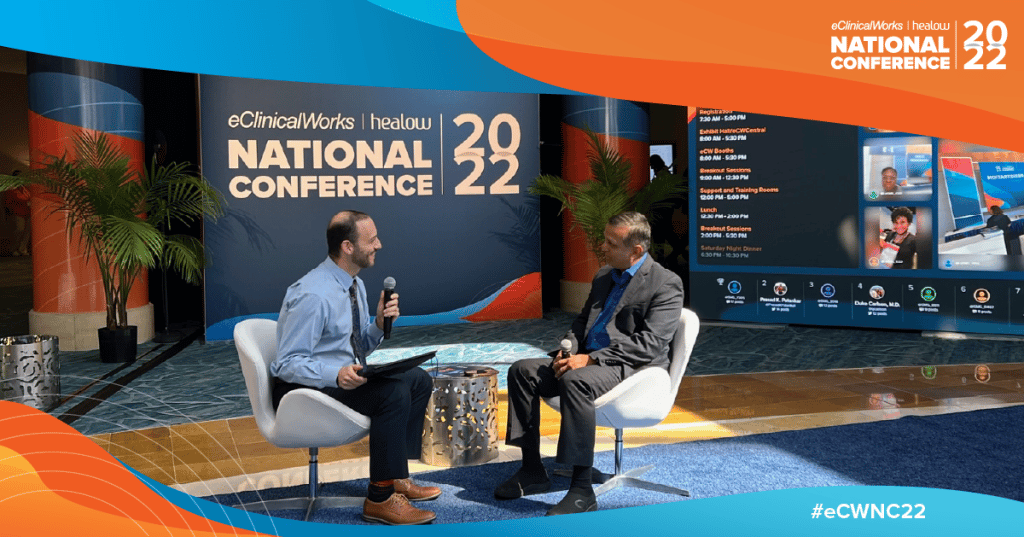 Three ways Compass Medical has succeeded with value-based care
Getting all providers to speak and think in terms of team-based care so that tasks can be redistributed as necessary to reduce the risk of overwork and burnout.
Undertaking campaigns such as their lung cancer screening program, launched in 2017, which has resulted in 67% of eligible patients receiving the screening.
Consistently using healow Patient Engagement tools to automate processes when possible, including implementing questionnaires, healow CHECK-IN®, and Patient Portal for questionnaires.
"I think the best example I can give you is all the healow features which are available today in the current version, not even in V12, like self-web enabling in Patient Portal," Dr. Shah said. "That is tremendous. My staff doesn't have to take consents, and the patient doesn't have to come to the office to do the consent — they just go on our website."
Three key takeaways from eCWNC22
Do switch to using the browser version of eClinicalWorks and working in the Cloud.
While some practices still maintain servers for their data, more and more are switching to the eClinicalWorks Cloud. The Cloud makes upgrades fast and easy, eliminates the cost and headaches associated with maintaining your own equipment and having your own IT staff, and ensures that your providers always have access to their data. Mother Nature may behave most of the time, but your practice is only one major weather event away from losing access to your office and patient records. With the Cloud, you enjoy access wherever you have an internet connection.
Don't just activate PRISMA — really use it to gain deeper clinical insights into your patients.
PRISMA, with its searchable timeline views of patients' health histories, continues to gain in sophistication and value. As Dr. Shah notes above, achieving value-based care requires that your providers can address both the patients in front of them as well as the unknowns in healthcare, which are often far greater. PRISMA makes that possible by fulfilling the potential offered by nationwide interoperability networks.
Identify and implement one technology advance of importance to your practice.
The National Conference has so much to offer that it's easy to become overwhelmed and not know what actions to take when you get back to your office. Remember, improving your healthcare practice is an ongoing project, and no one requires that you implement a bunch of new solutions at once. Meet with staff, share what you learned, and decide together which new solutions make sense for you.
Finally, thank you for attending our National Conference in Orlando. We look forward to seeing you next fall for our 16th annual eClinicalWorks and healow National Conference at the Gaylord Opryland in Nashville, Tennessee, October 20-22, 2023.